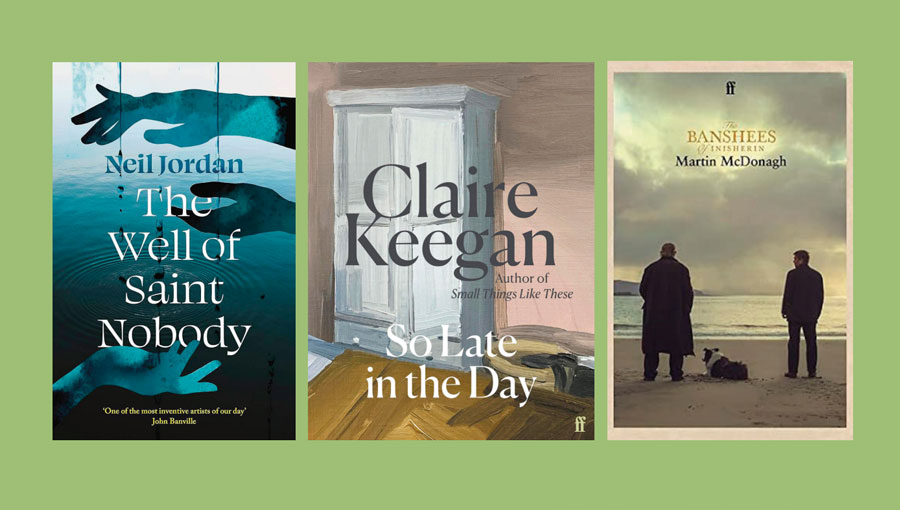 The Emerald Isle has always punched well above its weight when it comes to literary fiction, and these three writers are continuing its rich storytelling tradition
The Well of Saint Nobody by Neil Jordan (Head of Zeus, £20)
Nominated for 13 Oscars and best known as a film director and screenwriter, Neil Jordan is also an award-winning author whose published work appeared before he entered the world of cinema. It is safe to say that if anyone can tell a gripping story, Jordan can.
In his latest book he pays homage to his native Ireland with a multi-layered look at the complexity of relationships, family and identity. It also has elements of magical realism and a mythical sub-plot adds to the intrigue.
A world-famous concert pianist is stricken with arthritis and retires early to West Cork. Tara, a local piano teacher, answers his advertisement for a housekeeper but, as the story unfolds, we discover there is more to this connection than meets the eye.
A well in the garden takes on almost supernatural qualities, and as the plot thickens so does our interest. 'When she had first looked down into it, she had breathed her secret into it and now it held it, like an undead thing, waiting for its moment,' Jordan writes.
With this eloquent and moving story, tinged with nostalgia, the author confirms his status as a visionary of both page and screen. Highly recommended.
Elizabeth Fitzherbert
So Late in the Day by Claire Keegan (Faber & Faber, £8.99)
Shortlisted for the Booker Prize and winner of the Orwell Prize for Political Fiction in 2021 for her novella Small Things Like These, Irish author Claire Keegan is a shining literary light.
She is best known for her short story writing, and her latest novella, the author's fifth book in 24 years, is a delicate exploration of the human psyche. It is beautifully crafted and acutely observed, with intricate characterisation. Her lyrical and atmospheric prose paints a moving psychological portrait of her characters, leaving the reader marvelling at her expertise long after the final page.
Love, heartache and human connections are the preoccupations of Cathal, a young Irishman, who can't help examining a past relationship. It is a painful exercise, but something he needs to make peace with. 'That was the problem with women falling out of love; the veil of romance fell away from their eyes and they looked in and could see you,' he says.
Keegan's skill as a writer lies in her masterful depiction of her male protagonist's inner world. Her prose subtly moves the reader, and every word on the page has earned its place. Evocative and heartfelt, this is an insightful look inside a human heart.
EF
THE BANSHEES OF INISHERIN by Martin McDonagh (Faber & Faber, £9.99)
If you have seen Martin McDonagh's hit film, you may have been struck by the sparse but immensely affecting dialogue. Reading his screenplay reveals the mastery of his writing, which is a treat in itself.
Each laconic line delivers an emotional punch, capturing the musicality and understatement of the Irish vernacular. On the page, the patterning and rhythms become apparent - deftly deployed repetition brings added poignancy and new facets to an already charged situation.
The book tells the story of a friendship between Pádraic and Colm, which is unilaterally severed by one to the painful bafflement of the other. 'I just don't like you no more,' is Colm's eventual explanation. But it is Pádraic's friendship with his miniature donkey that steals the show.
The setting is a fictional island, a small community with ever-present undercurrents of violence. Yes, there are clichés - the pub and its characters, the ominous old crone - but even clichés become resonant when skilfully applied.
A few well-chosen words conjure up a world of dark humour and heartbreak, in an elegy for a vanished Ireland that perhaps never quite existed. And oh my, that donkey!
Juanita Coulson