Bringing together the very best of Britain's foodstuffs in one place
This month saw the launch of a unique new online artisan food shopping destination: The London Delicatessen, which brings together some of the UK's finest artisan food into one online home, creating an easy 'one stop shop' for serious food lovers hungry to find their favourite foods quickly and efficiently. On top of this, there are several recipes to choose from to help shoppers bring their favourite foods to life.
The new site proudly boasts some of London and the UK's most exciting new and challenger brands, many of which are Great Taste Award winners. You'll find tea from Two Spoons, made in small batches and brought to you from two ex-Tetley employees keen to get back to quality tea; there's Yorkshire Pasta, which founder Elise Friedman believes is the best dried pasta she has ever tasted; and there's Urban Cordial, made in London using supermarkets' unwanted fruit straight from the Kentish countryside.
Sarah Phillips, Senior Manager at the Local Data Company, says:
"Throughout the covid-19 pandemic, consumers have really connected with their local retailers, as provenance, community and quality came more into focus. The increase in independent food shops is a positive step for UK high streets, creating unique shopping experiences and opportunities for foodie entrepreneurs to open stores offering amazing quality food and drink, tailored to their local area."
Founder Elise Friedman had been passionate about good food for many years before she decided to take the plunge and create a home for these brands."The London Delicatessen is easy to use and is designed to support both artisan producers and also benefit the end consumer. Everyone is winning in terms of quality, delivery and taste and we know from our existing early customers just how good it feels to be making the choice of David over Goliath. We've taken one for the team and have tasted and slurped our way through 100s of products to bring consumers this lovely 'hub' for them all. It's a real treasure trove of some of Britain's finest goodies."
Other insanely good producers to be found on the site include:
· Beeble – a stunning honey whisky made by a beekeeper and a bookkeeper in the heart of Wiltshire, using Wiltshire honey and made in ultra-small batches.
· Capreolus – fantastic award-winning cured meats from the Dorset countryside. You'll find coppa, guanciale, and the exotic sounding Rampisham Tingler salami, amongst many others
· Husk and Honey granola, made in London's Spa terminus, these small-batch granolas shine with freshness and taste. It continues to be London's only granola producer.
· Mae Jum – named after the founder, who moved to the UK in 1992, these intensely flavoursome Thai curry pastes more than pack a punch. They are completely natural and organic, too.
·Ostlers Cider Vinegar – made with Mitchelins, Browns and Debretts cider apples, this stunning ACV is made with 'the mother' and has won numerous awards for its fabulous flavour.
· The Gay Farmer – this Spanish Arbequina and Pacual EVOO organic oil is too good for words. Adhering to biodiversity rules this oil is sublime, peppery, totally delicious.
· Only Coco's large range of high-cocoa content chocolate bars are as creative in flavour as they are quality. Choose from Raspberry & Cardamom 31% Domincan Republic bars, or the Grey Sea Salt 64.5% Peruvian bar. Next level.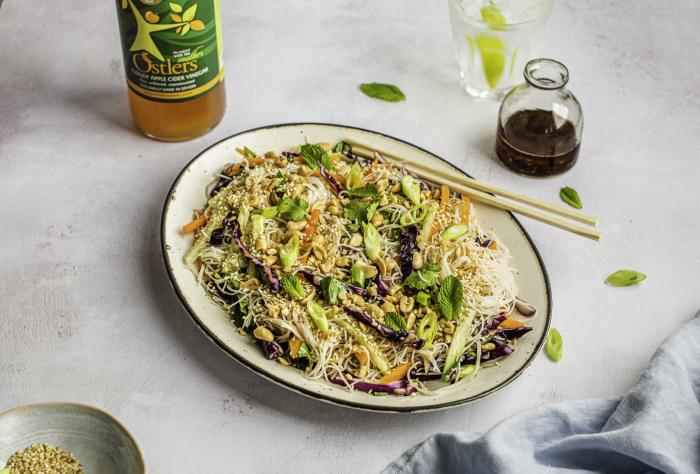 Consumers wishing to fill their online shopping basket simply create an account and add away. All items are dispatched directly to the customer, complete with recipe and serving suggestion ideas. Behind each product is a little story about the producers too, bringing them even closer to the customer.
Visit the website: here @londondelicatessen
Rather leave the cooking to the experts? We can find you the perfect candidate; from Housekeepers to Gardeners, Nannies to Carers, we source only the most exceptional candidates for your home. Contact our friendly team today: theladyrecruits@lady.co.uk