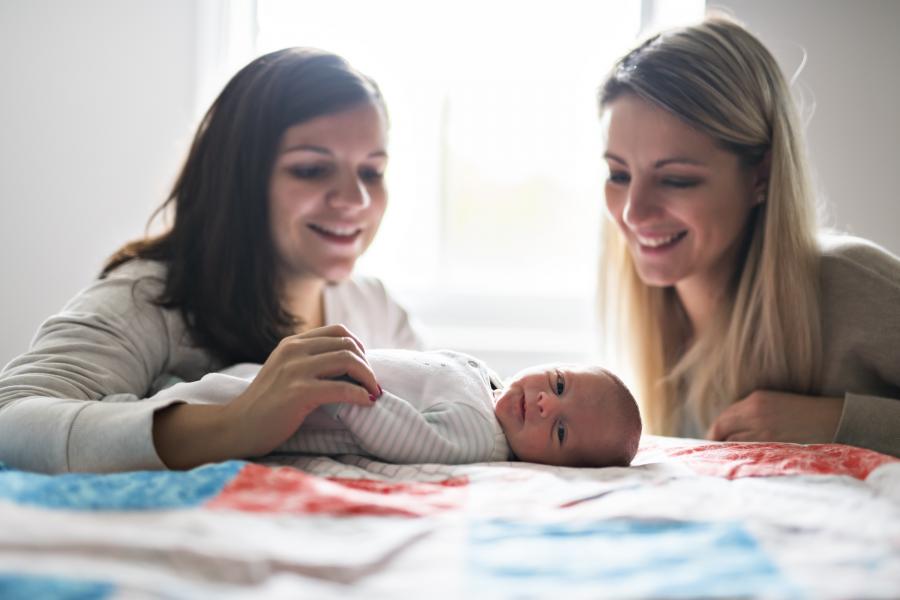 Former Career Nanny and now Childcare specialist recruiter at The Lady, Lucy Boulton has over 12 years' experience with children of all ages. With a passion for exceptional childcare and giving advice, Lucy is delighted to be offering regular blogs alongside helping families find the perfect nanny through the services provided by The Lady.
It could be your second, third or fourth child but it could also be your first child and you might have no idea what to expect.
Maybe you've spent time educating yourself on all aspects of new-born care, or watched endless videos on line that have made you feel uncertain and slightly anxious. Whichever way you came to the decision to hire a maternity nurse, it could be one of the best decisions you make in the first few months of your child's life.
I spent time as a baby nanny during my career, and ended up training as a maternity nurse. I loved caring for new borns so much and wanted to know as much as I possibly could to help mothers and their babies through such an important time.
The insights I gained were wonderful and here's my tips on what to consider when thinking about hiring a maternity nurse.
They guide and support but never take over
A top maternity nurse will blend into your family unit seamlessly from day one. She will always be on hand, but equally, when you feel you need alone time and space, she will instinctively know and quietly make herself busy elsewhere, such as cleaning baby's equipment or doing a stock check of nappies and supplies so it's one less thing for you to think about.
She will also recommend tips and routines for you, whilst listening closely to your wishes and requirements , as well as help to blend different aspects of newborn care together to bring about what feels right for you and baby.
When you have a baby, it's easy to feel under pressure and experience high expectations from family and friends, regardless of how helpful they think they're being. Yet ultimately, you carried and birthed this baby and therefore need to take a moment to think about what you want and what you feel is best.
Your maternity nurse is someone you can chat to, ask advice from or just have a cup of tea with and not say a word. The fact they aren't someone you've known a while will make a world of difference in helping you feel confident and heard at what will be a time of mixed emotions and lack of sleep. The last thing you need is a family member chirping on about how it was when they had babies in the 1960s!
For as much or as little as you want, your maternity nurse is there to teach and assist you in those first few crucial weeks and months by implementing their skill sets and knowledge, on a daily basis. They understand all aspects of newborn care; from the type of birth you had, to helping prop you up in a better feeding position, or ensuring you drink enough fluids.
They arrive prepped and ready for anything and can do as little or as much as you need.
If you feel concerned about anything at all, they will reassure you with their expert advice and know everything there is to know about feeds, bottles, breasts and sleep!
From 2 weeks to 3 months, a maternity nurse can be booked through an agency such as The Lady for various stints of time.
They will live in during this time frame and work 24/7 with arranged breaks throughout the day and at least one day off a week.
Whether it's your first rodeo or not, it's your choice at the end of the day.
The exhaustion is real when you have a baby and sometimes people that aren't experiencing it alongside you can find it hard to relate. Only you know how you feel, or maybe you don't because you've really hit the wall of tiredness and can't see the light.
Of course there is the consideration of money, but if you feel in a position where this is something that you know will help you physically, mentally and emotionally, then absolutely begin the search. I've met many maternity nurses over the years who have such fond stories of their times helping new mums and dads and the relationships that have gone on to flourish from this.
On the other hand, having a complete stranger in your house 24/7 after you've just given birth can be a very daunting thought.
If you like alone time and aren't keen on outside advice, it's probably not the best route for you.
A discussion with your partner beforehand is recommended but for everything else you have me, and I'm more than happy to chat to you regarding further information on how it works to hire a maternity nurse, through to what they will actually do for you and how I source them.
If you or someone you know is searching for an experienced Maternity Nurse or Nanny, or you have any questions about any of the issues or topics raised in Lucy's blog, contact Lucy today on lucy.boulton@lady.co.uk