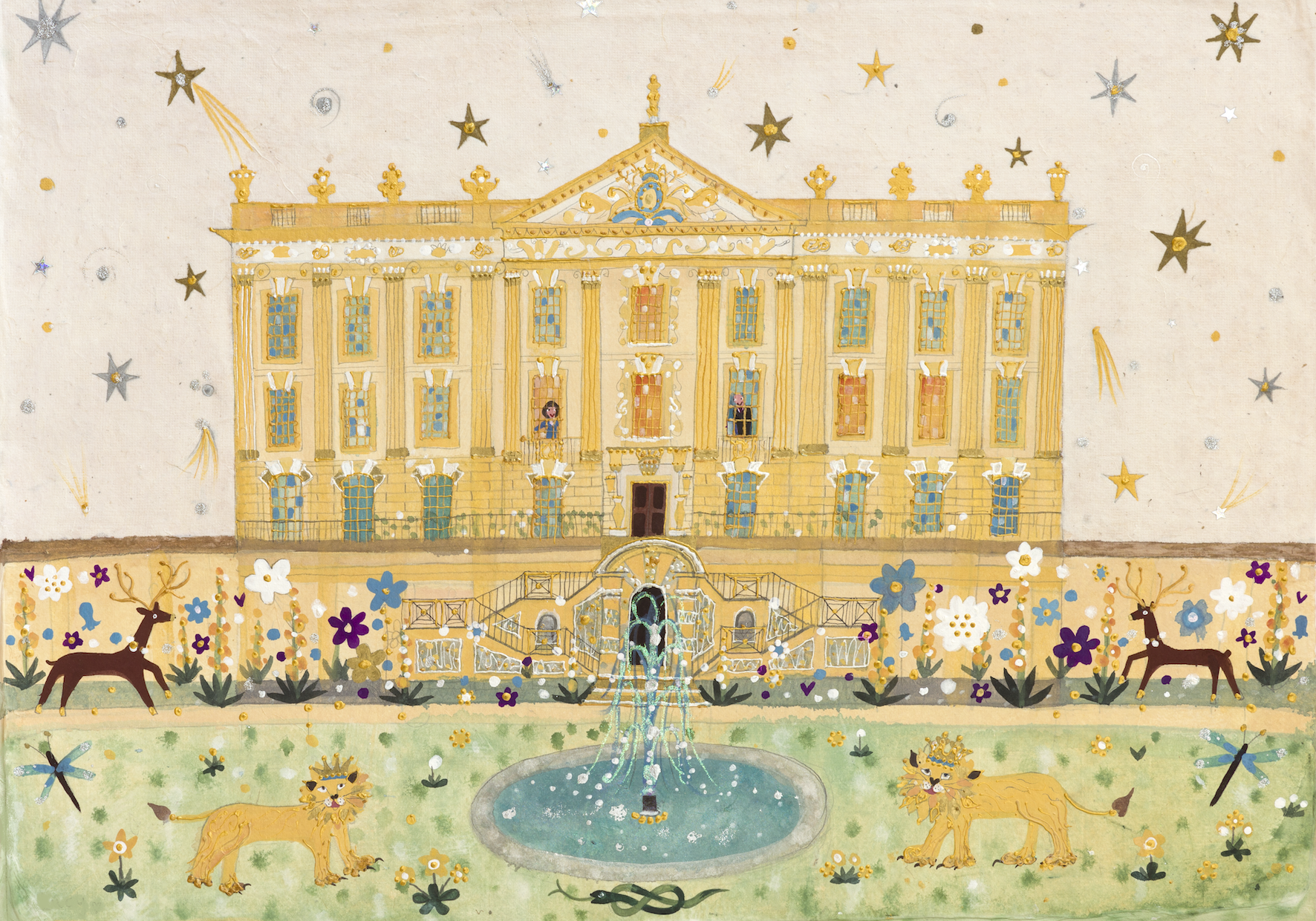 Top image: The West Front, Chatsworth House, above image: North Norfolk Coast
Lucy and her husband and partner, Patrick, live and work in rural North Norfolk, in a long pretty flint cottage above a huge magical stretch of meadow, a young orchard planted by Patrick clusters at the foot of the garden and dotted about the space there are Gypsy caravans and cosy nooks for visitors to rest. It's a grey February morning when Lady.co.uk visits, two lovely Labradors loll in front of the open fire, and with mugs of hot frothy coffee, we hear Lucy and Patrick describe their working life and how Lucy Loveheart Creations Ltd came to be.
Lucy Loveheart was brought up in a creative household. Her father was an artist and encouraged her to draw and paint from a very early age while her mother loved making up fairy tales and reading her stories, introducing her to enchanted worlds like Narnia and The Never Never Land. As a girl she loved daydreaming and she and her younger brother lived in a world of their imagination. Her connection to childhood memories and worlds of make- believe are still very present in what she is trying to achieve as an artist today. Art has always been her passion and she couldn't wait to go to art school so she could follow her dream of being an artist.
Lucy Loveheart's paintings make you smile. In fact, they do more than that - they give you that special feeling akin to one you may have had as a child on Christmas Eve, one of joy and delight and wonder at the world around us; a sort of childish excitement, a feeling of innocence and hope. These beautiful and charmingly imperfect illustrations depict tiny figures with huge red grins on a backdrop of thick, textured glittery colour and faded architecture. Enormously grand stately homes, deep, rich seashores and autumnal woods are packed with joyful activity. People dance under a fat milky moon, palaces glow and skies twinkle. Dream-like and mildly chaotic, this is a fantasy world in which magic happens and all is well, where the nightingale sings, the children jump for joy and people marry happily ever after. The colours are rich and texture is layered, the night skies and windy waves of the ocean make you want to dive in – to be a child again, adventuring forth in Lucy Loveheart's enchanting world.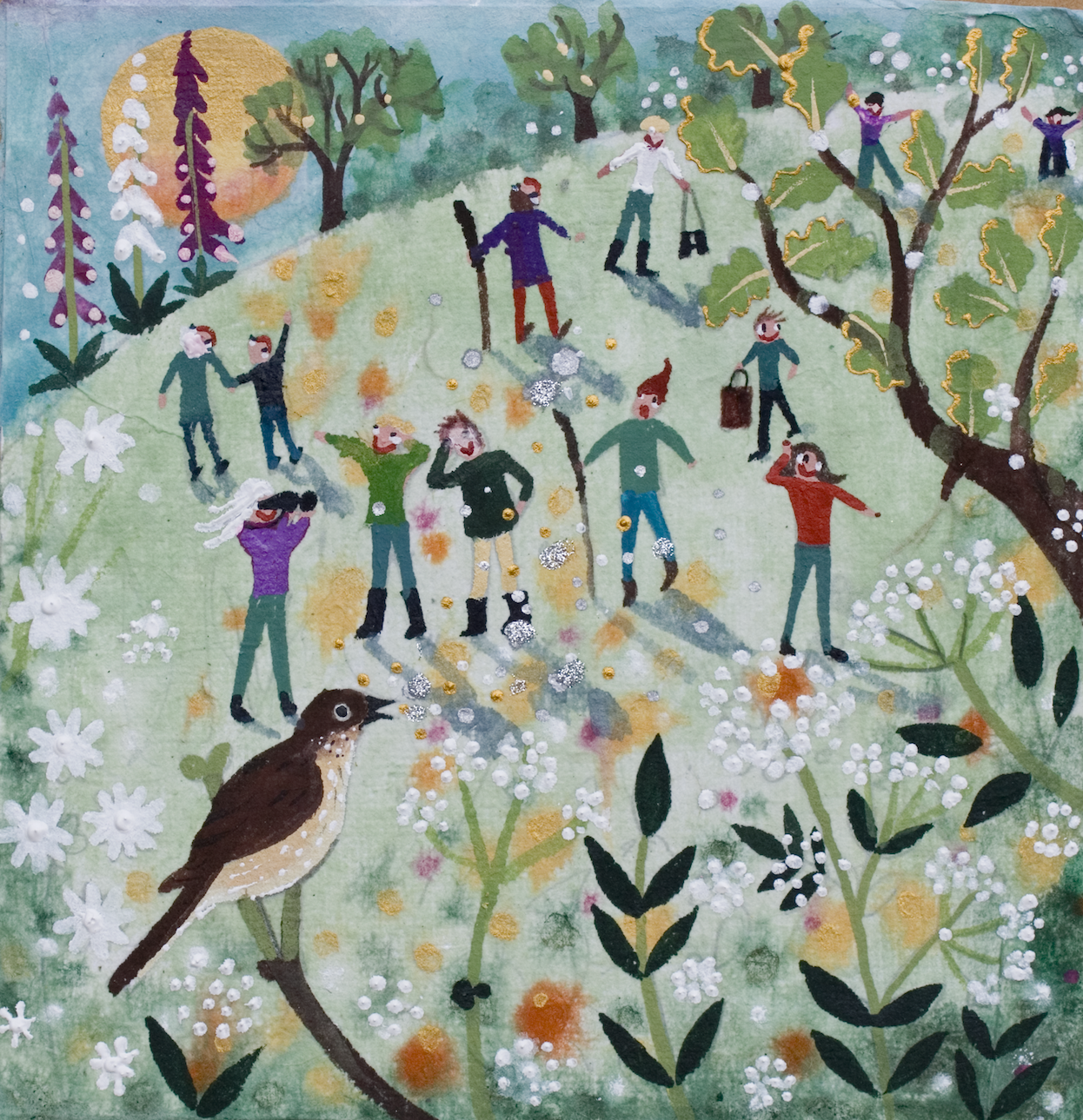 Nightingale Trail
Lucy studied art, full time, for six years at Ipswich, Norwich and the Royal College of Art.
'I took a year out and then did the Enterprise Allowance Scheme, everybody did at the time and it was brilliant because it made me think about making money from my art. I then went on to do a two-year post graduate at RCA.'
In her final year at RCA and while on holiday, Lucy met entrepreneur Karen Jones, who asked her to do a couple of paintings for a restaurant she was about to open. Karen then opened another restaurant and asked for a few more paintings. The restaurants were the start of the famous Café Rouge and Lucy went on to decorate 100 restaurants around the UK over the course of a ten-year collaboration. Lucy and Karen developed a theme together, and Lucy's signature style was born. The 'Lucille' character of the young girl and her adventures adorned every Café Rouge, until eventually the business decided on a restyle after ten years.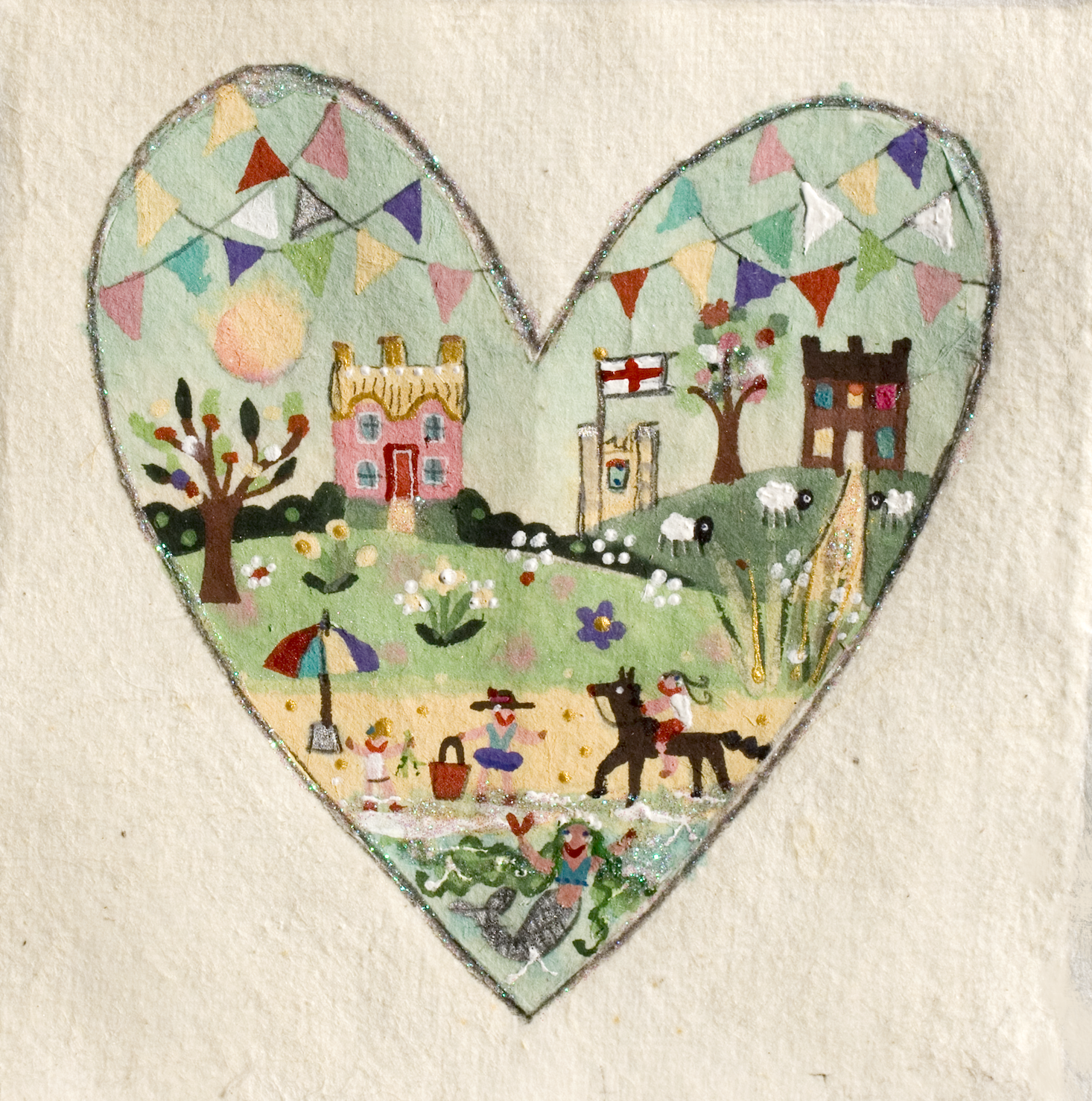 Heart of the Country
'Karen became a great friend, mentor and inspiration. It was an amazing break for me as an artist. I was decorating a restaurant a week and had an actual salary! Had I not done this and the Enterprise Allowance Scheme, I might not have thought about my art in a business sense – it set me up nicely. It was actually incredible because it gave me this space to explore, creatively.'
Unperturbed by the fact that they could no longer rely on the security of the Café Rouge income, but noticing a worrying depletion in salaries, Lucy and Patrick decided to embark on professional collaborations and joined forces with three very enterprising and talented people, who then helped the couple complete the impressive brand that is now Lucy Loveheart Creations Ltd.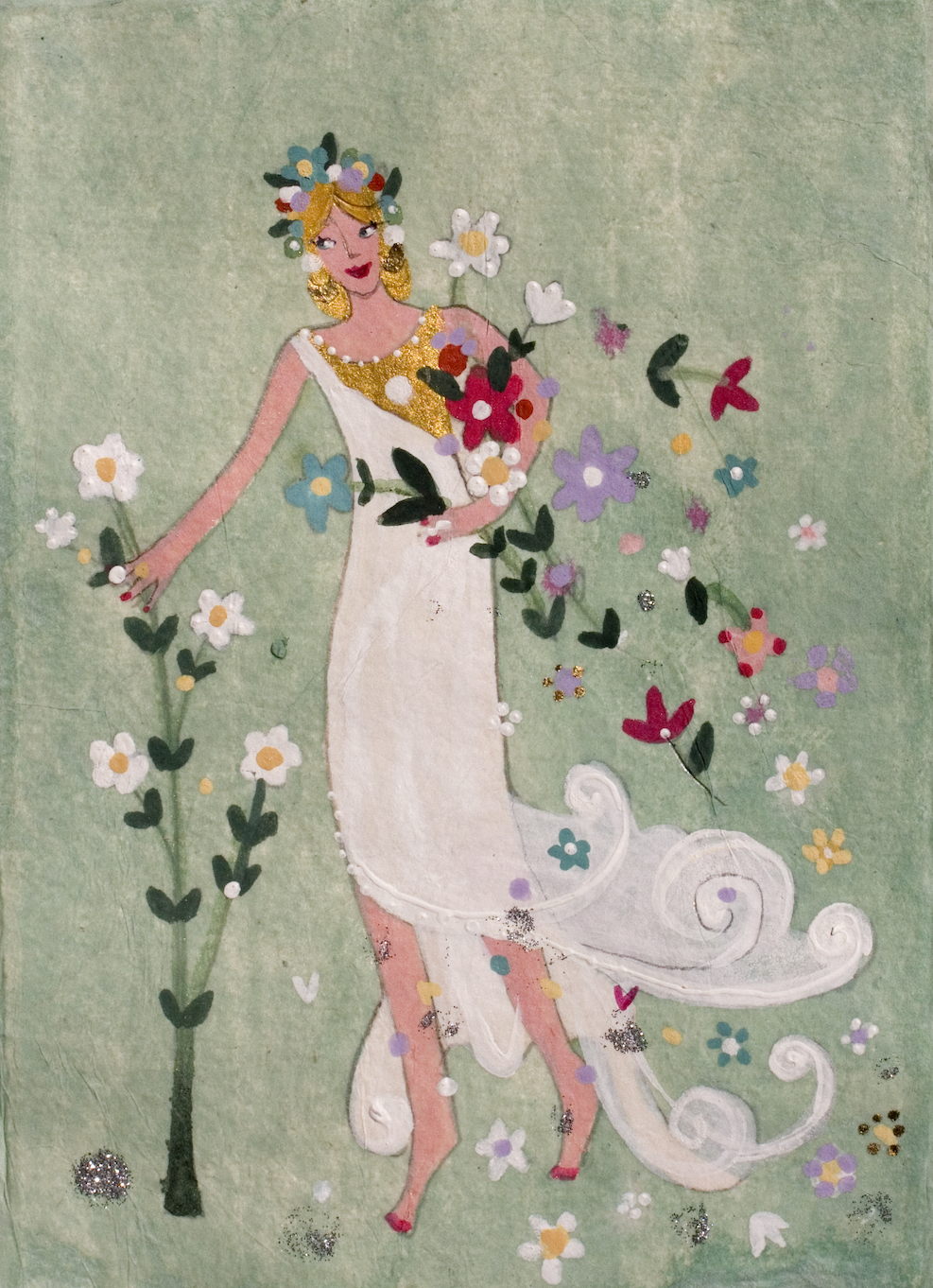 Flower Goddess
The forming of Lucy Loveheart as a business meant the couple had the expertise to plan and structure their approach and fully commercialise on Lucy's natural talent. After deciding where Lucy's artistic interests lay next, the brand targeted Chatsworth House, which has lead to an ongoing annual collaboration involving a stunning array of paintings such as Pride & Prejudice, Follies of Love, Once Upon a Time and a series of Christmas cards and art-work.
As well as this, Lucy and her mother, a former teacher, created a series of children's books illustrating the imagined worlds of pirates, fairies and magical creatures, which were translated into many different languages and sold worldwide.
Further partnerships include paintings and ongoing projects for Blenheim Palace, Kew Gardens, Royal Horticultural Society and most recently Lucy was commissioned to paint the huge Wentworth Woodhouse and the largest Spa in the UK, Ragdale Hall.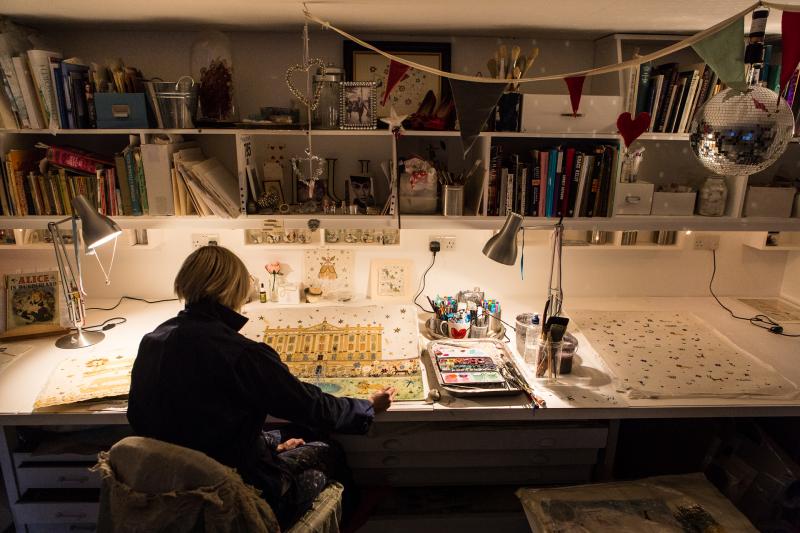 Lucy, in her Norfolk studio
'I've always loved painting buildings and children's art and the two sort of merged…'
Apart from the ongoing collaborative relationships with large houses and some of our finest and quintessentially British organisations, lucyloveheart.com is brand building with more impressive licensing partnerships; Liberty, Boots, Marks & Spencer having already joined forces, amongst others.
Any budding artist who wants a steady lifestyle and some financial security should take note. Thinking of your art in business terms, and considering if there is a possible commercial avenue, might just give you an opportunity for the grounding and dose of extra common sense required to succeed as a business as well as an artist. Behind the innocence and charm of the ever-growing brand that is Lucy Loveheart there is a team of brilliantly clever people with real business and marketing acumen, and in a world where great artists can struggle so much, this is surely something to be celebrated.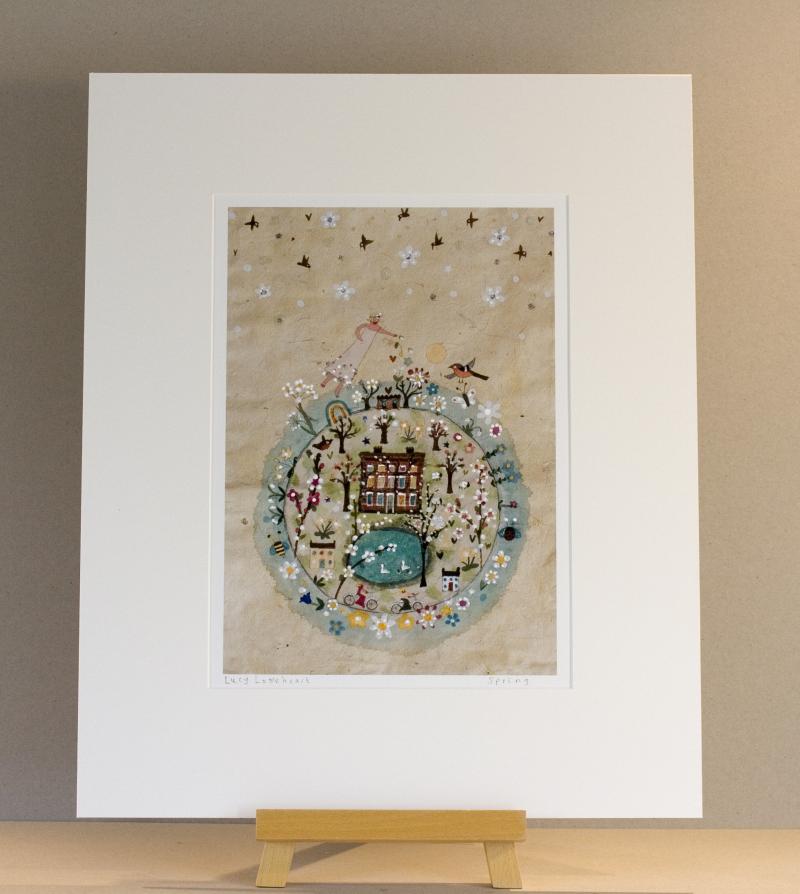 One lucky reader will win a signed print of SPRING by Lucy Loveheart. To enter the competition, please click here.
To see more of Lucy's work, please visit the online shop and gallery www.lucyloveheart.com