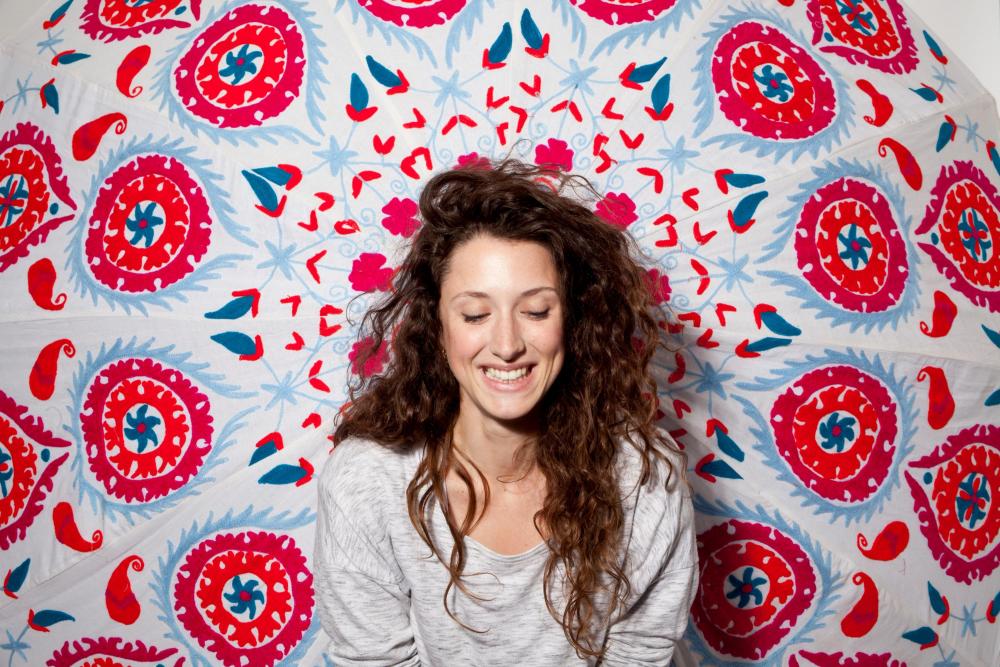 Lucy Ferguson founded the East London Parasol Company in 2015, having spent her early career training as a chef, working at Neal's Yard Dairy, working in the House of Commons and finally moving to India to write a children's book…before her love affair with Indian fabrics, colours, creativity and spirit led her to create the East London Parasol company. Having witnessed the temple umbrellas used in Hindu temple celebrations in Kerala, Lucy wondered why garden parasols were predominantly green, white and boring…and thus her use of vibrant fuchsias, turquoise, electric blue and metallic shades in all her parasols.
Each parasol and cushion is made by hand, using traditional handcrafts to create contemporary designs. East London Parasol Company holds a strong ethos of keeping artisans in work, creating high quality competitive goods and sustaining their craft. Many of these processes can't be mechanised, and if they were, the beauty and personality of the fabrics would be lost. Each design works with the limitations of hand-made fabrics to create unique pieces that machines cannot make.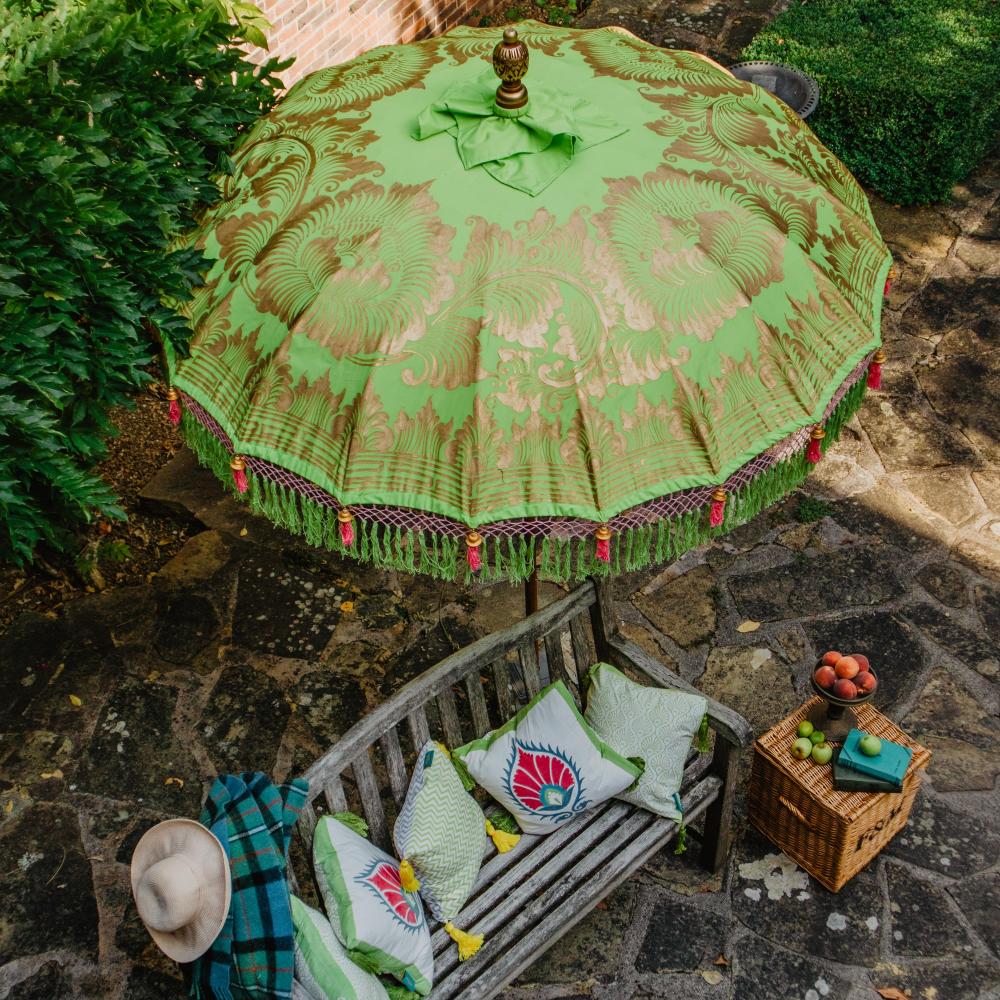 Every piece in the range is a labour of love and artisanal alchemy, made across India and Indonesia. The silver fringes are made in Kerala by the temple umbrella makers, before being flown to Bali, where it then becomes the form of traditional Balinese parasols. The canopies are made by talented locals, using hand block printed cottons from Jaipur and hand-painted fabrics from Bali.
Created from beautiful fabrics with block printed patterns ranging from parrots to palm prints, Lucy's motto of 'live colourfully' is reflected in designs of hot pinks and lime greens – through to oranges, sky blue and canary yellow. The bright hue of each parasol retain their style from season to season and finishing touches of carefully chosen tassels, pom-poms and pretty, delicate trims adorn each, making a statement in any outdoor setting.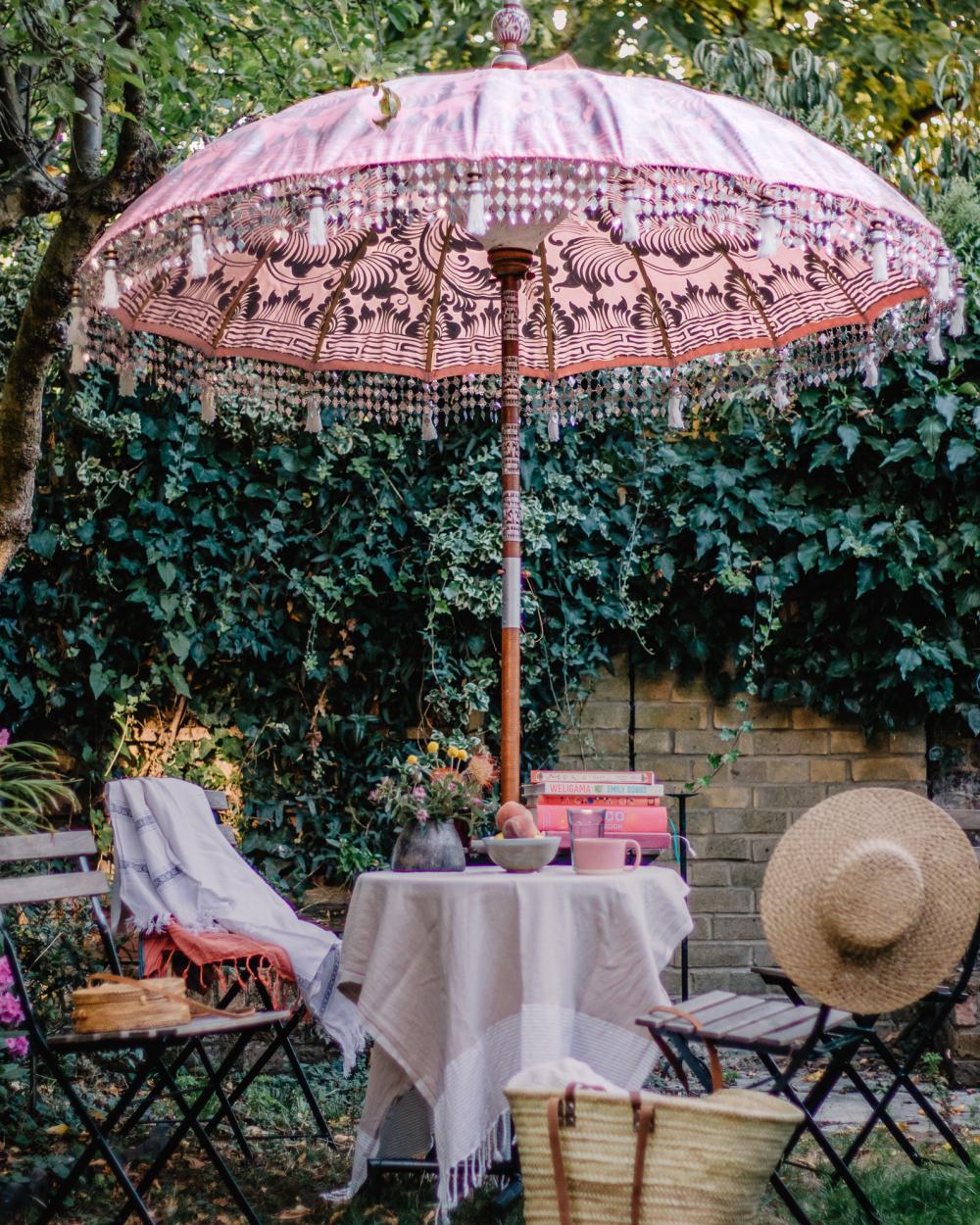 East London Parasol Company bring the best in colour, glamour and style to any summer setting with a beautiful collection of decadent, handcrafted parasols and cushion covers
Lady.co.uk talks to Lucy about her business adventure
Your parasols are absolutely beautiful – can you tell us a bit more about the transition from chef/children's book writer to designer, and your life in India?
I graduated from university just before the 2008 crash and it was a very scary time to enter the job market. I remember feeling terrified and grateful for my job in financial comms whilst people around me lost theirs. It wasn't the right career for me, and I spent a lot of my twenties trying to be things, rather than working out who I was. When you're very young you are truly yourself, then you become a teenager and you have no idea who you are except what you see reflected by other people- and it's probably not as cool as you hoped. Then you leave education and are apparently a grown up and have to do a job out of a list of titles you have been told exist.
I'd always wanted to do something creative but it was only after trying a lot of other things that I realized what is important to me, and that's people. I'd gone through a bit of a down patch and I remembered the beautiful temple umbrellas I'd seen in Kerala and how cheerful they were. So I made up my own job and I put people and creativity at the center of the business. I love designing beautiful things that bring people joy and forming wonderful networks of suppliers, friends and customers. I wouldn't have known that unless I'd thrown myself at so many careers and been lucky enough to meet and work with such diverse people.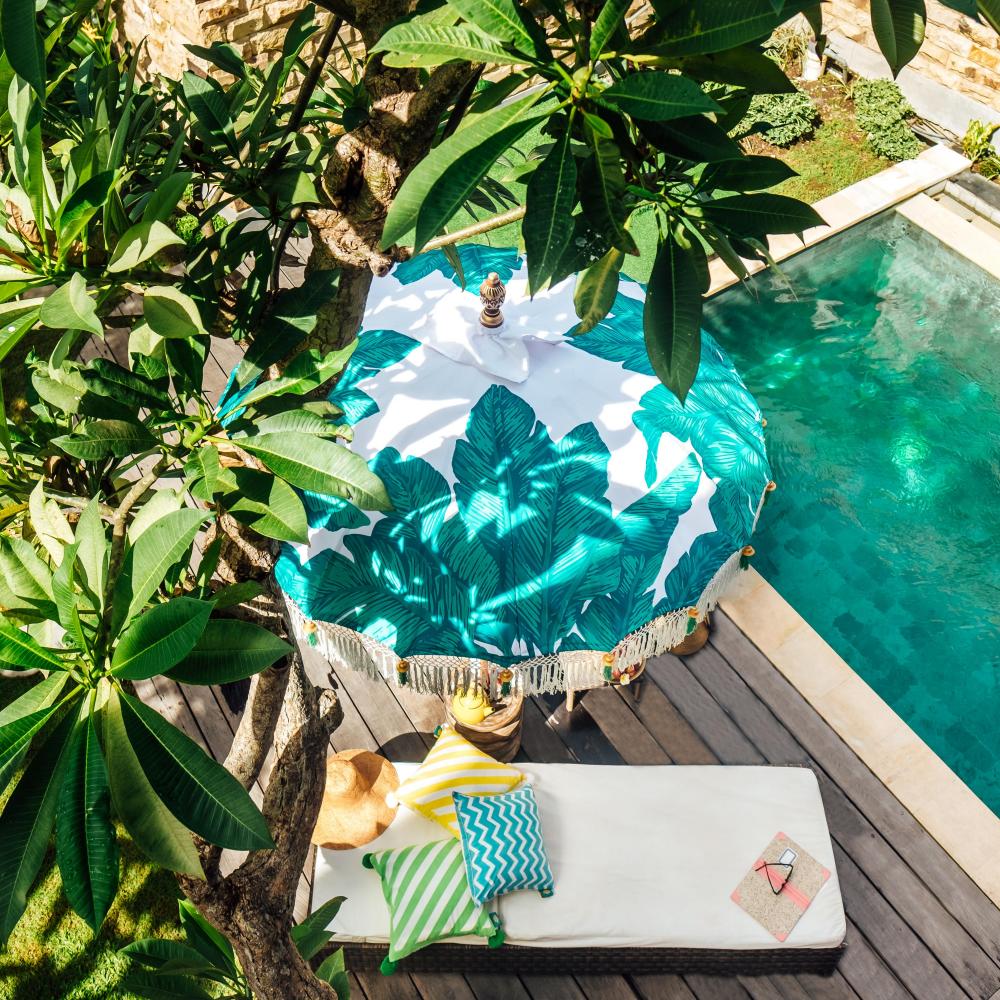 You are expanding after only four years of trading – where will we see your parasols soon or is it top secret atm?
I can't keep a secret and it's too exciting, I'm launching in the US. I'm taking a capsule collection and I really hope it goes well, it feels like a natural step. I don't know what American customers are like, I hope they're friendly.
Your brand is clearly a conscientious ethical business in terms of employment but how do you keep your environmental footprint low when your product is imported?
It's an ongoing struggle, I'm on a quest to do more. I've been trying to work with a recycling charity in Bali to create parts of the parasols, the infrastructure isn't yet there but it's a continuing conversation. We use hardly any plastic in the manufacture and as little as possible in the packaging. Our parasols ship once a year in containers which is slow but has a lower carbon footprint than air freight. I'm conscious of water waste and I'm experimenting with digital printing rather than more traditional printing to try and cut this down.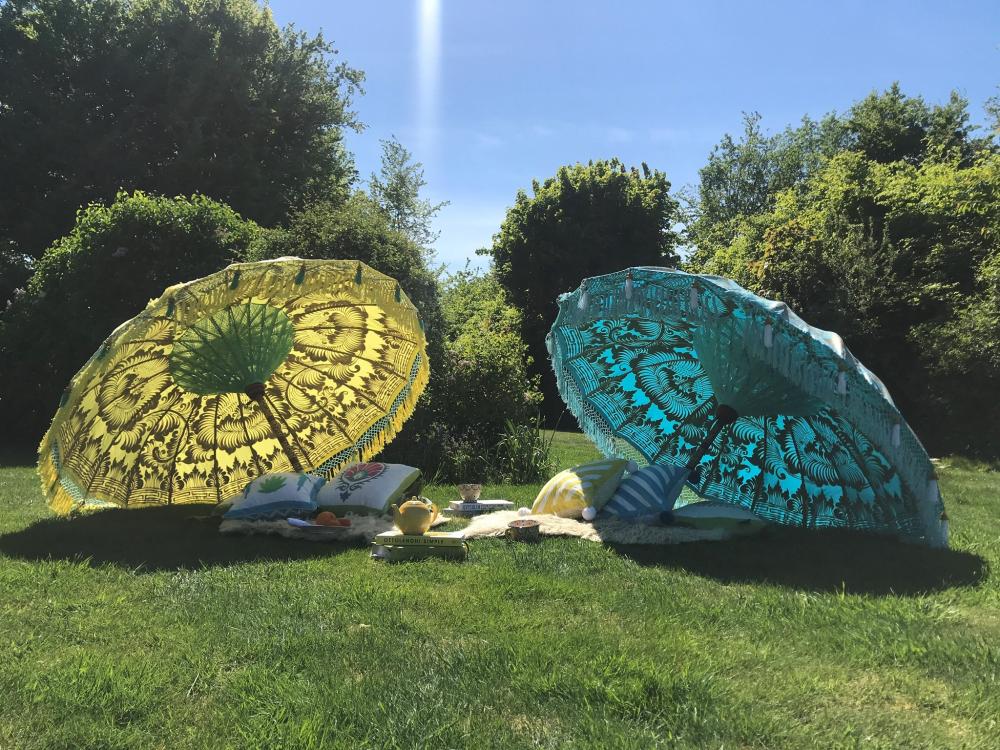 Can you describe your idea of a perfect afternoon in your garden?
I love the British summer time in every way. My initial response was an afternoon lazing with the papers and a pot of licorice tea, and then I remembered how annoying it is when the wind blows the pages everywhere and you spend most of the time running after the News Review. So my perfect afternoon would involve close friends, roast chickens, pots of mustard, a lot of eating with hands and the mandatory glasses of rose- obviously shaded by fabulous parasols.
Will these parasols work in small gardens / yards, too?
Yes they're ideal, the smaller ones are just under two meters in diameter and can go through the hole in a bistrot style table. I'd recommend a stand with a narrow base so you can sit right under the parasol.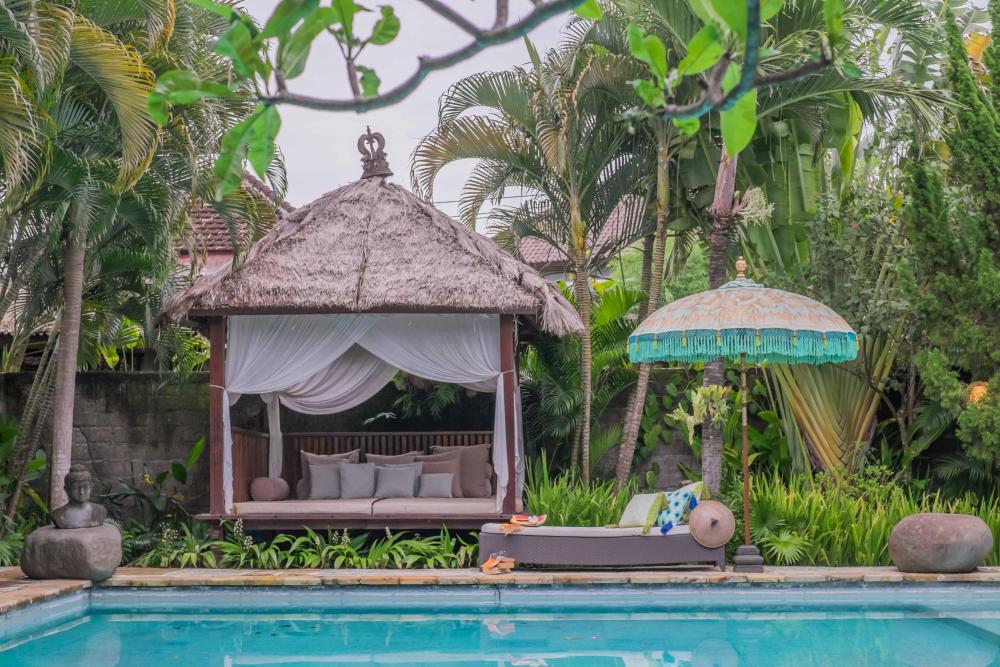 How long do they last for and do they need to be protected from rain?
As with everything, the better care you take of something the longer it lasts. I'd hope you would have years with your parasol, but you need to be very cautious of the wind- it's the mortal enemy of parasols. I highly recommend Scotchguard and waterproof protective spray, a few splodges of rain are fine but the key thing is making sure that the parasol is dry before you put it away.
Why do you think traditional British garden furniture is often rather ordinary?
The Lutyens bench is lovely but I think the general trend has been geared towards functional - until recently Britain hadn't invested in using gardens as an extension of living areas. In general, we must now be the widest travelled humanity has ever been. Travel, holidays, a cosmopolitan society and exposure to different styles of architecture are changing how we engage with and use our outdoor spaces – and as our climate grows warmer, we want to spend more time outside. There's been a separation between the house and garden which is now diminishing, perhaps as our eating styles change and we embrace informal family-style dining.