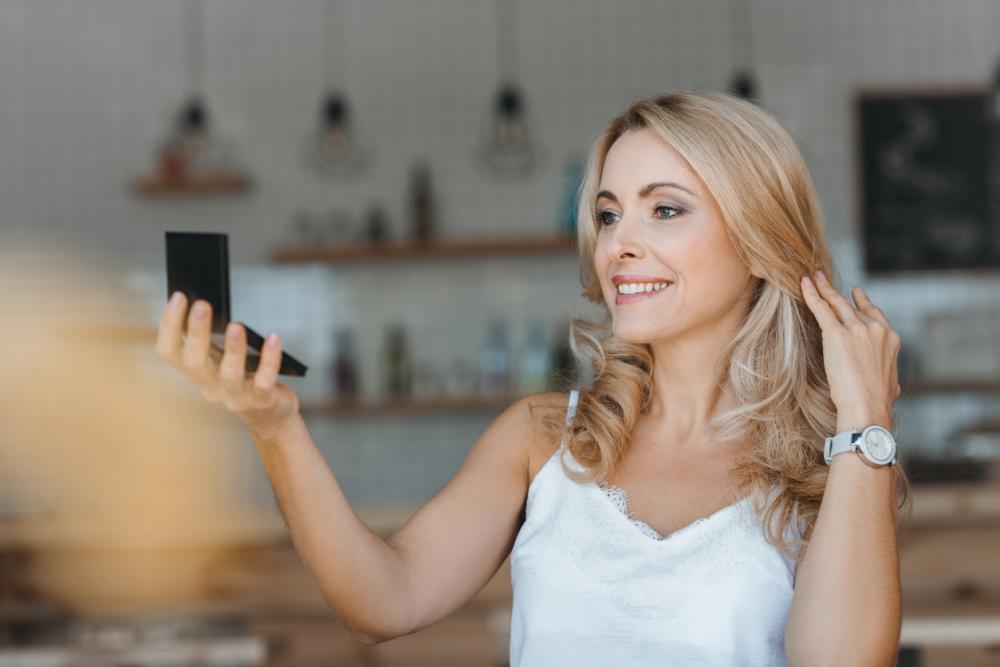 Makeup is meant to enhance your natural features rather than age you. Something we all aspire to is youthful, glowing skin but have you ever thought that your makeup application techniques are making you look older than you are? It's easy to make mistakes with makeup, but to help avoid the look of dragging skin, heavy eyes and harshly lined lips, we spoke to lead product developer and skincare specialist, Patricia Boland from Colorescience UK, who gives 7 makeup mistakes to watch out for that make you look older.
1) Going overboard with the shimmer
Shimmer can be fun to use on the face and look lovely, if it's used correctly. Too often do we get carried away with beauty trends such as an intense highlighter glow or bold glittery eyelids but unfortunately, this can accentuate fine lines on the skin. Using too much shimmer to highlight your eyebrows, your cheekbones or your eyes can make your face look age worn. Instead, opt for neutral matte shades to define your eyes or choose a very soft, reflective pearl shade to add a pretty yet subtle touch to the eyes.
2) Applying blush in circles
From a young age, we are taught to apply blush in circles on the apples of our cheeks, but this can cause an appearance of sagging skin. This way of makeup application makes the colour drag lower than it naturally should, giving the appearance of dragging skin and an uneven application. The correct way to apply blush is by gently sweeping the colour across the top of your cheekbone. Avoid strong blush colours like red and orange that can look harsh and unnatural on the skin.
3) Overlining your lips with the wrong shade
To stop our lipstick from bleeding out onto our skin and our teeth, a lip liner is essential. However, overlining your lips using a colour that does not match your lipstick is a 90's trend that nobody wants to revisit. Using the wrong shade of lip liner creates an awkward, uneven border around your lips that can look harsh on a youthful face and unnatural. To line your lips correctly, find a colour that is a close match to your lipstick shade and remain modest when building the size of your lips. Begin building from the bottom lip rather than the top, as this will look more seamless and natural.
4) Heavy lining of the lower eyelid
As we grow older the skin around our eyes begins to slump, giving us the impression of smaller looking eyes. Youthfulness is associated with dough eyed, big and round eyes, so by heavily lining the lower eyelid it gets rid of this effect and makes your eyes appear narrower and droopy. To counteract this from happening, try using a neutral and light makeup pencil to help open up the eyes and keep your makeup looking bright instead of heavy and aged.
5) Clumping your mascara
Mascara is the easiest way to instantly appear more awake. However, there is so much that can go wrong in the application of it that can subsequently make you look older. Examples of this include clumpy and spidery lashes, the dreaded "racoon eyes" and black mascara transferring onto your eye makeup. To avoid this, always use a waterproof mascara to ensure smudge-free makeup and apply mascara on the lower lashes first to avoid accidental makeup transfer. To really open up your eyes on special occasions, try using an eyelash curler. This adds volume without adding too many layers of mascara which could clump.
6) Applying dark eyeshadows in the wrong way
Perfecting the smoky eye is something many makeup lovers aspire to. However, it can easily go wrong and too much dark eyeshadow can really overpower and age the face. Take care not to apply dark eyeshadow all over your whole lid, as this can make you look visibly older. Instead, dab the dark colour on the outer corner of the eye and keep your makeup look bright by applying a light colour on the inner two-thirds of your eyes.
7) Using too much powder
Nothing is as unnatural, ageing and harsh as cakey looking skin. Too much powder will do no good for your skin and in the worst case, it can make you look slightly comical and clown-like. Of course, we don't want our makeup to slip and slide all over our face so perhaps try using a setting spray instead, which gives a blended and naturally set look. If you don't like the feeling of spraying your face, go easier on the powder and apply it in only in the T-Zone area where you tend to get oily (the forehead, the nose and chin). Letting your face have a slight, natural glow can make your skin look youthful and flushed so don't cover it all up with powder!