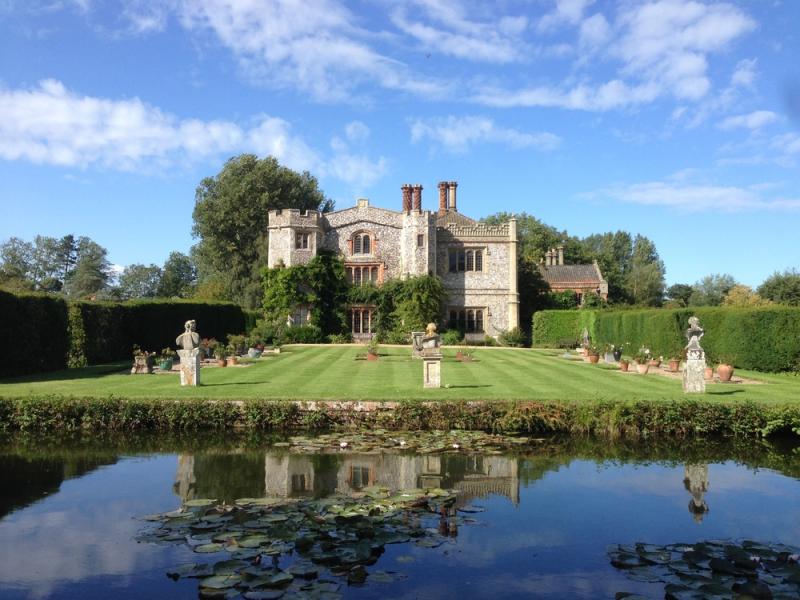 The Walpole family's connection with Norfolk goes back as early as 1288, when Ralph de Walpole was Bishop of Norwich. The lineage descends to the most famous of the Walpole heirs, Sir Robert Walpole, who is regarded as Britain's first Prime Minister. It was his brother, Lord Horatio Walpole, who built Wolterton Hall and bought the nearby Mannington from the Potts family in the 18th Century. Mannington remains the home of the Walpole family today and the present estate extends to around 300 acres.
Magically situated in rural North Norfolk and shielded by wild woodland and sloping pastures, 11 bedroomed medieval Mannington sits in a valley of Ancient and Coppice woodland, just beside the village of Itteringham. Surrounded by a moat, this breath-taking gothic flint structure proudly displays its fairy tale motif chimneys and south facing turrets. An avenue of Dutch Elms lines the drive and centuries of noble cedars stand in front of the hall, some are felled as they have died and have now been turned into impressive garden sculptures. Streams, lakes and water meadows with over 150 types of plants surround the hall.
The gardens include over 1000 varieties of roses, the Heritage and Modern gardens display the roses in designs that reflect their date of origin. The wild flower area of the Saxon Chapel is home to many different varieties of tree and was shaped into a folly garden in the 19th century. Lord Walpole has worked hard over the years to ensure that all the gardens are maintained with sustainability in mind.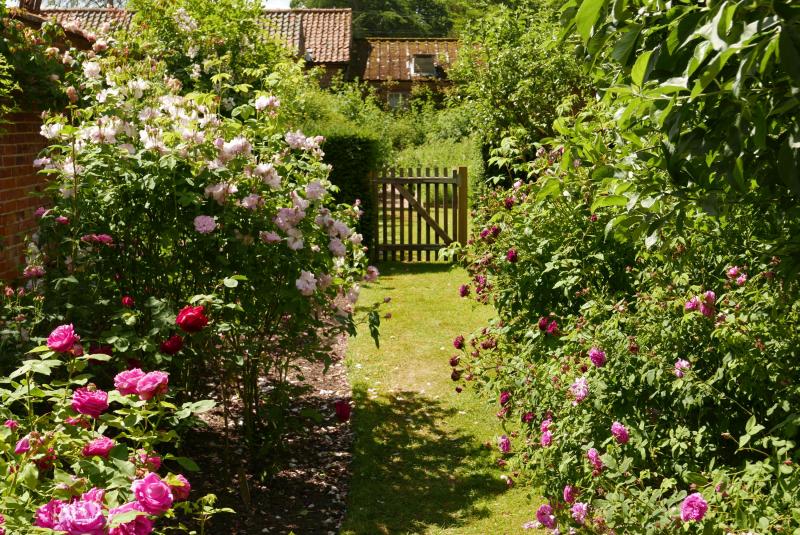 Lady Walpole tells us about Mannington Estate…
A rich history of change
'The Walpole family tree is complicated and the current Lord Walpole came by the estate through strange accidents of history.The first Lord Walpole bought it from the Potts family in the 18th century but didn't live here. Norfolk's problem was it being quite far from London, therefore it wasn't easy to get to and from.
By the 1860s the slightly eccentric 4th Earl of Orford moved here and gothic was very fashionable, so he added on lots of things – in fact it's quite difficult to tell which gargoyles he put up and which are originals, as there are far more than there would have been! The 4th Earl suffered an amazing scandal, with a lover who bore him a son but left him for someone else. The Earl then brought his son up here, on his own.
The Hall came to the 5th Earl. However, sadly for him things were different. He had no sons, but a daughter from his second marriage, who is still alive and lives in New Zealand and is now 98. By rights she should have been at Wolterton and been a Countess. However, due to title things were set up to continue in the male line and eventually the hall went to Robin Walpole's father, aged only 14, who was a distant cousin. Robin's grandmother had been a solictor's wife in Stevenage and her husband and his brother had both been killed in 1918. Therefore, Robin's father didn't know his own father or indeed his uncle, like so many families during the war. It makes such difference to what you do and don't know.'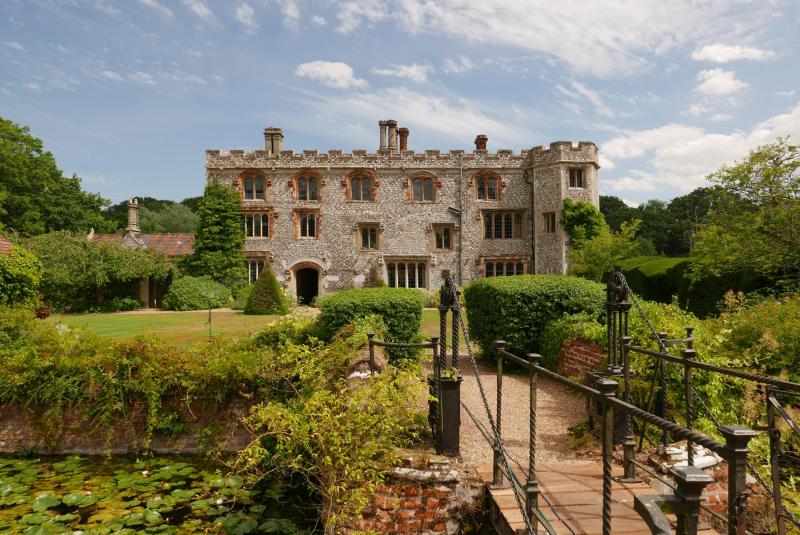 A gothic jigsaw
'It is a magical looking house - if you come down the drive in the early evening when the sun is there, the windows are all golden – this doesn't just happen once, it happens all the time.
As Mannington was let as a farm house, the family didn't bother doing it up as they didn't live here, so the front of the house was left unaltered which at the time wasn't terribly grand. In Norfolk there are lots of houses with this flint work on the back, but the fronts of these houses are often finished in a Georgian style.
There are things added all over the house, such as changes to the chapel garden and the battlements on the top of the garden walls, which echo the top of the house. The little guard house was there and a functional part of the house, but in its present form it has been clearly added to during the 19th century. There was a little drawbridge but the recent iron work is from the 1860s. What we don't know is if there was a house on the site previous to this, so there is still room for possibilities, research and investigation which is always interesting.'
Lord and Lady Walpole run the house and grounds in a sustainable, ethical way. The family have always been conscious about environmental sustainability and continue to plant trees and care for the gardens and run the events with this in mind. The gardens are open every summer and the house is available to view on appointment.
'We have always tried to keep the environmental things going, we've been doing it for so long. Using minimum chemicals and plastics and so on and on the whole the people who have weddings here are those who want to have less of a footprint.'
Mannington hosts an array of sympathetic events and holidays through local business collaborations. Ambers Bell Tents, The Greedy Goose, Little Vintage Lovers Fair, Mannington Minnows, Nature Discovery Days, as well as Open Air Theatre performances and gallery exhibitions.
Quick Q&A with Lady Walpole
What are the main sources of business at Mannington?
agricultural/ domestic rents
garden visitors / car park fees
events/ weddings and similar parties ​
small amount of wood and plant sales
How do you feel running the Estate has changed over the years?
The main change for us personally was the acquisition and subsequent sale of Wolterton Hall
Some other changes were giving up in hand farming and time spent by my husband at Westminster
There is much more competition now with far more gardens open to the public
The development of the Garden Centre as a tourist destination
Increasing fuel costs especially for coach visits
Sunday trading and changes in family hobbies and interests, increasing expectation
What advice would you give people who are taking on these kind of large estate / houses projects as a commercial and private venture?
Enjoy it! Emphasise those aspects you enjoy and if in North Norfolk don't expect it to be like the Home Counties
To visit Mannington Hall please follow this link or call 01263 584175
Little Vintage Lovers Fair– on Sunday 12th May!