Mary Berry's carefree Christmas
Christmas to me is a time for celebration; for family, for laughter and good food. I remember the times when I used to prepare everything at home – the turkey, vegetables, stuffing, Christmas pudding – and take it to Granny's on Christmas Eve, ready to be cooked the next day. Children, gifts, crackers, dogs, cats – everything had to be remembered and organised meticulously. Although these days most of my Christmases are at home, and the young come back to us with their children, the advance preparation doesn't seem to be getting much less.
For, however many times you have done it before, it still seems very daunting, especially when, as far as the high street shops are concerned, Christmas is upon us as soon as the summer holidays are over. That is why I thought it might be a good idea to gather together my recipes, my ideas and my snippets of wisdom – all gained over the years – into my newly updated guide to happy, carefree Christmas cooking.
The recipes themselves are on the whole traditional, but you will find many of them have a modern twist. Often I will add an unexpected new flavouring ingredient, but the best flavour comes from the best ingredients, which is what you start with. I never cut corners and I would always encourage everyone to use the very best ingredients. I buy fresh meat, fresh fish and vegetables from local shops, farmers' markets and so on, but I am also very much in favour of many of the ready-prepared ingredients you can find these days in good delicatessens and supermarkets, things such as jars of roasted peppers and tubs of crème fraiche or hummus. Most of these are very good indeed, and save you so much time. If you had some of those in your store cupboard or larder, you would always have the basis for a quick meal during the holiday period, and you wouldn't have to panic about running or driving to the nearest, probably closed, shops.
We all wish you very happy cooking, a Merry Christmas and a Happy New Year.
Mary Berry's Christmas Collection, with photography by Robin Matthews, is published by Headline, priced £20.
---
CLASSIC OLD FASHIONED TRIFLE (pictured above)
Serves 6-8
1 × 400g can pears in natural juice
1 packet trifle sponges, containing 8 sponges
strawberry jam
75ml medium dry sherry
about 10 ratafia biscuits, or broken almond biscuits such as macaroons
600ml bought good-quality fresh vanilla custard
300ml double cream
25g flaked almonds, lightly toasted (and see Tip)
Drain the pears, reserving the juice, then cut into small pieces. Split the trifle sponges in half and sandwich together with strawberry jam. Measure the sherry into a jug and make up to 150ml with the reserved pear juice. If you don't wish to have sherry in your trifle, then use all of the pear juice – about 150ml.
Put half of the chopped pears into the base of a shallow glass serving dish about 20cm in diameter and 6cm deep. Arrange half of the trifle sponges on top, then add the remaining pears and finally the remaining trifle sponges. Scatter the ratafias on top and pour the sherry and pear juice mixture over evenly.
Carefully pour the custard over the top. Lightly whip the cream until it just holds its shape and spoon over the custard. Gently level the surface. Sprinkle with the toasted flaked almonds just before serving. Serve chilled.
Preparing ahead
This is an ideal dessert to make a day ahead as the flavours have time to mingle. Keep in the fridge. Scatter over the toasted flaked almonds just before serving.
Tip
Flaked almonds can now be bought ready toasted but, if you do need to toast them yourself, put them in a dry pan over a medium heat on the hob. Move them around with a wooden spoon and watch them like a hawk as they can quickly burn.
---


TURKEY KORMA
Serves 6
450g cooked turkey, cut into neat pieces
150g green seedless grapes, cut in half lengthways
2 tbsp chopped fresh coriander or parsley
For the korma sauce
1-2 tbsp sunflower oil
3 large onions, very roughly chopped
2 fat garlic cloves, crushed
1 tsp ground cardamom
5cm piece fresh root ginger, grated
1 tbsp ground cumin
1 tbsp ground coriander
1 tbsp garam masala
300ml turkey or chicken stock
1 × 200ml carton coconut cream (UHT)
salt and freshly ground black pepper
50g ground almonds
Heat a large frying pan, add the oil and onions, and fry over a high heat for a few minutes.
Lower heat, cover the pan and soften for about 20 mins.
Add the garlic, cardamom, ginger, cumin, coriander and garam masala to the onions. Fry for a further few minutes over a high heat to roast the spices.
Stir in the stock and coconut cream, bring to simmering point, season and stir in the ground almonds to thicken.
Add the cooked turkey to the hot sauce, and bring back to the boil. Cover and simmer very gently over a low heat for about 10 mins until the turkey is piping hot.
Stir in the grapes and sprinkle over the chopped coriander.
Preparing ahead
Most sauces such as korma sauce can be made well ahead and kept in the fridge for 2-3 days. They can then just be reheated and the cooked meat dropped into them and heated for 5 mins or so.
---


QUAIL'S EGG AND HOLLANDAISE MINI TARTLETS
Makes 24
24 mini cocktail pastry cases
For the filling
12 quail's eggs
24 small asparagus tips
salt and freshly ground black pepper
a little bought olive tapenade
a little bought good hollandaise sauce
paprika
a little melted butter
Preheat the oven to 150C/ fan 130C/gas mark 2. Boil the eggs in boiling water for about 2 mins (this gives a soft yolk), drain and refresh in cold water. Peel at once, carefully, as they are soft-boiled.
Blanch asparagus tips in boiling salted water until just tender. Refresh in cold water, and dry using kitchen paper.
Spoon a little olive tapenade into the base of each pastry case.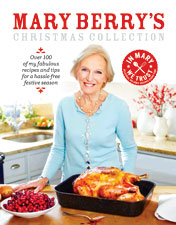 Carefully slice each quail's egg in half lengthways and put one half in the base of each case. Season, spoon over a little hollandaise sauce and sprinkle with paprika. Top with the asparagus tips and brush with a little melted butter.
Arrange on a small baking sheet and heat through in the preheated oven for about 12 mins until warm. Serve warm.
Preparing ahead
They can be prepared about 6 hours ahead, but not longer than that, or they could become soggy.
Tip
If preferred, you can replace the olive tapenade with sundried tomato paste or pesto.