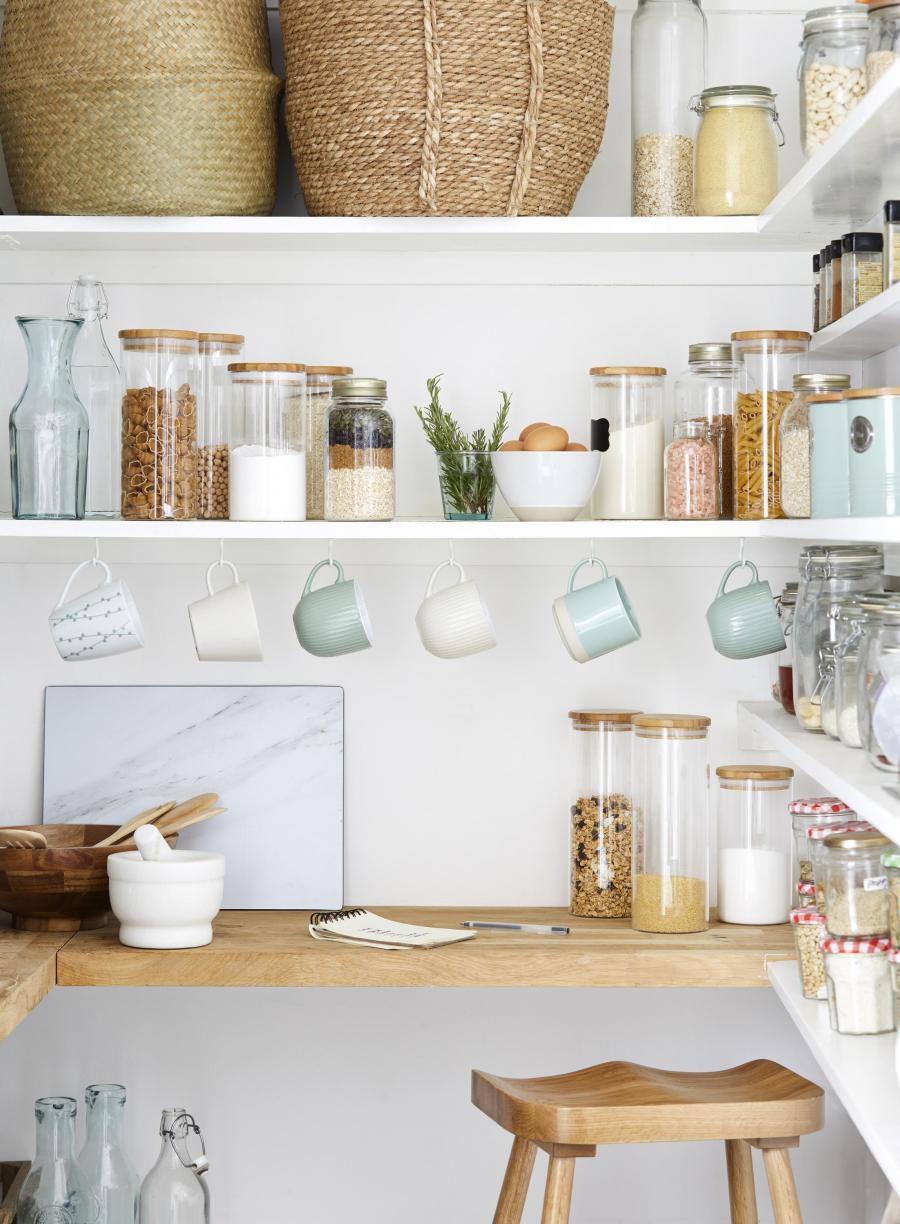 Mindful Decluttering: tips from the experts
By Lucy Boulton
A clutter free house is, I'm sure, very high on everyone's wish list yet how is this achievable when you've got a constant stream of demands and priorities from general day to day life?
Since I became a minimalist, I have a strict one in one out rule, and everything has a home. It gives me more time back to do the things I enjoy, ensures I know where absolutely everything is including important documents, and most importantly allows me to kick start my day with a stress clutter free routine as I'm not surrounded by stuff in each room I walk in to.
I've picked up my various tips over the past few years from Housekeepers and Cleaners I worked alongside plus online blogs and the Marie Kondo Method.
It pays to be organised, sorted and live life clutter free and here are some top tips from experts Dr Dawn and Style Sisters to help you get organised!
Declutter your home with Style Sisters and Dunelm
In light of new research from Dunelm that revealed almost a third of people get up during the night to clean and tidy, Dunelm has partnered with organising duo The Style Sisters, to create a series of top tips on how to be more mindful with your storage solutions, and avoid the risk of creating a 'floordrobe'.
Create a Colourful New Aesthetic Using Storage
Clearing up your belongings may not be fun, but the storage you choose can be. Pick attractive slim line coat-hangers for your wardrobe makeovers or choose colourful storage dividers that double up as bookcases to add some personality to your bedroom. Not only will this allow you to fit lots more into your home – they look great!

Fabric boxes are an inexpensive way of arranging and organising cupboards and bookcases, plus they come in different sizes so can fit into cosy flats just as easily as larger homes.

Our pick of products:
Style Sisters advise how "With a few simple tips and tricks you can overhaul the tidiness of your home and in turn become more content and feel more relaxed. One of the easiest ways to prevent household mess becoming stressful is to buy storage containers immediately following clear-outs, rather than buying containers to fit existing items. This helps avoid the temptation of buying boxes to fill with clothes that then sit hidden away and unworn. We would suggest throwing away any clothes, handbags or shoes that you haven't worn in over 8 months."
Their advice also helps to resolve the pressure that causes four in ten of us to feel unsettled by shoes being left in the middle of the floor, and helps the quarter of us that can't handle clothes being shoved in the drawer, rather than neatly folded and placed with care in true Marie Kondo style.
Style Sisters added: "Having a t-shirt out that needs to be folded and put away doesn't mean your entire house is a mess. We suspect people associate a tidy home with feeling in control – if you can keep it tidy, you can keep your whole life together. However, this only works when everyone at home is on the same track – which any parents with teenagers will tell you is easier said than done…"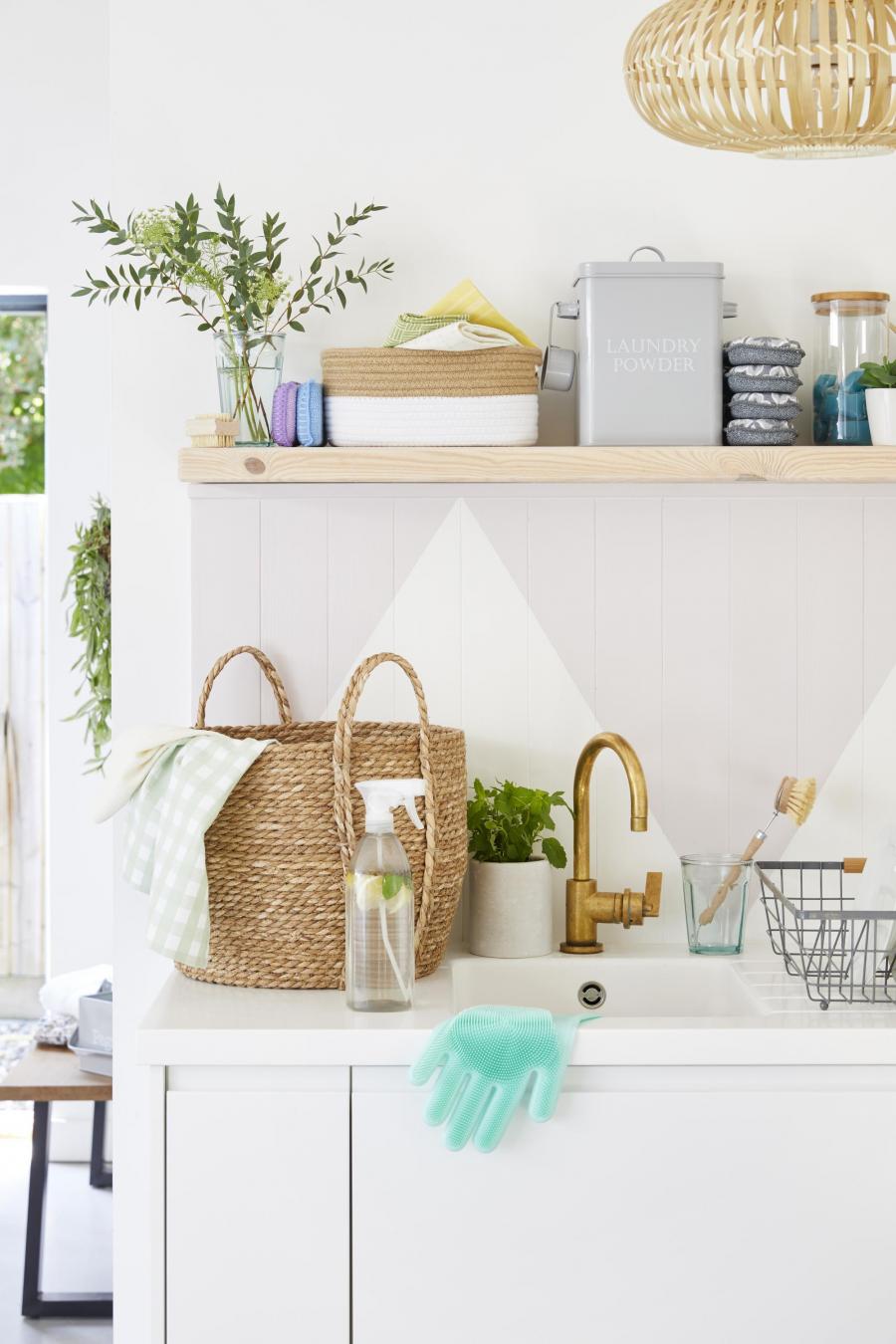 Make your home more mindful with Dr Dawn and Dunelm
Dr Dawn has created a series of top tips on how to keep on top of domestic chores for a more mindful and restful stay at home.
Welcome home!
On entering your front door, a traipse of shoes, socks and other quick outfit changes littered from the morning is never a good way to unwind. Dawn states: "You want to start your evening within a sanctuary, so invest in shelves or boxes, along with extra coat hooks near the front door, to house all of the options you might need for quick weather changes this season."
"Before going about the rest of your evening, avoid extra time cleaning by investing in a dirt-trapping door mat, keeping the rest of your flooring perfect and free from further mess."
Our pick of products:
Baskets, baskets and more baskets
Kitchens are the quickest to become cluttered, with a fifth of people admitting their storage solutions are in disarray, and almost 80% of people battling with constant crumb sweeping. "With the amount of pots, pans, utensils and cutlery required for just one meal, drawers and cupboards are particular mess-magnets, so optimise storage space with removable boxes and baskets, making items easier to find and transport from room to room."
Dawn adds: "For larger households, consider a designated basket per family member, and make them personalised for added style and a fun craft activity for kids. Not only does it encourage tidiness, but also makes everything easier to find – if you find a rogue toy, just pop it in the basket!"
Our pick of products:
Create a liveable living room
"Unwinding with a good book or magazine is a great way to shake off the day, so be sure to use shelving or storage racks to organise and make it easy for you to pick your relaxation technique of choice." Keep in mind that as the new additions roll in, be sure to pop old copies in the recycling to keep your lounge decluttered.
If you prefer to unwind with the latest box set, a new film release, or scroll through social media, don't let the increasing amount of technology in your home overwhelm you. Dawn advises: "Investing in an attractive basket or container for a coffee or side table to keep remotes and chargers organised and accessible" and you don't have to skimp on style either.
The environment we spend most time in has a huge effect on our levels of relaxation, and décor is a huge factor in keeping this as an ongoing mindset. "Cushions and throws keep the room cosy and co-ordinate – one of the favourite things in my snug is a mink coloured supersoft throw, which my dog also loves. As soon as I pick it up, she launches at me for a cuddle which always makes me feel better." Faux flowers and plants are also a great way to put a spring in your home's step, without the required upkeep.
Our pick of products:
For more tips and tricks from Dunelm in partnership with Dr Dawn Harper and Style Sisters visit https://www.dunelm.com/category/spring-fresh
Alternatively, why not hire someone who can do all of this for you?
Email theladyrecuits@lady.co.uk to find out more about how we can find you an exceptional Housekeeper to help in your home.