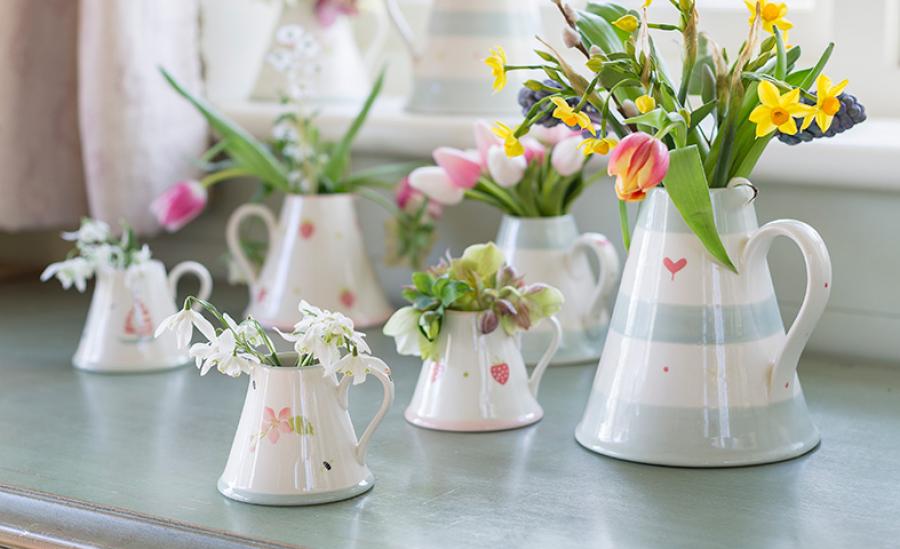 Spring is in the air! Naturally, this means it's also time to think about treating your mum to something special. We've handpicked some of our favourite things for Mother's Day gifts, so get ahead and don't forget we've got a guide to the top UK spas for her too. Country Living Spring Fair is an unmissable shopping experience and a great way to kick off the season in style - the perfect gift for this Mother's Day.
Susie Watson Designs are simply delightful and will look perfect on a kitchen table; hand-painted Mummy Mug £18.50 and hand-painted pitchers from £17 (above picture) www.susiewatsondesigns.co.uk
For gorgeous gardening go for this William Morris Golden Lily Gardening Glove Kit £25 (Morris & Co) and of course it's refreshing to have a proper cuppa when coming in from the garden. Organic premuim tea brand English Tea Shop has designed this lovely tin of Premium Round Tea Collection which offers the traditional Harringtons black, lemongrass, ginger and citrus, super berries, oolong and chocolate, rooibos and vanilla. Thre's a cup for everyone and every mood! £14.67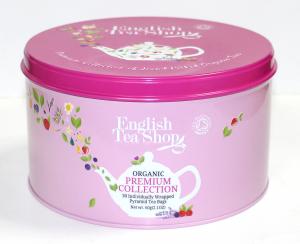 Every mother loves the quintessentially British brand Fortnum & Mason, whether it's a teatime treat or something that lasts a little longer. We yearn for a Mother's Day hamper to arrive at our door in the arms of a smiling offspring!
'Filled to the brim with an abundance of Fortnum's goodies, our Mother's Day Hamper has everything your mum could wish for, from our delicately aromatic teas to our delicious biscuits and delectable jars of preserves and marmalades. All this and more are waiting to be opened and enjoyed within.' £100
Super Stylish Magimix – no kitchen is complete without this excellent chopping, slicing, blending and liquidising gadget. It basically does everything apart from make you a cup of tea (there's still time for Magimix's genius technology to work on this!)
YARDLEY have brought out a new range of exquisite floral fragrances embodying the transformative power, beauty and allure of glittering gemstones – these are sophisticated scents that will appeal to traditional Yardley lovers.
TED BAKER have recently launched their most premium scent to date. Est. '88 combines citrus petitgrain, mandarin and spicy cardamom with fruit and floral undertones. £50 for 100ml
Or for a big statement why not treat her to the finest Italian luxury perfume, delivered in beautifully cut-glass coloured Swarovski bottles. This is the kind of luxury perfume you simply can't get enough of; once spritzed on, there is a primeval desire to keep pressing one's nose to the wrist, to immerse oneself completely in this heady, deep, sophisticated range of scents. For total decadence XERJOFF ALEXANDRIA III Limited Edition Pure Gold Swarovski bottle £680
Miller Harris London is the coolest of luxury perfumers; floral but natural, vegan and cruelty free, this is the perfume for the chic mum who is on-trend with both fashion and lifestyle. Miller Harris has collaborated with The Royal Opera House to create the beautiful Craft & Glamour which combines top notes of bergamot, berries, rose and plum with heart of sandalwood and patchouli and base notes of Tonka and musk. This is a classy perfume to fall in love with and is packaged in velvet Opera House reds and blues. £95
While Spring is still dipping its toe in, we love these gorgeous Cashmere Fingerless Gloves for bringing Spring joy to winter winds (available from www.turtle-doves.co.uk, £26.00) Turtle Doves rescue pre-loved cashmere on its way to landfill and proudly handcraft every item from their studio in Shrewsbury, England.
ORLA KIELY'S new Dove Print washbag collection for SS19 is perfect for that cheery weekend away. Stylish and fun with grown up colours, ORLA KIELY makes us smile, as always. From £28 at www.johnlewis.com
For the busy mum who doesn't want to mask her skin with heavy foundation, or for those that suffer with skin discoloration or rosacia, ROSALIQUE is a beautiful skincare and make-up in one, newly re-formulated with SPF 25 to boot. £29.99
Mums who could do with a little extra luxury at bedtime will thank you for these gorgeous PJs by Cyberjammies, made with 60% cotton and 40% modal for extra soft comfort, these are beautifully designed with a cute pocket and piping. £48
HEATHCOTE & IVORY brings the botanical heritage of the RHS alive with RHS Tender Palm hand & body wash £10, a lovely addition to any bathroom.
For the mum who deserves a bit of sparkle these Clear Quartz Iris Drop Earrings by Renne Jewellery will delight. £220
For a cute little gift try this fabulous fifties style mirror compact by Bonnets & Belles filled with vegan friendly mango flavoured lip balm enriched with olive oil, vitamin E, cocoa butter and shea butter for soft looking lips with a hint of shine. £7.00
Vanilla Reindeer have the sweetest personalised Mother's Day gifts, designed by you and delivered straight to her door. We love the champagne with hand cream gift package.