My mother Audrey Hepburn
Celebrating its 60th anniversary this year, Roman Holiday, starring Audrey Hepburn and Gregory Peck, is a timeless classic. But for Hepburn, Rome was so much more than just a backdrop for the film that launched her career. She went on to live in the city for more than 20 years, from the 1950s through to the 1970s.
Her second husband was Italian psychiatrist Dr Andrea Dotti, with whom she had Luca (she also had another son, Sean Ferrer, by her first husband, actor Mel Ferrer). I was lucky enough to speak to Luca about his beloved mother and the spell the Eternal City cast over her.
'She always said one thing that I find very sweet. As a wife and mother, she loved Rome because family was there and having a family was the thing she wished for all her life. If her family was anywhere in the world she would have followed it,' Luca tells me.
'Another thing she said she loved about the Italians and my father was that they made her laugh – she thought they had a great sense of humour and this Italian lightness of life,' he reveals.
Hepburn chose to walk around the city, which was another aspect of Rome she loved.
'Rome is a mix between a big village and a city, so she would walk to the shops and she knew the people in the shops. She wasn't hiding.'
But how is it possible such an iconic figure as Hepburn could freely walk the streets of Rome without being mobbed by her adoring fans?
'In those days, there wasn't this icon craze like today. She wasn't hiding behind bodyguards or cars with blacked-out windows. By exposing herself and getting to know all the people she met, it broke down that barrier between her and the public. Also, a lot of celebrities visit the city, so Rome is a bit blasé – "Ah, another celebrity". By doing Roman Holiday, going around on a Vespa, eating ice cream, she became a sort of ambassador for the city.'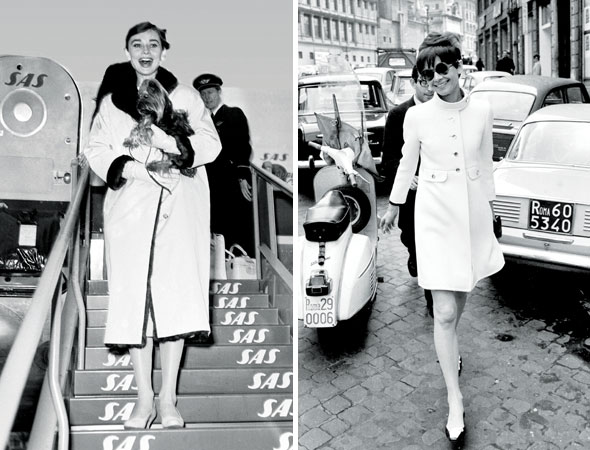 But was Audrey the international star and Audrey the mother one and the same person?
'Until her death, my brother and I never really sensed this iconic image she had. She would rather talk to us about how we were doing at school, our girlfriends, our problems, our lives, so we just saw her as our mother. When she died, it was like a double bomb. The sadness we felt, wanting to be private. But at the same time she was on the cover of magazines. It was a shock for us.'
Grieving for a mother while the world is grieving the passing of an icon must have been hugely difficult. But for Luca, working on an exhibition of pictures of his mother in Rome and the accompanying book, Audrey In Rome, was part of the healing process.
'It was very difficult because grief is such an internal, personal thing, but everyone wanted to know about her. I had to come to peace with that and realise I couldn't keep her separate. She was my mother but also an icon. I had to confront the fact that she was a public figure.
'I have three children and it's something you need to tell them about. If I didn't talk about her in a complete way, they would read stories online that are not always true or complete. My son had a postcard of Breakfast At Tiffany's and I said "Why? This is your grandmother, but not your real grandmother." I want to separate his grandmother from the glamorous vision.'
For many, Hepburn is still considered one of the most stylish women of all time. But did she ever just don a pair of comfy jeans and a T-shirt?
'A mother is a mother so I never really looked at her that way. At home she would be very happy in jeans and a top, which is surprising because people would say that she was so stylish – at the time I always thought that was weird. Givenchy, Valentino… those people were friends of my mother but they were never presented as a big thing. When Givenchy came, he was a friend of Mum's so we just behaved and tried to eat well and not make any mess.'
So Luca never saw her as a style icon – but did she see herself as one?
'She knew people saw her that way but she didn't see herself as beautiful at all. She was actually quite self-conscious about her defects – her nose, her feet, too skinny, not enough this or that. Of course, I always saw her as my mother; you don't see her as beautiful or ugly.
'The one thing she really linked to beauty was self-respect when getting old. She knew that when you're older you couldn't go around with younger hairstyles any more. And tricks like tying the hair back would make the wrinkles a little bit better.
'She was very happy about being old. She perceived her life as seasons: I have been young, I've been a mother, and now I am old.
'Of course, she wasn't old when she died [in January 1993], but she started her life very early because of the war – war makes you grow up very fast. Then at 20 she had this booming career, which makes you grow up very fast, too. During her career, she would go to London, Paris and Rome promoting her films. So by the time she was in her 60s she had lived a very full life.' Hepburn died aged 63.
Luca tells me that his fondest memories of his mother involve her childlike excitement.
'Every time we took trips, or did new things, she would always have this little girl kind of view about it – she was so enthusiastic.
'When I was 19 or 20, I had my first flat, which in reality was a total disaster. I was worried that when she came to see it for the first time she would find it too small and not good enough. But I remember she just had this big light in her eyes and she told me this would be a memory I would keep for the rest of my life. To my mum, it was like a castle.
'That good nature of hers is something that always comes up when people remember her.'
Audrey In Rome, edited by Ludovica Damiani and Luca Dotti, with text by Sciascia Gambaccini, is published by HarperCollins, priced £19.99. Celebrating its 60th anniversary this year, Paramount Pictures' Roman Holiday is re-released by Park Circus from 19 July, opening at BFI Southbank and selected cinemas nationwide.
---
Audrey's son on…
Why her films are still so popular
'She never saw herself as an icon, she was a working woman in a difficult world, and she remained herself.'
Her playing a Bond girl
'My secret dream was that she would play a Bond baddie. I used to say, "you always play the nice part, why don't you ask to play the bad guy?". She said no because she wasn't willing, it didn't fit her. She had seen a lot during the war, real action, real people dying and suffering – she didn't like violence in any form.'
Her favourite film
'She loved Wait Until Dark in which she played a blind girl.'
Her work
'She believed in working to make money, seeing her career not as a means to be somebody but as a profession. She always said she did her best when it came to work; the rest was just incredible luck.'