The Nannies Matter Campaign that's shaking up the industry
By Lucy Boulton
I never once doubted as a Nanny that I was anything but a professional.To me, this was and still is an incredibly important job and there were many factors that came with this line of work that you aren't aware of or told about beforehand. Some see working with children as a Nanny an easy stepping stone whilst they complete their studies in a different field, or a quick way to earn some money.
This isn't the case for a Career Nanny.
You dedicate the majority of your time to the family you work for, working long hours, sometimes travelling for weeks at a time and missing out on events with friends and family. This path can be an incredible opportunity to be a part of a child's life and have a huge impact in the most positive way possible, but to what extent on your own life?
As a career nanny, I loved my work and the adventures each day brought, yet as I creeped closer to 30, I found myself seeking ways to further my skill sets and learning so as to have more to offer in and out of the career nanny bubble. This was hard to come by. I found barely any help or advice on what would benefit my resume, or boost my chances of getting another role or even something to assist me should I choose to no longer be a nanny at all.
Thankfully, all of this is changing for the better and I for one am delighted to see the efforts and determination behind The Nannies Matter Campaign set about by industry professionals with years of experience behind them. They've been there themselves, seen the demand for real awareness into raising Nanny Standards and this is just beginning! UK Nanny Ltd are launching a new nationwide campaign to raise the bar within the nanny profession and the standard of private in-home childcare.
The Nannies Matter Campaign aims to have Nannies recognised as professionals by advocating and regulating Nannies in all child-care settings within the United Kingdom.
Over the years many campaigns have been started with little or no results. This campaign aims to set minimum standards to become a professional Nanny, outline a Nanny pay-scale based on continuing education and experience, to encourage policymakers to ensure safe-guarding of children by regulating Nannies, to establish a governing body, and for parents to feel confident about who they employ as their Nanny and to take care of their children within the home setting.
To Advocate Nannies in the Early Years Sector by:
Creating a pay scale of salary in a grade format.
Creating terms and conditions of employment through an employment contract.
Creating a minimum requirement of knowledge and qualifications to benchmark a professional Nanny.
Providing a credible CPD journey to allow professional Nannies to adhere to maintain a certain standard within the industry.
Establishing a system/register that recognises credible Nannies, similar to Ofsted regulating Childminders/Nurseries.
Providing Regulation would:
Revise the quality and standard of care in the home-based Early Years Sector
Give Nannies a scale to work towards, giving them a vision, career path and guidance.
Give parents reassurance of grades of childcare and value for salaries offered
Safeguard children
Increase general safety of Nannies while working in the industry and children being cared for
Proposed Minimum Requirement of Professional Status:
A recognised childcare qualification of study of at least 1 year-e.g. Cache L3 in Childcare/Early Years Foundation Degree
Nanny Insurance
DBS Enhanced Certificate
12 Hour Paediatric First Aid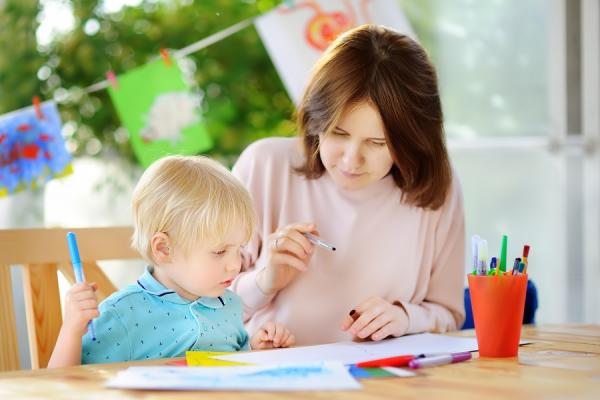 The Nannies Matter campaign is to have regulated guidelines for the Professional Nanny and to safeguard and educate employers and agencies. Regulating Nannies is a necessity, as it establishes a high-quality of childcare, safeguards children, and empowers Nannies as a professional.
The dedicated professional duo behind Nannies Matter are:
Helen McCarthy, is a Professional Qualified British Nanny (N.N.E.B) with over 29years experience as a Nanny, NCS, Childcare Consultant and has worked in Europe, Asia, USA, UAE and the UK. Helen founded UK Nanny Ltd in 2017 after spending years travelling to the USA to attend Nanny Conferences. Helen is proud to offer the only CPD accredited Nanny Conference in the world.
Helen is overjoyed to be a co-founder of the Nannies Matter campaign to raise the profile of Nannies in the UK
Maria Culley is a professional Early Years Practitioner and qualified nanny. With 15 years' experience across the childcare and education industry in United Kingdom, Australia, Philippines and Barbados. Maria joined UK Nanny Ltd in 2018 after meeting Helen at a Nanny meet up.
They also have an excellent team that complete the makings of this fantastic campaign and whether you're a Nanny in the UK, USA or elsewhere this is a wonderful opportunity to really feel a part of something within the Nanny Industry.
Former Career Nanny and now Childcare and Wellbeing specialist at The Lady, Lucy Boulton has over 12 years experience with children of all ages, is a certified yoga teacher and loves promoting a plant based lifestyle brought about from her nutrition studies in the USA. Lucy is delighted to be offering regular features alongside helping families find the perfect nanny through the services provided by The Lady.
If you or someone you know is searching for an experienced Nanny, contact Lucy today on lucy.boulton@lady.co.uk