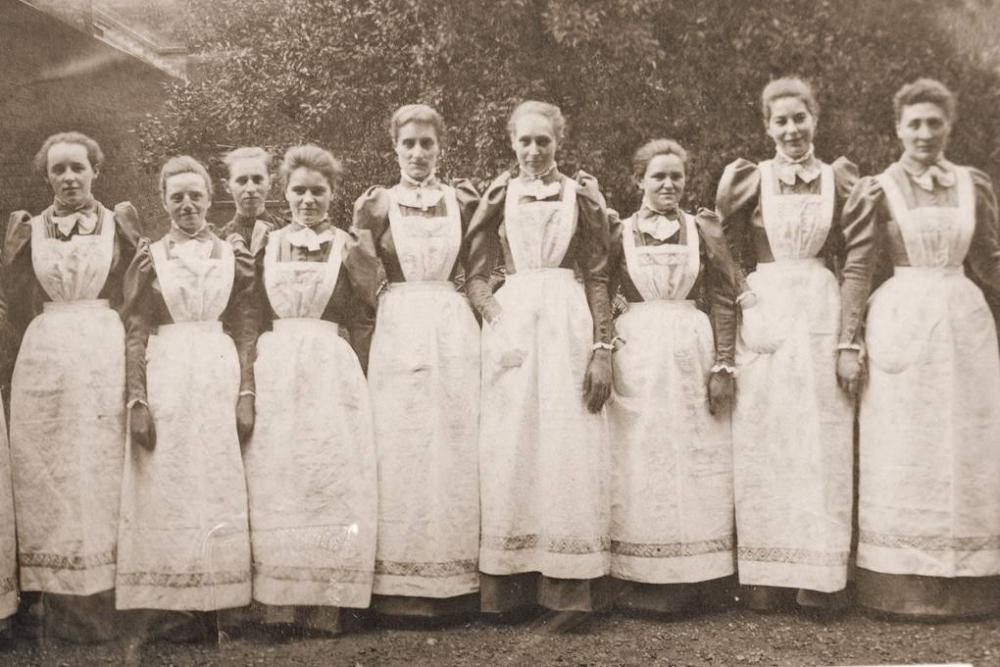 By Victoria Haddock from The National Trust & The Costume Society
The British nanny has, for many, been an essential part of family life for hundreds of years. Traditionally, nannies wore a uniform suitable for caring for small children; uniforms began to be popular for women in the mid-19th century and were designed to serve a specific purpose, whilst also displaying the wearer's position in society. In the Victorian era, most women who took care of children were regarded as nurses and undistinguishable from the other female household servants. Nannies would typically wear a white apron over a dark French twill dress in the winter or a lighter cotton dress in the summer. Cassell's Household Guide gave advice to the head of the Victorian household on aspects of their staff's dress. The guide states that: 'Long skirts should not be worn, tripping little children up, as they are liable to do. Gowns made of washable materials are most suitable. These are easily cleansed if soiled by nursery duties, and cost but little to renew. A waterproof apron worn under the ordinary white apron will be found a great comfort to a nurse, and might be supplied with advantage at the cost of the employer.'
It was not until institutions began to offer nanny training courses at the end of the 19th century that the clothing of nannies began to differ from those of servants. The most famous of these training schools was founded by Emily Ward in 1892 as the Training School for Ladies as Children's Nurses in Norland Place, London. It soon became known as the Norland Institute, that celebrated its' 125th anniversary in 2017. Ward introduced a distinctive uniform for her students to make sure that they stood out from other servants as highly trained professionals. Initially, the first Norland nannies wore full-length dresses with aprons and the large leg-of-mutton sleeves that were popular in the 1890s. The pink and grey coloured uniform was found to be too similar to uniforms worn by hospital maids, so was later changed to blue. In 1895, the department store Debenham and Freebody in Kensington began to supply the Norland uniforms.
As more colleges began to offer childcare and education training across the country, uniforms began to become diversified, and a singular uniform similar to College uniform was adopted by nannies. The Norland College uniform followed the changing trends of fashions, which saw skirt hemlines rising to the knee in the 1920s and 1930s. In 1910 a brown cloak was introduced to the formal beige, white and brown uniform that would be accessorised with brown hat and brown gloves, or white in summer, brown tights and sensible brown brogues. The cloaks were replaced with coats during the Second World War due to silk rationing but the uniform remained largely unchanged until 2013.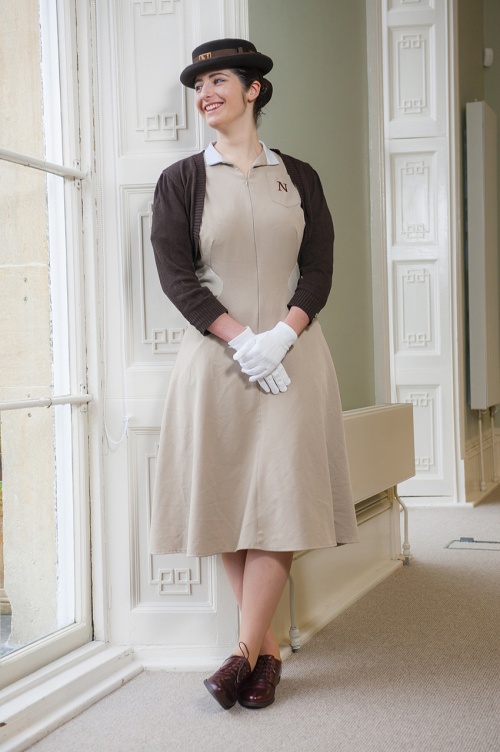 Somerset-based designer, Lauren Cope, was asked in 2013 to modernise the uniform for students studying the BA (Hons) Early Years Development and Learning course. Using UK suppliers she used heavier fabric for the dresses that keeps its shape better and added toned panelling at the waistline to give the design a more flattering shape. The loose, single-breasted coat was also replaced with a brown coat with wraparound collar. Nannies have always had to dress for practicality and the evolution of their role, which now sees Norland students study self-defence, has culminated in the introduction of a 'practical outfit' for work placements, consisting of navy blue trousers, jumper, blue polo shirt and a wax jacket.
So although today's family nanny may no longer wear an apron, the uniform of the British nanny still remains but in a new form.
(image credit: top: Norland Nannies by David Hedges 1892 / bottom: summer uniform Norland Nannies 2019)