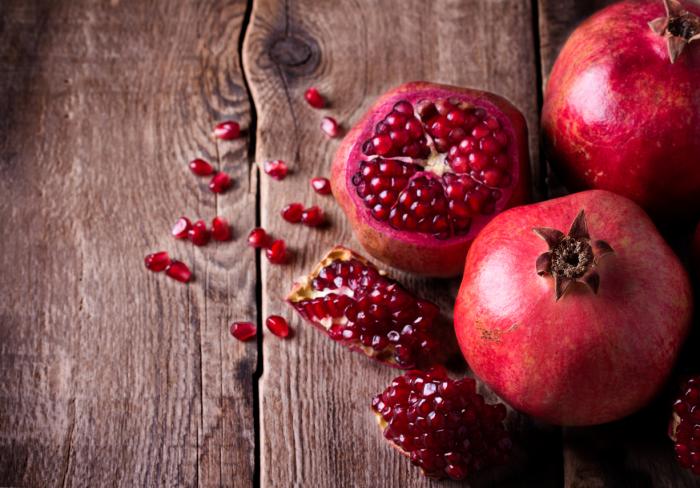 Dull skin. Dark circles. Fine lines. Do these sound familiar?
For many of us, these are the tell-tale signs of ageing skin. If surgical options just aren't for you, look no further than these natural wonders to help you slow down the ageing process and achieve glowing, youthful skin…
The power of pomegranate
Pomegranates aren't just for eating. In fact, this vibrant red fruit packs a major punch when it comes to curbing some of the major signs of ageing.
According to recent research, chemicals in the fruit's flesh can contribute to the production of urolithin A; a key asset in turning back the clock.
But, there's more. Pomegranate is also high in vitamin C and punicic acid, a major component in helping skin hold onto collagen and retain its elasticity.
If you want to incorporate some of the goodness of pomegranate into your beauty routine, we recommend Elemis Nourishing Omega Rich Cleansing Oil. With precious winter rose, skin-conditioning chia seed and, of course, the star of the show, pomegranate, this cleansing treatment soothes and softens the skin to ensure a clear and radiant complexion.
It's as easy as vitamin C…
Who doesn't love a tall glass of orange juice in the morning? But, did you know, vitamin C isn't just great for the immune system?
Vitamin C is also renowned for helping to roll back the years from our skin too. It even fights off free radicals (particles in the air like pollution and UV rays) which can accelerate the breakdown of collagen, damage the skin and accelerate the signs of ageing.
If you want to witness the effects of this beauty saviour, Dermalogica's Age Smart Biolumin C Serum is a great option. This high-performing serum works alongside the skin's own defences to brighten and firm.
More importantly, its high concentration also helps to reduce fine lines and wrinkles for a smoother texture.
The holy grail
Once a safely guarded secret among those in the know, the anti-ageing properties of retinol are now out in the open. But what exactly is it?
Well, it's a compound in the vitamin A family that exfoliates your skin and kickstarts cell turnover. That's why retinol is perfect for helping to give skin that dewy, youthful glow.
For maximum results, Dermalogica Age Smart Overnight Retinol Repair is a powerful formula which helps to speed up skin renewal and reduce the outward signs of skin ageing.
The miracle molecule
Hyaluronic acid. It may be difficult to pronounce and sound scary, but it's a skin-perfecting ingredient you should get to know, as it aids tissue repair and boosts overall skin health.
With age, our body's hyaluronic acid levels begin to drop, making it that much harder for our skin to hold on to water. This is why you could be experiencing dry patches, dullness and fine lines.
To stop these in their tracks, products like Medik8 Hydr8 B5 Serum and Decleor Youth Lotion help to give your skin a power boost of the miracle molecule that is hyaluronic acid.
The skin saviour
Chances are you might not have heard of niacinamide, but when it comes to natural anti-ageing ingredients, it's a skin saviour.
An active, water-soluble form of vitamin B3, it works by boosting your skin's immunity and increasing the production of ceramides. These help skin to lock-in moisture and defend against damaging environmental pollutants.
You can get your dose of this beauty elixir from Dermalogica Age Smart Daily Superfoliant, which wards off environmental triggers that speed up the ageing process.
All products mentioned availabe from Beauty Flash