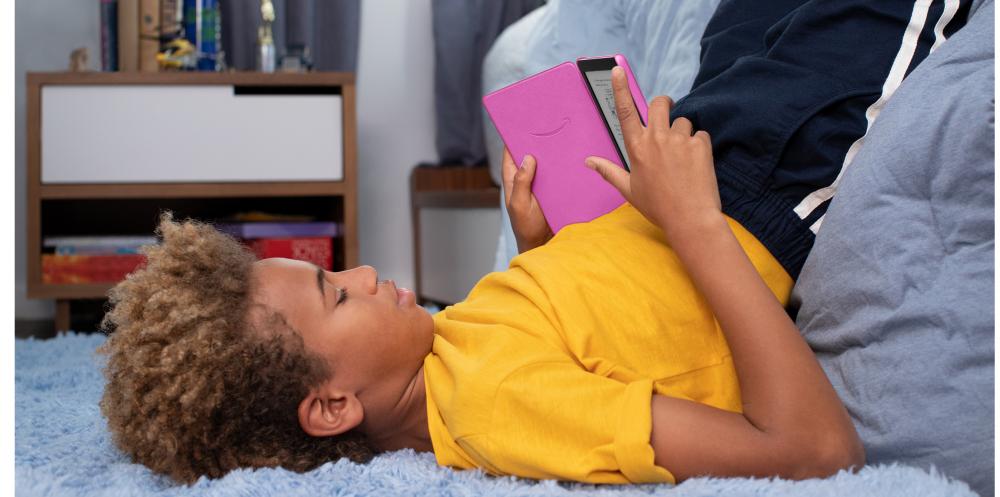 This Christmas there's a screen you can get for the chlidren in your life that isn't going to make you want to unplug every device in sight and take them off grid for New Year. The new Kids Kindle from Amazon is cleverly marketed towards being a fanstastic reading device - and not just another mindless screen.
"We build kids products from the ground up with three ideas in mind: first, kids want a device experience designed just for them; second, parents don't want to worry about the content their kids are viewing; and third, parents want tools they can trust to help manage their kids' device usage," said Eric Saarnio , Head of Amazon Devices, EU. "Fire for Kids Unlimited provides the perfect balance between giving kids access to the content they love within a place that's theirs, while providing parents with peace of mind knowing what their kids are enjoying is appropriate. Whether immersed in a good book, playing a game, or watching a movie, kids can enjoy fun content in an experience built just for them.
First Dedicated Reading Experience Built Just for Kids
Kindle Kids Edition is a new reading experience designed just for kids – now young readers can leave the heavy books at home and carry a library full of books (plus a dictionary!) on one lightweight device. And like all Kindle devices, it offers a sanctuary reading experience with no distractions. Kindle Kids Edition comes with the latest Kindle, a kid-friendly case, one year of Amazon Fire for Kids Unlimited, and a 2-year worry-free guarantee – if anything happens to it, send it back and Amazon will replace it.
Featuring a 6", 167ppi e-ink display with an adjustable front light, Kindle Kids Edition makes it comfortable to read in a variety of places—whether outside in the sun or at bedtime. Plus, with a battery that lasts weeks, not days, kids can enjoy reading as long as they like and parents can leave the charger at home.
With one year of Fire for Kids Unlimited included with the Kindle Kids Edition, kids have access to over a thousand kid-friendly books, including chapter books and award-winning titles like the complete Harry Potter book series, Millions by Frank Cottrell Boyce and Steven Lenton and The Princess Diaries by Meg Cabot. Coming soon, kids can listen to their favourite Audible books via headphones or a Bluetooth speaker. Plus, Kindle Kids Edition comes with features that encourage kids to build their skills as they go, including:
Achievement Badges – kids can earn badges like Book Worm and Over Achiever when they make progress towards pre-defined goals.
Easy Discovery – with enhanced browsing and search, kids can locate titles without the exact spelling. And with smart recommendations, kids can find books related to the genres, authors, and characters they love.
Word Wise – kids are automatically provided short and simple definitions above difficult words, so they can keep reading with fewer interruptions.
Dictionary – if kids come across a difficult word, they can select the word to look up the definition via the built-in Kindle dictionary.
Vocabulary Builder – words looked up in dictionaries are automatically added to Vocabulary Builder and turned into flashcards for future review and learning.
Kid-friendly Wallpaper – included are a unique set of lock screen wallpapers, specifically designed for kids.
"Kindle Kids Edition makes reading fun with achievement badges to help motivate readers to complete the next chapter, plus features like Word Wise and Vocabulary Builder are designed to help early readers build their reading and comprehension skills," said Eric Saarnio, Head of Amazon Devices, EU. "With unlimited access to over a thousand new and popular books in Fire for Kids Unlimited, kids can easily find books to match their interests and can bring a library of books with them wherever they go – all on a single, lightweight device."
The new Kindle Kids Edition is now available for pre-order for £99.99 at www.amazon.co.uk/kindlekidsedition Kid-friendly cases are available in either blue or pink.