Thomas Cafe at Burberry Regent Street
Thomas Cafe
5 Vigo St, Mayfair
London
W1S 3HA
020 3159 1410

121 Regent Street hosts the flagship Burberry shop in the UK. The iconic British designer wear is set among two floors of opulent gold, marble, and tall digital screens-the shop floor was designed to be as immersive and luxurious as possible for the customer. Exhausted from a morning of shopping, or simply looking to take a quiet break from the bustling scenes of Regent Street, Burberry have opened all-day eatery Thomas's Café inside the store, named after founder Thomas Burberry. The café menu reflects the foundations of the brand: quintessentially British classics, from afternoon tea to shepherd's pie- and in luxe fashion, Thomas's dishes are created using only the finest seasonal ingredients from artisan suppliers around the UK.
Opting to start lunch with a strawberry, mint and lime mocktail, my guest and I relished the peaceful ambiance of café that shoppers all mutually respected. Hanging low bulb lights added a rustic touch to the contemporary-luxe layout of the upstairs floor where we dined. Each table lit by large windows, decorated with plants, and fitted with plush seating and sofas, we nibbled on warm artisan sourdough bread before deciding on a main: half a lobster accompanied by salad and French fries, as well as cheese croquettes and cod goujons.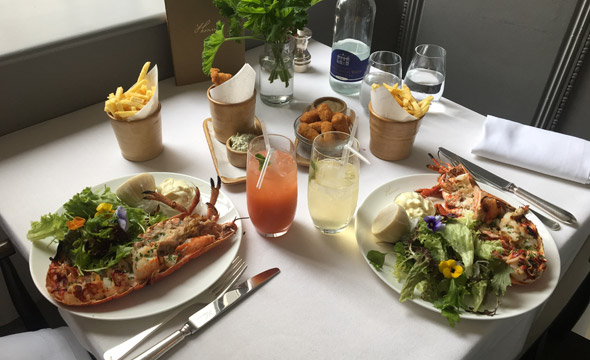 Thomas' chefs focus on providing quality to the handful of menu options available- so much so, that there is a booklet detailing ingredients origins and sourcing. The lobster, tenderly marinated in garlic and a selection of butter and herbs, was nothing short of fantastic. The meat was fresh, grilled to a light consistency, and easy to take from the shell. The cheese croquettes were also a winning highlight, accompanied by a light shallot puree.
Lunch was finished with a light Victoria sponge cake with fresh cream topped with strawberries and dusted with gold flakes; alongside an indulgent flourless chocolate with almond brittle. It's easy to see why one could return for even if just for the selection of tea and cakes alone. A thoroughly enjoyable British experience all round.