Costa Brava – The Wild Coast
Costa Brava literally means the wild coast, but you don't need to be wild to visit this spectacular holiday destination. Small villages with craggy coves, ancient towns with looming fortresses and big cities waiting to be explored all make up this interesting area of northeast Spain. Our rundown covers Costa Brava in all its glory, from secluded beaches to top culture spots.
A beautifully wild coastline
Costa Brava has 24 protected areas of natural beauty, as well as many more stunning sights. In the north of the region Cap de Creus Natural Park is a headland with a gnarly coastline of windswept cliffs and rocky outcrops – the perfect setting for bird spotting.
Its forested interior nature reserve also has stone monuments and settlements that date back to the megalithic era. And at the other end of the coastline, just inland from Calella, El Montnegre i el Corredor National Park is set up with visitor centres and hiking trails so you can get into the countryside from nearby resorts.
As well as naturally occurring parks, four botanical gardens have been set-up along Costa Brava's shores, mixing native plants and panoramic sea views. They range from tropical plants in Pinya de Rosa to leafy foliage in Lloret de Mar's Santa Clotilde Gardens and huge cacti in Jardi Botanic de Cap Roig.
If it's sunbathing or seaside action you crave, Costa Brava has options from rocky shores to wide and secluded sandy beaches. Taking the area between Llafranc and L'Estartit as an example, you'll find Platja de Pals with plenty of sand, and great conditions for surfing and windsurfing. Walk towards El Mas Pinell and the wildlife conservation area is the quietest area. And with contrasting landscape, Sa Tuna is a pebble cove great for snorkelling around the rocky seashore.
An artist's haven
The late, great artist Salvador Dali was born in Figueres in north Costa Brava, and you can see how the landscapes here inspired his surreal works. The so-called Dali Triangle houses three significant buildings from his life and death.
The Gala Dali Castle House Museum is a castle in Pubol that Dali bought for his Russian wife, Gala, and he previously lived at the Dali House Museum of Portlligat. But if you only have an afternoon spare, head to the Dali Theatre Museum in Figueres for the largest collection of his paintings in the world. It's also Dali's final resting place as he's buried in the crypt under the stage.
If you have longer to stay in Figueres, you should check out the impressively fortified Sant Ferran Castle with underground waterways you can walk through. The town also has a Toy Museum that all ages will love, with of course one of Dali's old toys added to the collection. And if you're in town in September or October, you can get involved in the Figueres Acustica Festival, a celebration of acoustic Catalan music, as well as art and writing.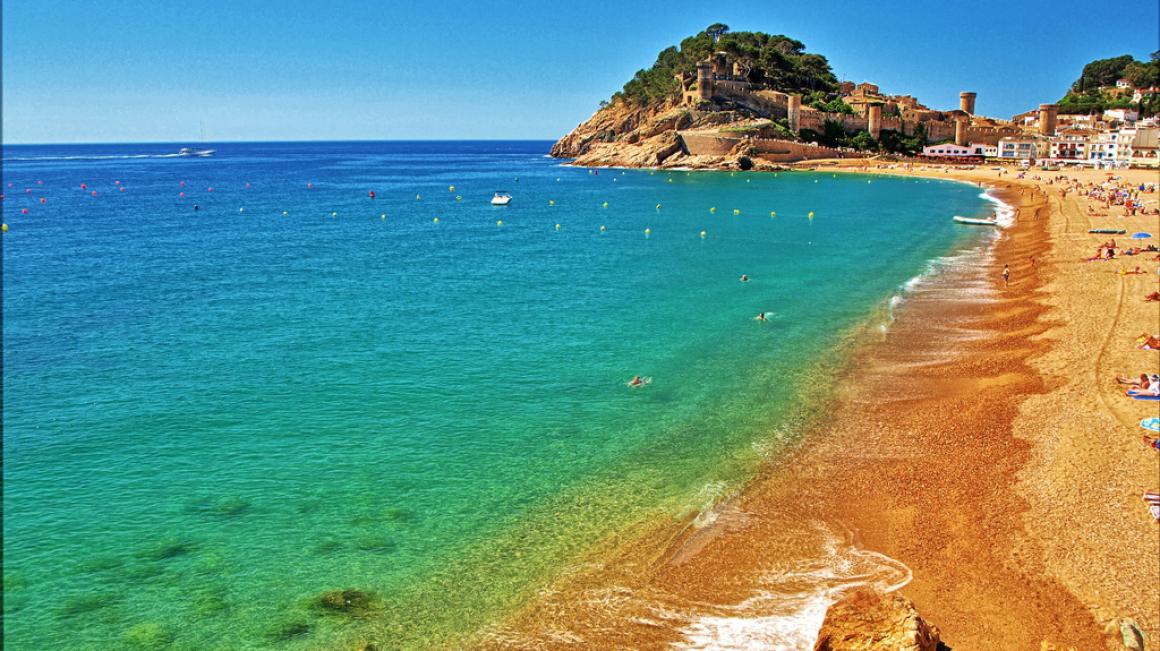 Castles and history
The town of Roses edges the prehistoric Cap de Creus Natural Park and has lots of slightly more modern history itself. When the now part-ruined Castle of La Trinitat was built in the 1500s the Emperor Charles V of Spain laid the first stone. And going further back to the 8th century, Castle Bufalaranya is reached by a hike up into the nearby hills for some serious views down to the sea.
For a well-preserved castle right by the shore, you can't beat Tossa De Mar's fortifications. Sitting on the beach you can see the 12th-century castle in all its glory, or stroll up to the Villa Vella old town to explore the winding streets and take in the Municipal Museum of Tossa de Mar.
City day trips
You have two superb options for city sightseeing, situated at either end of Costa Brava. To the south, Barcelona is a showcase of the architectural masterpieces of Antoni Gaudi, including the as-yet unfinished Sagrada Familia cathedral. It's also got some serious shopping potential and nightspots to suit all tastes, with plenty of places to enjoy carefully crafted cocktails as the sun sets.
Up in Girona, its architectural influence came from Rafael Maso, who was a fan of Gaudi, but went on to form a new wave of Catalan style. This is best shown in his former house, Casa Maso, which is open to the public. Other Girona highlights are the Barri Vell old town, the Art Museum in the Grand Episcopal Palace and the delightful Arab Baths.