Book Reviews: 14 November
OUT NOW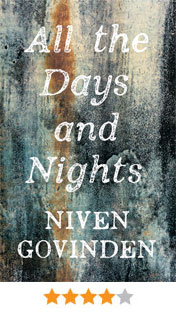 ALL THE DAYS AND NIGHTS by Niven Govinden (The Friday Project, £12.99; offer price, £11.69)
Anna Brown, obsessive and successful artist, absorbs herself in her final portrait, while John, her husband and muse, is away on a quest to find Anna's previous representations of him and make sense of them.
The complexity of Anna's approach to her art pervades the entire text. There are beautiful visual and metaphorical touches: in the dignity of an aged appearance or the feelings inspired by a museum. The loveliness of the language is so beguiling it can be distracting – it is often necessary to reread the opening paragraphs of a chapter. Anna is the principal narrator, and speaks both silently and literally to her absent husband and to other major infl uences in her life, including a gallery owner and her housekeeper.
Dialogue ranges from the straightforward to the obscure, but more often Anna's is the main voice: lone and poetic. The writing, as complex as its subject, is not flawless, but it is unusually gifted.
Philippa Williams
---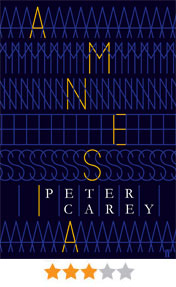 AMNESIA by Peter Carey (Faber & Faber Fiction, £18.99; offer price, £15.99)
One of the reasons for Peter Carey's enduring success is that he never writes the same novel twice. In the course of his 40-year career he has taken on subjects as diverse as Ned Kelly, 19th-century America and Dickensian London, proving time and again that he is a writer of restless invention and energy.
His latest is no exception: with echoes of the Julian Assange and WikiLeaks story, it focuses on Gaby, a young Australian computer hacker, and Felix, the ageing, shambolic and recently disgraced journalist hired to rush-write her story. In outline, this is compelling stuff .
Disappointingly, however, Amnesia – a title that refers to a largely forgotten period of 1970s Australian political history – somehow fails to make its material seem truly essential. And, despite the fact that Felix is tasked with making Gaby seem 'lovable' in his account, Carey's characters are unusually unengaging.
This book is not without its comic consolations but, sadly, too often it feels like a missed opportunity.
Stephanie Cross
---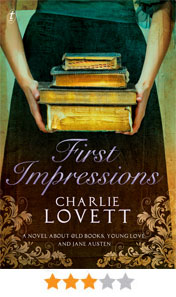 FIRST IMPRESSIONS by Charlie Lovett (Alma Books, £12.99; offer price, £11.69)
Young Sophie Collingwood has two great loves: the musty smell of antiquarian books and the works of Jane Austen. After starting her dream job at a bookseller's, and after two bizarre book requests by customers, Sophie unearths an old secret, which in turn yields mysterious questions. Who was Richard Mansfield? Why is his obscure work being requested and who was the real author of Pride And Prejudice?
Between flashbacks to the youthful Jane Austen in Hampshire and the dramas of Sophie's love life, will the mystery ever be solved and at what cost? A cosy but frivolous read, perfect to while away cold evenings.
Helena Gumley-Mason
---
BOOK OF THE WEEK
The rebel aristocrat
THE RED EARL: THE EXTRAORDINARY LIFE OF THE 16TH EARL OF HUNTINGDON by Selina Hastings (Bloomsbury, £18.99; o"ffer price, £15.99)
As the illustrious names suggest, Francis John Clarence Westenra Plantagenet Hastings was born into great privilege. After three daughters, his parents were overjoyed by the birth of an heir. With his angelic looks and good nature, 'Jack' Hastings continued to delight during his childhood and 'all was set for him to follow the path his parents had planned'. But it was not to be.
Lunching at the Savoy in 1922, Jack met the striking Italian Cristina Casati, daughter of the eccentric Marchesa Casati, who as a child had shared a gondola with two diamond-collared cheetahs. His infatuation was in† amed by his father's disapproval. The couple eloped to Australia, where Jack became an artist. They spent years travelling, rather like an extended gap year. In San Francisco they befriended Mexican artists Diego Rivera and his wife Frida Kahlo – Jack worked as Rivera's assistant for years.
Selina Hastings is the author of four acclaimed biographies, including one of Nancy Mitford. The earl, her father, rivals Nancy with his endearing mix of eccentricity and originality. She is too generous to dwell on his virtual abandonment of his 'first child (it must be hard to be impartial when writing about your parents). But, nonetheless, this is an enthralling read.
Rebecca Wallersteiner
---
COFFEE TABLE BOOK DARREN ALMOND: FULLMOON by Hans Werner Holzwarth (Taschen, £44.99; offer price, £39.99)

British conceptual artist Darren Almond set out with his camera to capture atmospheric landscapes around the world in a full moon. Using a long exposure time, with the shutter kept open for over a quarter of an hour, the scenes are infused with a soft glow, resulting in contemplative images that have the haunting, mysterious quality of dreams.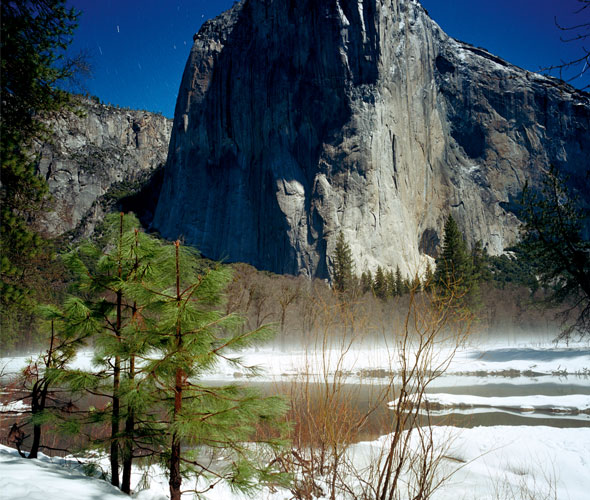 The book brings together 250 images, ranging from American mountains to intimate, painterly shots of British landscapes. This is landscape photography with a hint of the sublime.
Juanita Coulson
---
PAPERBACKS

THE ART OF ASKING by Amanda Palmer (Piatkus, £13.99; offer price, £11.99)
While performing on the streets as a 'living statue', using only her eyes to communicate, Palmer was able to elicit trust (and extract money) from her audience. She went on to become a famous singer in a punk cabaret band, openly asking the crowd to support her, often sleeping on their sofas after a gig. She also got help from fans for her first solo album. In other words, she made a career out of knowing how to ask.
Challenging society's belief that asking for help is a sign of weakness, her book reveals it as an essential life skill. A moving and humorous account of an unconventional yet productive way of being.
Patricia Marie
THE SMALL WIDOW by Janet McNeill (Turnpike Books, £12; offer price, £10.80)
McNeill, who died in 1994, was a prolific novelist and playwright, best known as a children's author. But her adult novels portray the conflicts of domestic life with stylish, ironic humour, exploring the lives of upper-middle-class women in mid-century Belfast. This is particularly evident in The Small Widow, first published in 1967.
As recently widowed Julia discovers her husband's unfaithful past, the revelation forces her to put into perspective her sense of self, which was previously bound up with her identity as wife and mother. A gem of Northern Irish 20thcentury literature.
Jaz Elizabeth Crocker
---
ALSO ON THE SHELF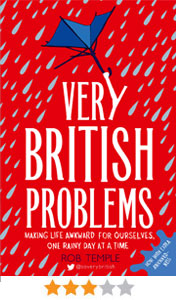 VERY BRITISH PROBLEMS by Rob Temple (Sphere, £7.99; offer price, £7.59)
This updated bestseller highlights the peculiar struggles of a nation obsessed with manners and unspoken rules, from apologising at any available opportunity to inconvenient run-ins with push/ pull doors. A perfect present, it will have readers giggling into their cuppa. Sorry about that.
JEC
---
3 GREAT BOOKS: FOR CHILDREN

THE HOUSE AT POOH CORNER by AA Milne
SWALLOWS AND AMAZONS by Arthur Ransome
THE GIVING TREE by Shel Silverstein
---
AUDIO BOOK OF THE WEEK
BRING ME HOME by Alan Titchmarsh, read by the author (Whole Story Audiobooks, £20.41; offer price, £18.98)
A Scottish laird's past is catching up with him in this enjoyable novel by the man who made gardening sexy. That voice could make the phone book sound captivating, but the story is charming in its own right, too.
JC
---
TALES FROM THE OTHER SIDE
These spine-chilling books will have you ducking behind the sofa, says Martyn Colebrook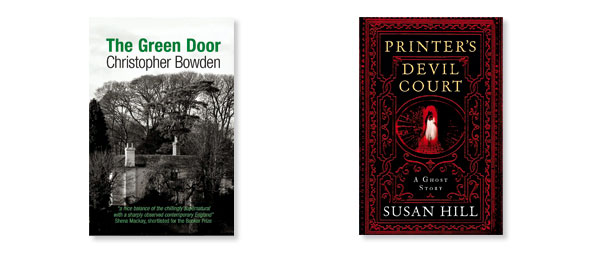 Last month's carved pumpkins and gory trick-or-treaters might have left you with an appetite for supernatural fiction, so to feed your need for the ghoulish, there are two excellent new additions to the genre.
Christopher Bowden's fourth novel
The Green Door (Langton & Wood, £8.99; offer price, £8.54)
continues the theme of colour that runs through his work (he has used yellow, red and blue in the titles of previous novels) with Clare Mallory, who had a walk-on part in The Yellow Room, as the protagonist. During a fortune-telling session with exotically named clairvoyant Madame Pavonia, Clare loses a Victorian mourning locket, which leads to her unearthing a sinister family secret. As the plot thickens it becomes apparent that the danger posed to her and her friends is emerging from a more recent threat. Subtly written but still a page-turner, it is a spine-chillingly enjoyable read.
Susan Hill's slender novella
Printer's Devil Court (Profile Books, £9.99; offer price, £9.49)
is delightfully selfcontained and manages to achieve a lot while using a deceptively simple plot. When the stepson of the late Dr Hugh Meredith receives a hand-sewn book, its cryptic inscription, 'The Wrong Life', becomes the dominant motif for the next 100 pages, as a group of young medical students undertake experiments that lead them to engage with the afterlife. Referencing other supernatural tales, this atmospheric off ering by the author of bestseller-turned- West End hit The Woman In Black, confi rms her place as a master of the uncanny.
---
THE LADY BOOKSHOP
Order by phone 0843-060 0035
Online
www.theladybookshop.com
By post Send your cheque, payable to The Lady Bookshop, to: The Lady Bookshop, PO Box 69, Helston TR13 OTP