Pet Formula from Guna is a complete range of top-quality supplements for cats and dogs
We depend on our pets for so much – for companionship and exercise and even social contact with others. For many of us this has been particularly true during the pandemic, when we have come to value our pets even more.
In return for their company, loyalty and affection we are striving to do our best for our furry friends. Even the fittest cat or dog sometimes needs a bit of a boost to be at their best, and it is important that you can turn to tried, tested and trusted supplements to support your best friend.
If you prefer the natural route, then you can do no better than the Pet Formula from Guna range of supplements, which have been specially developed by experts to aid pet health – from nose to tail – using the highest quality natural ingredients.
Pet Formula is a comprehensive range of complementary feed supplements that are tasty, safe and effective. The only supplement paste formula on the market. They are designed to help with a range of specific health issues, from joint health to itchy skin, and from stress to brain health, The supplements taste so good they can be added to food or given direct – cats and dogs love them. So say goodbye to trying to persuade pets to take pills or having to hide medicines in food.
With Pet Formula you can be confident that you are buying pet-specific supplements of the highest quality, made from high-grade ingredients including barley malt and vegetable oils, bee products and natural plant extracts.
Pet Formula is a holistic way to support pet health and wellbeing. Its maker, Guna, has been specialising in the development of natural human and pet supplements since 1983 and is a market leader across Europe.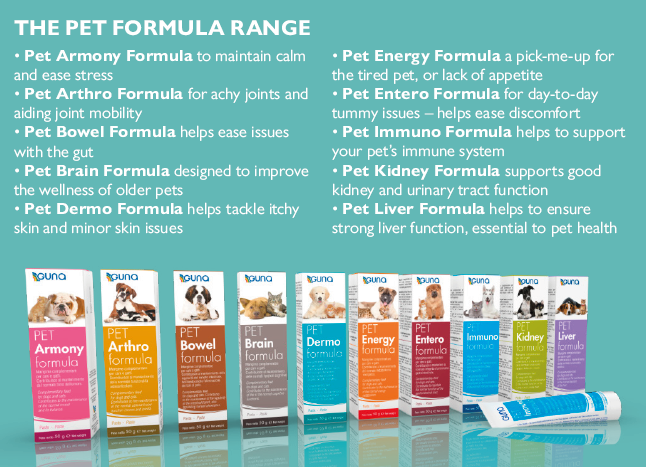 ENTER OUR COMPETITION
Visit our Facebook page @gunapetuk to enter our competition, where you could win three months' supply of your choice of supplements.
Pet Formula from Guna is 100 per cent natural and provides nose-to-tail care. To find out more or order direct, visit gunapet.co.uk.