With the roadmap now announced, there are still many more lunches to be made at home until some sort of 'normality' can resume. If you are tired of the same mundane midday meal, perhaps have a crack at try these two easy lunchtime saviours, courtesy of California Walnuts.
The unique taste and texture of walnuts means they can be used to add crunch, sweetness, colour and more, to sweet and savoury recipes. California Walnuts are also the only tree nut to contain a significant amount of the plant-based omega-3. So, on your next at-home lunch break, why not try adding a handful of walnuts to salads, trying them as a topping on toast, or blending into soups?
Chicken, California Walnut & Grape Salad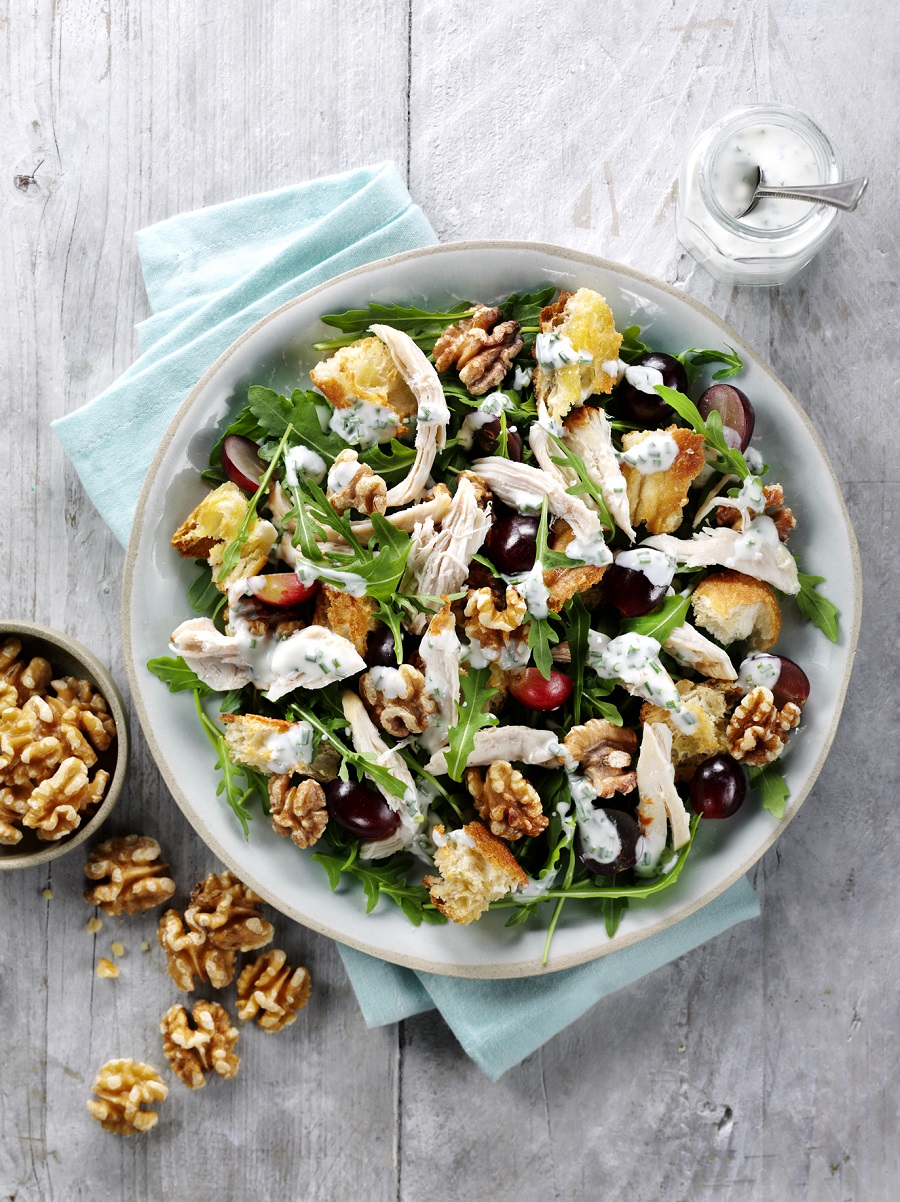 Prep: 10 minutes. Cook: 10 minutes. Serves: 2
Ingredients
½ ciabatta, torn into bite sized pieces
100g California Walnut Halves
1 tbsp extra virgin olive oil
100g low fat natural yogurt
1 tbsp chopped chives
1 tbsp white wine vinegar
100g rocket
200g roast chicken breast, shredded
150g red seedless grapes, halved
Method:
- Preheat the oven to 200oC, gas mark 6.
- Place the bread and walnuts on a baking tray and toss in the oil to coat, season and bake for 10 minutes until golden.
- Mix together the yogurt, chives and vinegar, season. Place the rocket on 2 plates, drizzle with a little dressing, top with the croutons and walnuts then scatter over the chicken and grapes, then drizzle the remaining dressing over the salad to serve.
Creamy California Walnut & Tomato Soup
Serves: 4. Prep: 10 minutes. Cook: 40-45 minutes
Ingredients
2 tbsp olive oil
1 onion, chopped
1 garlic clove, chopped
450ml vegetable stock
1/2 tsp sea salt, or to taste
400g can chopped tomatoes
Pepper to taste
100g California Walnuts
3 tbsp basil, shredded
Method:
- Heat oil in a large saucepan over medium heat. Add onion and garlic and sauté for 5 minutes.
- Add vegetable stock, salt, sugar and tomatoes, cover and cook over low heat for 35-40 minutes. Season with pepper.
- Meanwhile make walnut cream by placing the walnuts and 125ml water in a blender and blitz until smooth and creamy, set aside.
- Add basil to the tomato soup and puree with stick blender until very smooth.
- Stir in walnut cream and garnish with additional basil.
Rather leave the cooking to the experts? We can find you the perfect candidate; from Housekeepers to Gardeners, Nannies to Carers, we source only the most exceptional candidates for your home. Contact our friendly team today: theladyrecruits@lady.co.uk