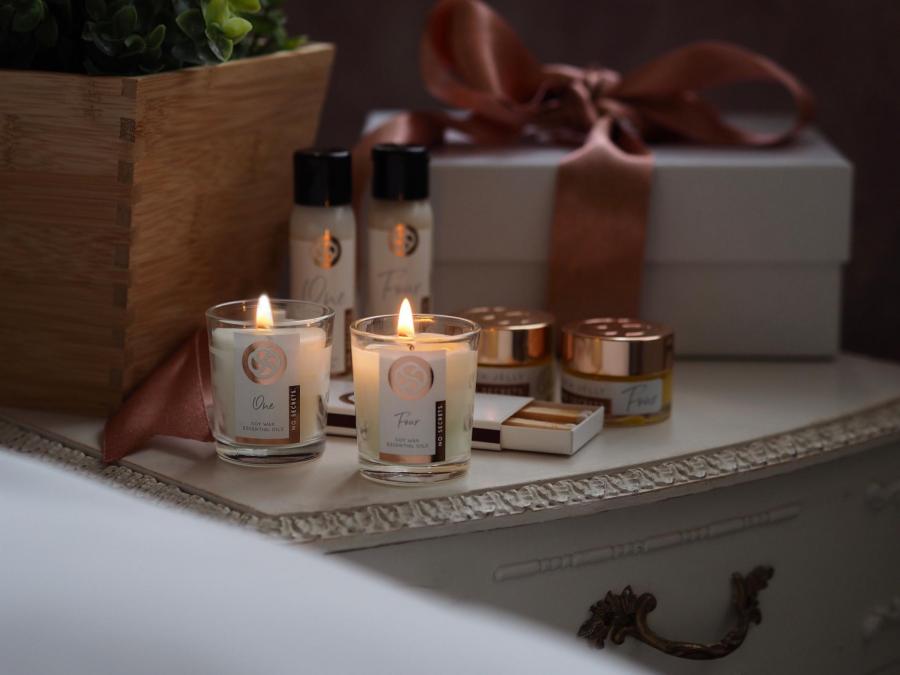 By Lucy Boulton
If the thought of a spa day sounds absolutely ideal to you right now, I completely get it.
Having never really experienced one before and now living in a time where that day of luxury seems quite far away, it's more important than ever to ensure we find little ways to look after ourselves. We should be implementing small, positive aspects into the new daily routines we find ourselves so unexpectedly in.
For me, I'm a huge fan of the bath. There's just something about being able to chill with a couple of candles whilst reading a book or listening to a podcast that is pure, at-home luxury.
What I put in the bath has to be right though; no one wants to be bathing in a tub filled with harmful, potentially toxic products that are being soaked up by your skin plus contain no benefits at all, in fact quite the opposite.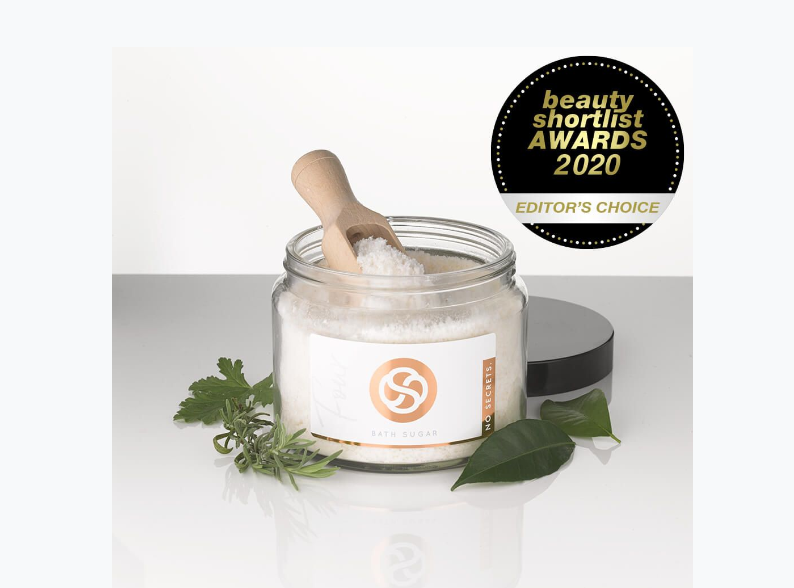 My go-to right now is a small scoop of this bath sugar that creates an incredible steam effect like the kind you find when walking into a steam room filled with fresh eucalyptus. It sets the right vibe, and team it with an ocean playlist you could actually be anywhere!
Lorna Veale, the founder of No Secrets, created a range of clean bathing and body products. After years of struggling with health issues linked with toxic cosmetics, cleaning products and environmental nasties, shares her top tips and the products she created for transforming bath time into a beneficial experience.
Now is the time for the humble bath to make a comeback. In these uncertain times, having a tranquil bath that can restore your sense of self, reduce anxiety and soothe aching muscles, has never been so important.
Bath Benefits: The Guide to the Perfect Soak
"Bath oil has the ability to be a really 'clean', non-toxic product in any natural beauty range because it is simply oil – or a blend of oils – with perhaps some fragrance. I wanted to offer a bath oil but not a sticky bath oil so, we created a truly unique version, a gloriously tactile melting syrup which we call Bath Jelly as the oils are set with a sugar-based ingredient, similar in process to that of making jam. It's massaged into the skin BEFORE getting into the bath. Once the jelly has been massaged in, step into the bath and relax as it begins to dissolve into a milky substance. Chill for 20mins and then pat your skin dry. Your body will feel softer, never sticky, and faintly perfumed." - Lorna Veale
No Secrets Bath Jelly from £18 has the base oils of sunflower seed, grape seed, kukui seed, and macadamia seed, which means you are getting some real skin heroes, rich in nutrients, calcium, iron, magnesium and zinc, as well as vitamins A, C, K and especially E. These all combine to nourish, moisturise and condition the skin leaving it regenerated and softened. Both blends contain anti-bacterial and anti-viral properties which helps support your immune system and wellbeing, far more beneficial than a bubble bath of chemical foaming agents and synthetic fragrance.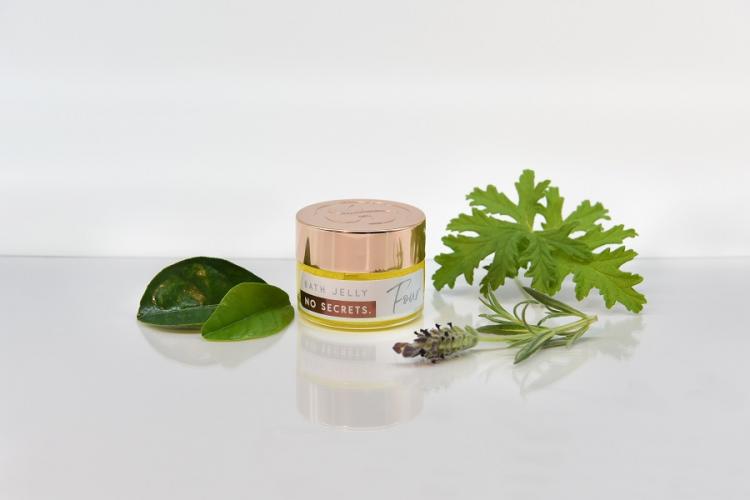 Lorna advises seeking out for bath salts that contain magnesium sulphate, which is a mineral absolutely essential to the body and without it muscles physically cannot relax. As chemicals - good and bad - are absorbed through the skin, bathing within a bath that contains magnesium sulphate means that you are partly replenishing this essential mineral.
She also says, "We only like bubbles in our champagne glasses - nothing should fizz in the bath. Bath Bomb's main ingredients are Bicarb of Soda and Citric acid, which are totally skin stripping and are actually more appropriate as natural cleaning alternative, rather than a skin treatment!"
No Secrets Bath Sugar £30 made from magnesium sulphate is a modern twist on traditional bath salts which have been ground to the consistency of icing sugar, making them quicker to dissolve and less prickly on one's skin. From the moment you untwist the lid on the glass jar, the room fills with the beautiful signature scent 'Four' which evokes a home spa experience.
Lorna's tips on the most beneficial bathing experience
1. The first thing to do when having a bath is to make sure it is 'clean' from any toxic cleaning products that you may have used. Most regular cleaning products have warnings on the side like toxic or corrosive. You don't want to sit in a bath with them swimming around, giving your skin the opportunity to absorb them. So the first thing to do, is to rinse your bath with hot water to make sure there is no residue of these products around that would impact on your home spa treatment."
2. Give yourself 20 minutes in the bath and a little time to relax and gather yourself afterwards. Your water should be between 36-38 degrees C, and the room should be 25-30 degrees C ideally. To help you float away, try breathing in through the nose for five seconds and out through the mouth for five seconds, increasing to ten seconds for each, and continuing for two minutes. Finally, try to complete your ritual slowly, perhaps using the softest towel to pat yourself dry.
3. Soak by candlelight! Choose a soy wax candle infused with essential oils, most scented candles available to buy – from the least to the most expensive – contain petroleum based paraffin wax, a by-product of the crude oil industry. Dimming the lights and lighting a candle will also help with the relaxation process.
4. The temptation to catch-up on your weekly binge on Netflix should be avoided! Taking a book or magazine into the bathroom with you is also a great way to relax and take yourself into a different world for a while. While we can't travel, books can transport us.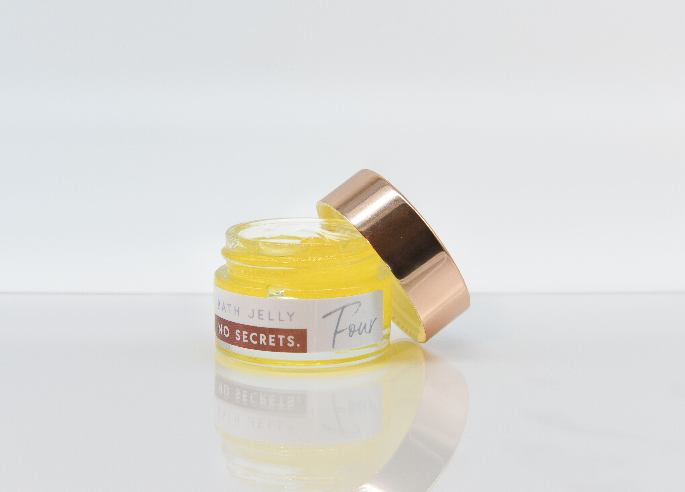 Former Career Nanny and now Childcare and Wellbeing specialist at The Lady, Lucy Boulton has over 12 years experience with children of all ages, is a certified yoga teacher and loves promoting a plant based lifestyle brought about from her nutrition studies in the USA. Lucy is delighted to be offering regular features alongside helping families find the perfect nanny through the services provided by The Lady.
If you or someone you know is searching for an experienced Nanny, contact Lucy today on lucy.boulton@lady.co.uk