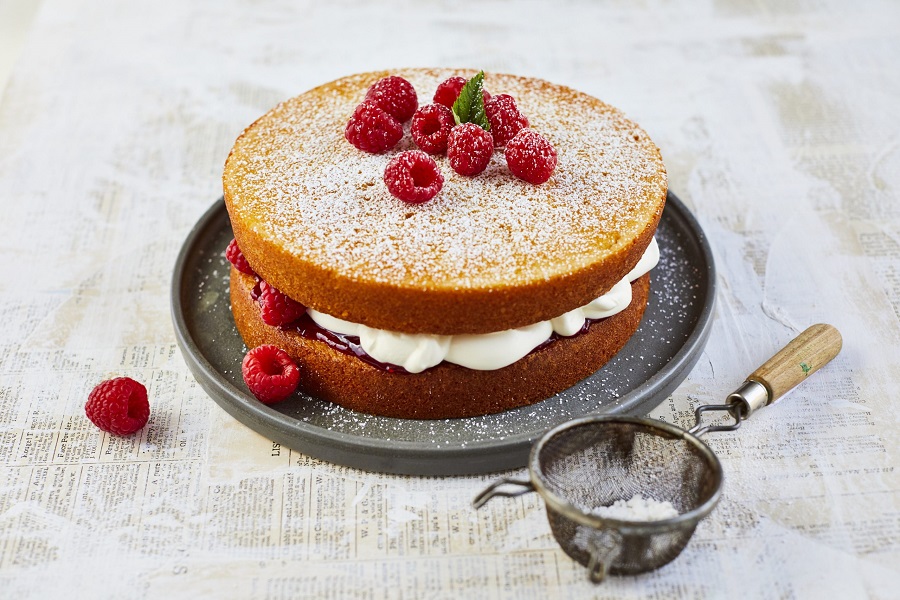 Step your Victoria sponge game up a notch for the Queen's Jubilee celebrations using a mix of whole Clarence Court eggs, gorgeous orange yolks and ground almonds to make a beautifully soft golden sponge. Flavoured with a little orange zest and filled with whipped cream and raspberry jam, it'll become and easy favourite.
PREP TIME: 20 minutes
COOK TIME: 25 - 30 minutes
Serves 6-8
Ingredients:
130g plain flour
2 teaspoons baking powder
¼ teaspoon fine salt
100g ground almonds
175g unsalted butter, softened
300g golden caster sugar
Zest of 2 oranges
3 Clarence Court Large Burford Brown eggs
4 Clarence Court Large Burford Brown egg yolks (around 250g whole eggs and yolks)
1 teaspoon almond essence
175ml milk
3 tablespoons good quality raspberry jam
100g fresh raspberries
250ml fresh double cream
Icing sugar
Method:
1. Grease and line the bases of 2 x 20cm round sandwich tins. Preheat the oven to 170c/330 f/ gas mark 3.
2. Mix together the plain flour, baking powder, salt in a small mixing bowl. Sieve into a larger bowl and mix with the ground almonds. Place the butter in the bowl of a freestanding mixer and add the caster sugar, beat together for a few minutes until light and fluffy.
3.Finely grate in the orange zest. Whisk the eggs and yolks together in a bowl. With the mixer still running
gradually add the eggs with a spoon or two of the flour mix.
5. Add the almond essence to the milk. Add 1 third of the flour mix, then half the milk mix and beat for a few seconds. Add the
the second third, followed by the final half of the flour mix, beat for a few more seconds then fold in the final third of flour mix until just all mixed in.
6.Divide the mixture between the prepared baking tins, smooth and level off the mixture. Place the tins in the oven and bake for 25 - 30 minutes until golden and risen.
7. Insert a skewer in to the sponge, if it comes out clean it's ready. Allow the sponges to sit in their tins for 5 minutes before turning out on to a cooling rack until totally cool.
8. Before you're ready to serve, mix the jam in a small bowl until it's easier to spread. Place one of the sponges on a serving board and spread the jam on top. Softly whip the cream and spoon over the jam layer. Place the other sponge on top and scatter over the raspberries. Dust over a little icing sugar and serve.

Rather leave the cooking to the experts? We can find you the perfect candidate; from Housekeepers to Gardeners, Nannies to Carers, we source only the most exceptional candidates for your home. Contact our friendly team today: theladyrecruits@lady.co.uk