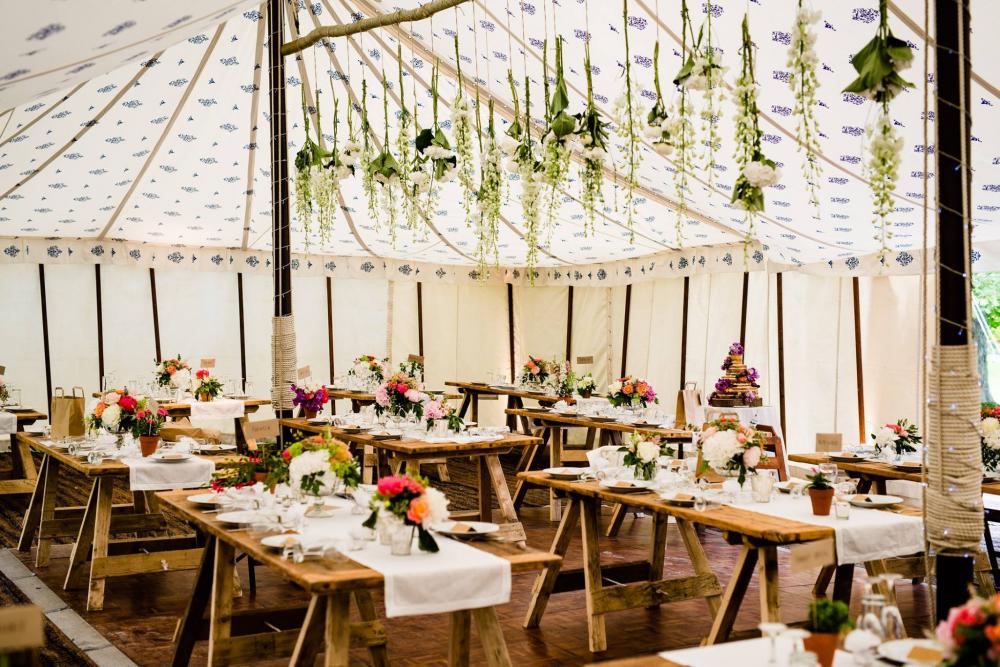 Law change sees outdoor weddings on the rise, but where to start when planning yours?
Outdoor weddings are set to soar in popularity in the UK, with a prospective law change on the horizon that could lift restrictions for permitted wedding venues. The Law Commission has announced a two-year review of marriage ceremonies across England and Wales, including rules dating back to the Victorian times, with an expected overhaul set to open the doors – quite literally - for couples wanting to wed outdoors.
Graham Cresswell, director of luxury tent and marquee company LPM Bohemia, commented:
"Anything that opens up the wedding market to as wide a choice of venue as possible is good news for everyone. This change in legislation could bring new opportunities for land owners across the country but also welcome diversification in the styles of weddings taking place. As specialists in creating temporary outdoor venues and entertainment spaces, we welcome the opportunity to help couples plan the wedding of their dreams – whether that be in the grounds of their own home or another location."
As more couples look towards outdoor locations, the prospect of finding or creating a bespoke wedding venue in any location can be both exciting and daunting. So where should you begin when planning your special day?
With over 20 years' experience in the outdoor wedding sector, the specialist team at LPM Bohemia share eight top tips for a seamless outdoor celebration…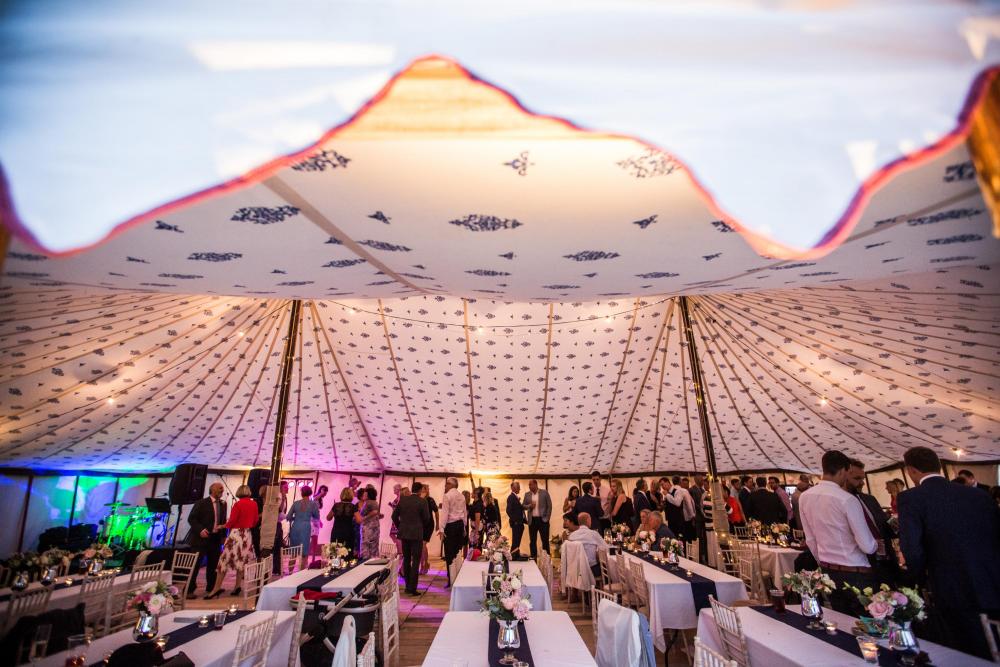 1 – Ensure your outdoor setup complements its surroundings
Introducing a canopy or marquee to your outdoor event will serve as both functional and decorative, and there's a myriad of different forms to suit your style. Ensure your supplier considers the setting for your structure and how well the shape and size will sit against the backdrop. A beautifully crafted tent should complement its surroundings, and positioning and scale are crucial to the overall aesthetic. Think vistas, sight-lines and backgrounds; walk the course and ensure your marquee does not obstruct or detract from the surrounding views or gardens.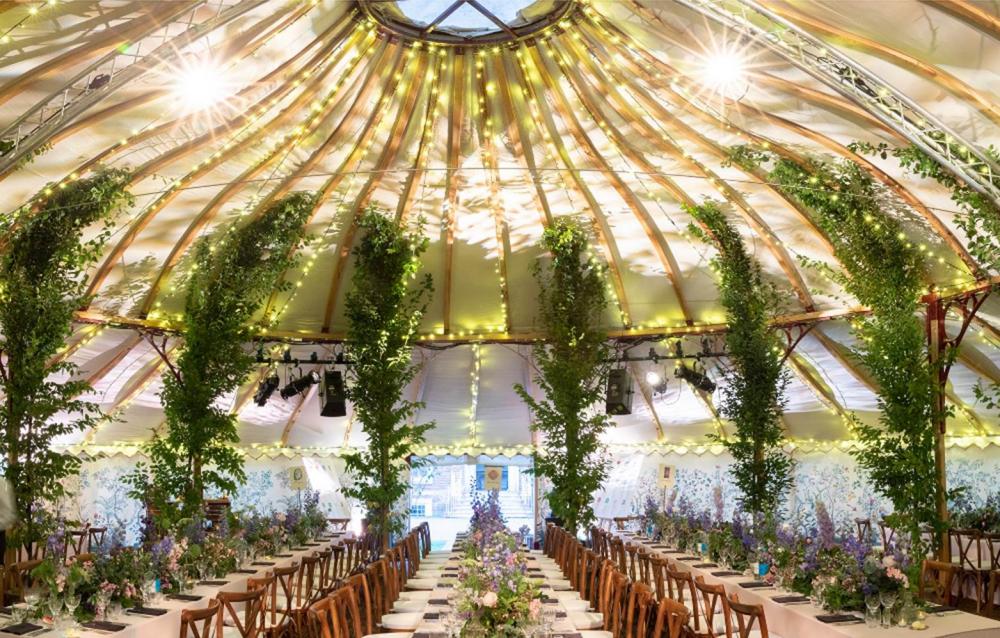 2 – Bring the outdoors in
Whether using a marquee as an extension of a property or a standalone structure, it should blend seamlessly into its surroundings – and bringing the outdoors in is a great way to achieve this. There's a growing trend towards wooden-framed, natural canvas structures that feature wooden flooring and botanical-print cotton linings. Table settings and flowers aside, there are plenty of ways to bring greenery into the space; from dressing the beams with leafy foliage, to incorporating beautiful displays of plants and trees as the centrepiece or entranceway to the marquee.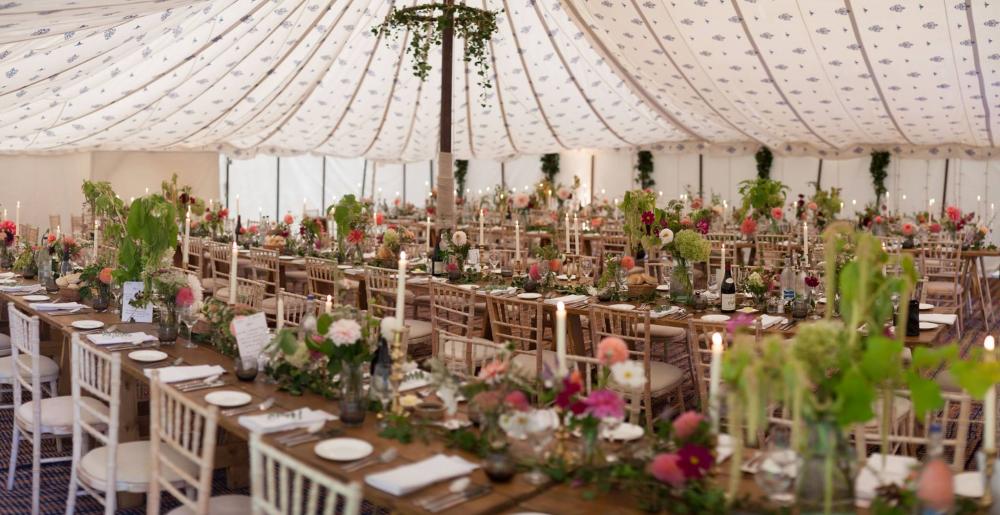 3 – Take your guests on a memorable journey
With a marquee wedding at home or at a beautiful venue, consider the route of your celebrations as you move through the day into the night with your guests. Take your wedding party on a considered journey along the unfolding chapters of your celebration - from arrival drinks to the ceremony, to your reception, to dinner, and on to the party. Make the most of the different areas within the grounds and/or venue, creating unexpected surprises around each corner. Closely planning each detail in advance will enable smooth-running on the day.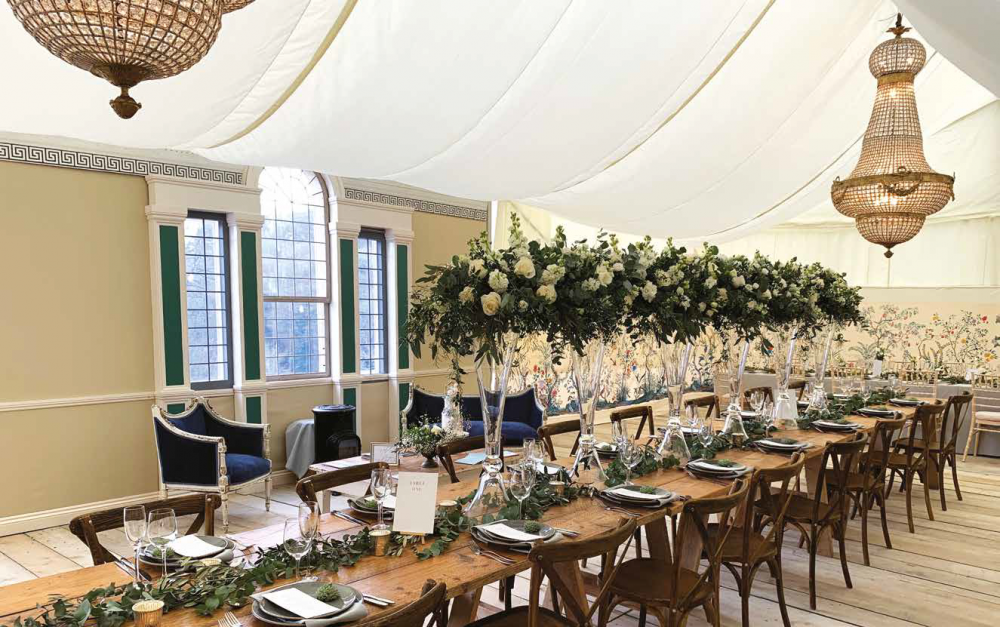 4 – Create an ease of flow around the venue
Carefully consider your floorplan and site map to ensure a seamless flow for guests, particularly if using several locations or venturing between indoors and out. Your supplier can advise on getting the most out of your space; whether that's choosing round banquet tables or long trestle tables, and where to position your bar area or dancefloor. Ensure the essentials such as refreshments and bathrooms are easily accessible and signposted for guests, planned with the overall headcount in mind.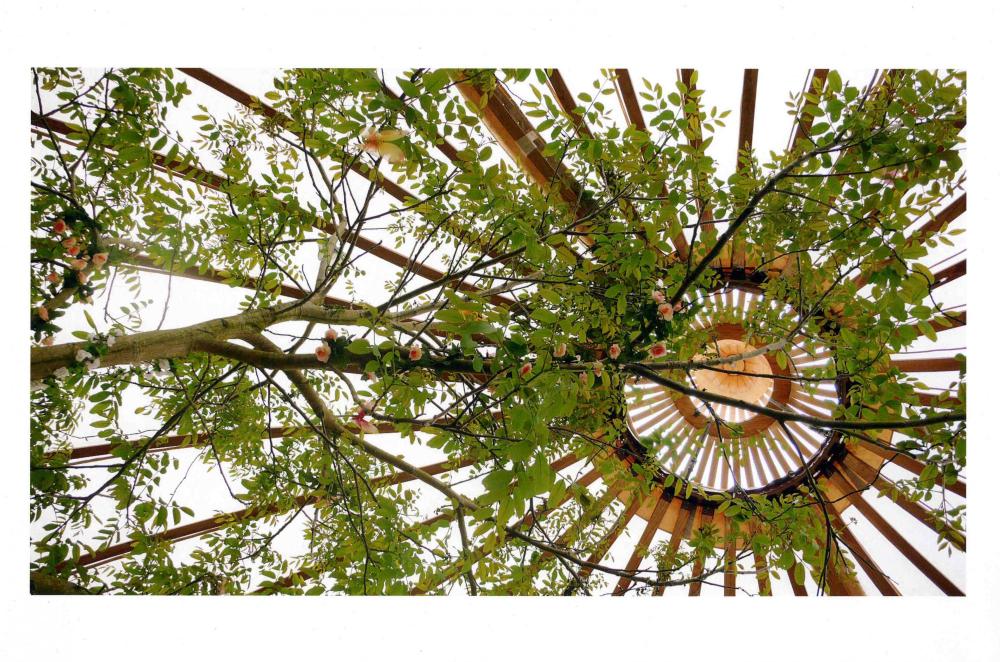 5 – Make it personal
A celebration of marriage is extremely personal and emotional, and it is important to reflect this in your chosen venue and décor. Unlike fixed properties or purpose-built event spaces, the great outdoor offers a blank canvas to be dressed and styled to suit your vision, with many elements customisable beyond simply choosing your favourite flowers or table settings. Think about the grand entrance to your marquee, the colour or print of its interior lining, and any additional rooms to sit alongside the main space – from cocktail lounges to chill-out yurts.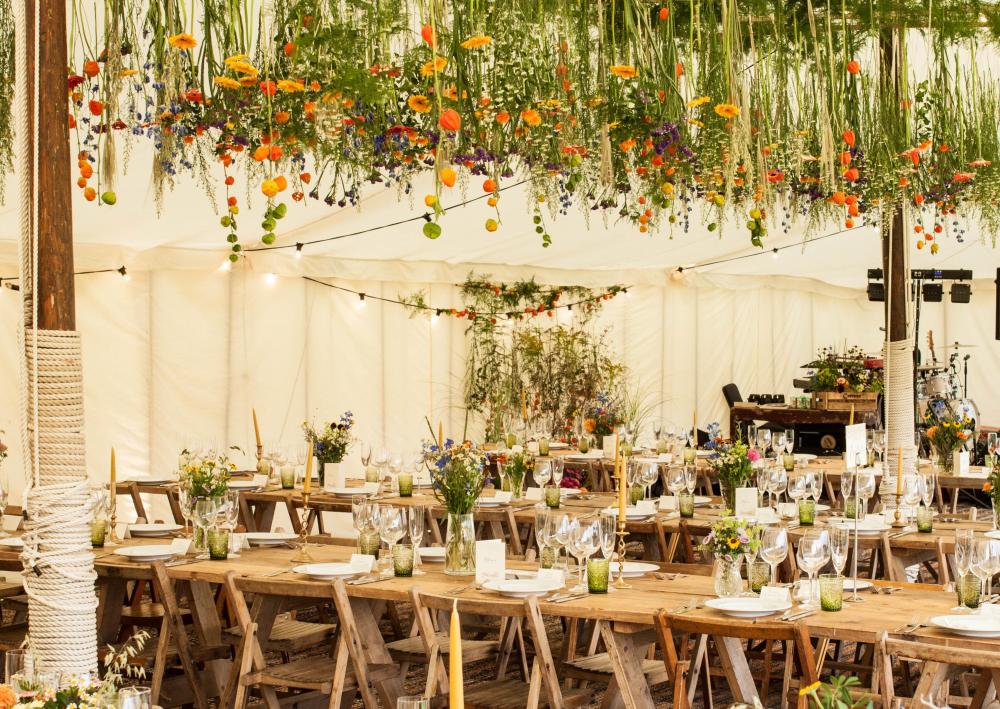 6 – Remember that less is more
It's easy to fill a venue with beautiful accessories and décor, particularly with an industry bursting at the seams with fresh ideas and offerings to complement your wedding. But don't let the purity of your matrimony become unnecessarily over-complicated with novelties; keep in mind that this celebration is about you, and focus on the elements that best capture your desired aesthetic and atmosphere within the space.
7 – Get the basics right to set the mood
Sound, lighting and temperature control are extremely important to setting the overall ambience for the event. Think about how the natural light will change throughout the course of the day, and where support is needed when the evening sets in. Trial your acoustics as these will vary with each venue and the weather conditions on the day. If you are intending on using an outside space, remember to have a back-up plan, such as a marquee, which not only offers a focal point but protection from any unpredictable weather, too.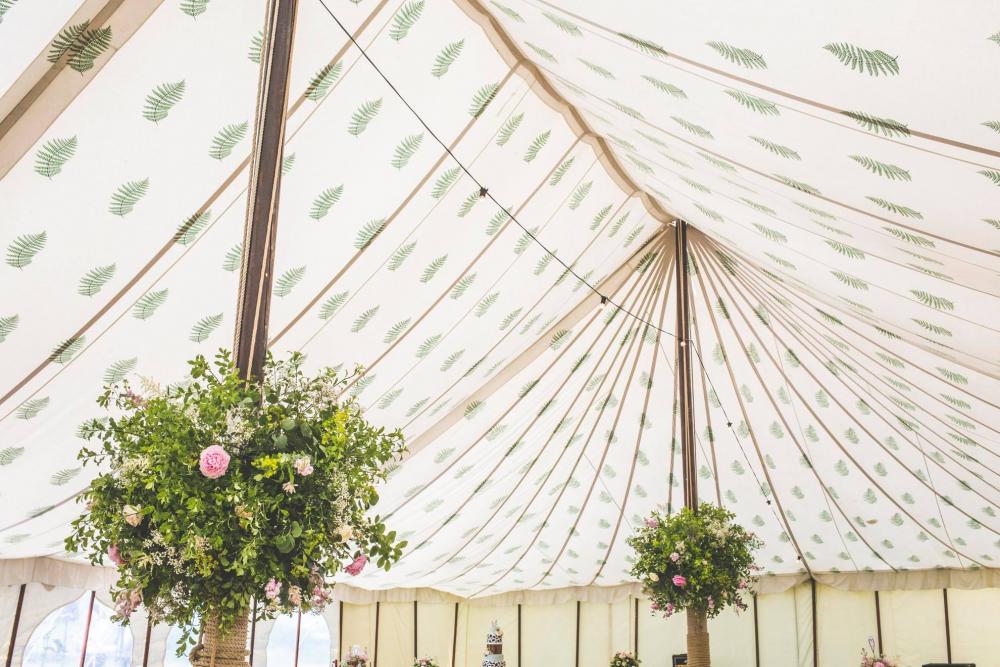 8 – Above all, relax!
There are often high expectations for hosts to do something outstanding and the pressures can be overwhelming, but the most important thing is to have fun and surround yourselves with the people and things that you love. This is all about you!
For more information about LPM Bohemia, visit: www.lpmbohemia.com