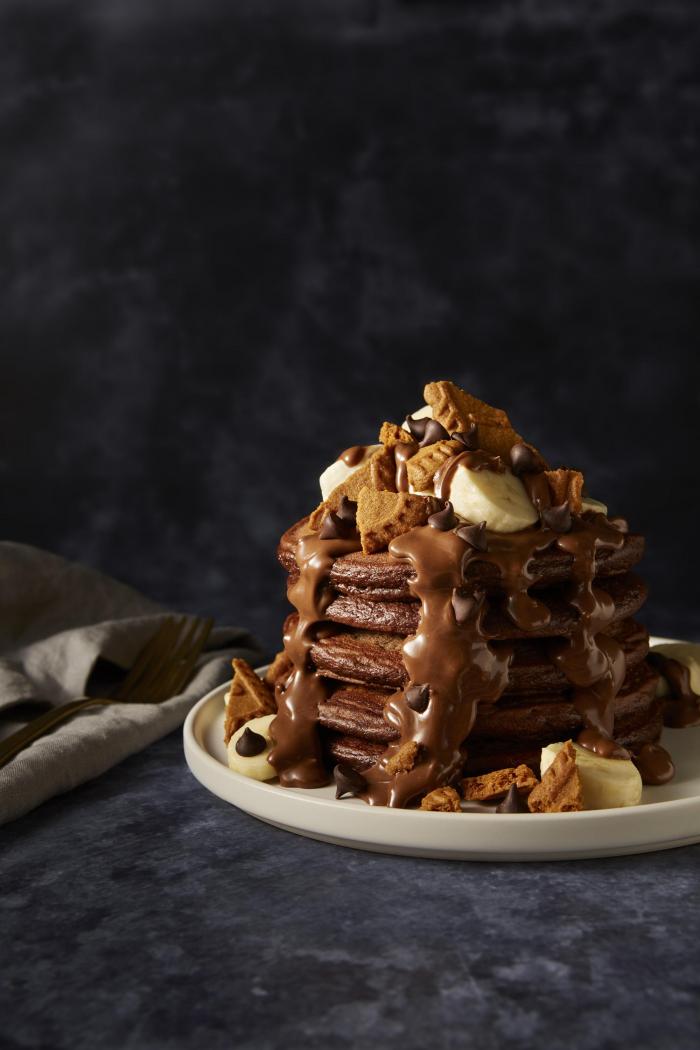 Gü head chef, Fred Ponnovay, dishes up a distinctively different take on Pancake Day
Since these seriously delicious Spreads hit supermarket shelves last summer, Gü has been spread, dolloped and drizzled by chocoholics everywhere.
Created by head chef Fred Ponnavoy, and as versatile as they are delicious, these Gü Spreads have the silkiest of textures and a fluid consistency making them ideal for drizzling, dipping and using as a baking ingredient, too. Now, Fred and his team of indulgent innovators are helping you take your Pancake Day to another level with a host of mouth-watering serves, bound to tempt anyone's taste buds.
For full on luxury, mouthful after mouthful, Gü Chocolate and Salted Caramel Spread is the first of its kind and bound to hit the spot. Smooth, sweet chocolate is perfectly balanced with rich salted caramel for a truly tantalising topping that's bound to make your mouth water.
Crafted with the perfect balance of delicate hazelnut pieces and smooth chocolate, Gü Hazelnut & Chocolate Crunchy Spread provides the ultimate experience in both taste and texture. Generously packed with 37% hazelnuts, this is a go-to for nut lovers who want only the finest.
Gü Hazelnut & Chocolate Velvety Spread is perfect for when you want to indulge in a little bit of what you love. The exquisitely smooth chocolate flavour is intertwined with velvety roasted hazelnut, delivering a taste you'll want to experience over and over again.
The golden rule? Do indulgence properly, starting with the pancake. Go the extra mile this Pancake Day and stack up an unashamedly indulgent serve with Gü. Follow Fred's recipe for decadent Double Chocolate American Pancakes, including smooth Gü spread in the recipe itself, and then get topping! From Crunchy Biscoff and Banana to Tangy Chocolate Orange, or your very own favourite mix, it's time to get serious about spreads this Pancake Day!
Gü Double Chocolate American Pancakes
Makes: 10 – 12 pancakes
Prep Time: 10 minutes
Cooking Time: 20 – 25 minutes
Ingredients:
180g Plain flour (Gluten free flour can be used) 1 pinch of salt
15g Cocoa powder
60g Caster sugar
15g Baking powder
2 Medium sized eggs
100g Gü Spread (either Chocolate & Salted Caramel or Hazelnut & Chocolate Velvety) 240ml Whole milk
30g Melted butter
Preparation:
Mix together the Gü Spread with a little milk then whisk in the eggs and remaining milk
Sift together the dry ingredients
Make a well in the dry ingredients and gradually whisk in the mixture of spread, milk egg mixture
to make a smooth batter
Add the melted butter to the batter and fold together
Cooking:
Heat a non-stick frying pan over a low-medium heat and brush with a little butter
Pour in a ladle of batter in to the centre of the pan and cook for 1 minute each side
Keep warm under a clean cloth while cooking further batches with the remaining batter
Step Two: get topping! From fragrant fruit, to crumbly, buttery biscuit to even more chocolate, there are endless ways to finish off your pudding-inspired Pancakes. Select one of our signature serves or create your own indulgent combo for a lip-smackingly tasty treat...
Crunchy Biscoff and Banana
Fred says "this famous pairing of chocolate and banana is brought to life by our Gü Chocolate & Salted Caramel Velvety Spread along with the little hint of spice from the biscuit".
Serving Suggestion:
Stack 5 Pancakes on a plate
Generously drizzle Gü Chocolate & Salted Caramel
Spread over your stack
Top with the broken Biscoff biscuits and the sliced
banana
Finish with a sprinkle of dark chocolate chips and drizzle
with any remaining spread, if desired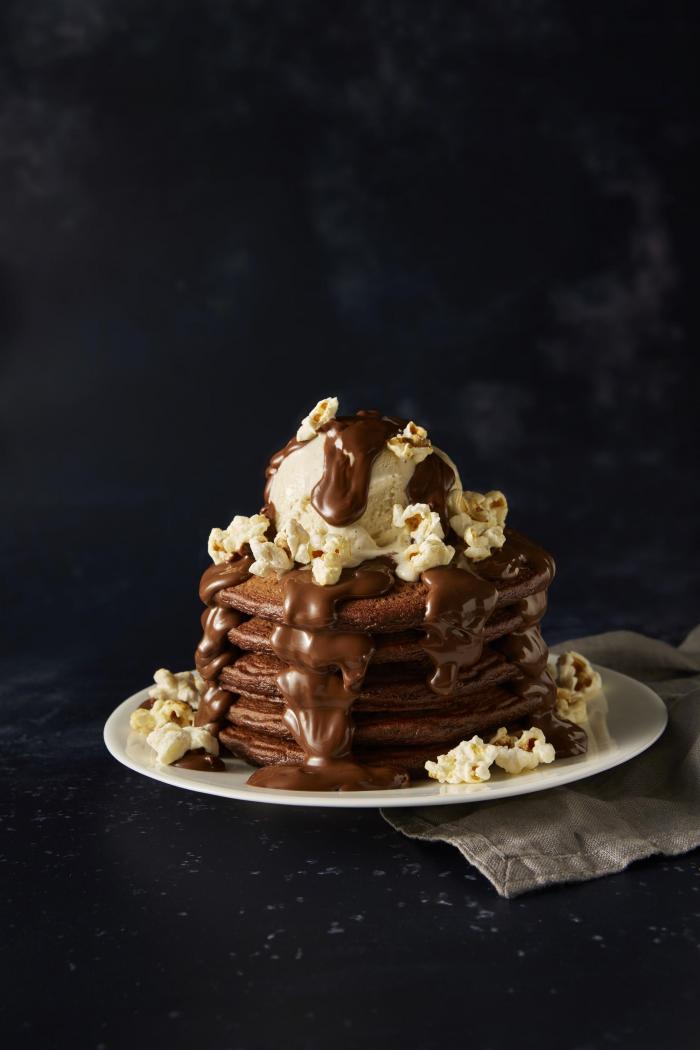 Velvety Vanilla and Popcorn
Fred says "a true American pairing of vanilla ice cream and crunchy popcorn creates the perfect duo to pair with our Gü Hazelnut & Chocolate Velvety Spread".
Serving Suggestion:
Stack 5 Pancakes
Smother pancakes with Gü Hazelnut & Chocolate Velvety Spread
Place the vanila ice cream on top of the pancake stack
Sprinkle with sweet & salted popcorn
Drizzle with additional Gü Hazelnut & Chocolate Velvet Spread, if desired
Tangy Orange Chocolate
Fred says "a popular classic of tangy orange and chocolate with intensely nutty roasted hazelnuts accompanies our rich Hazelnut & Chocolate Crunchy spread".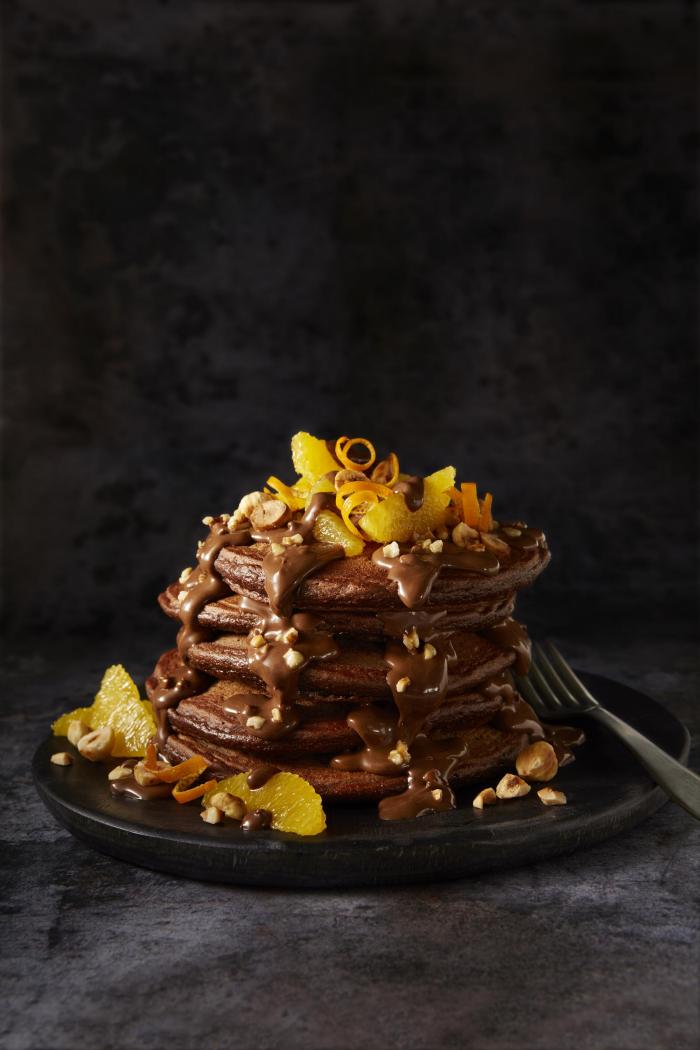 Serving Suggestion:
Stack 5 Pancakes
Smother pancakes with Gü Hazelnut & Chocolate Crunchy Spread
Place orange segments on and around the pancake stack
Sprinkle with chopped hazelnut
Drizzle with additional Gü Hazelnut Chocolate Crunchy Spread, if desired
Garnish with orange zest