Recipe of the Week: Peach Soufflé with Vanilla Ice cream
Make this light and fruity peach soufflé for summer. Recreate 45 Jermyn Street's new peach soufflé, it's light, just the right amount of sweetness, and makes for the ideal summer dessert. Follow this easy step-by-step recipe to ensure your soufflé rises perfectly.
PREP TIME: 45 minutes COOK TIME: 12 minutes SERVES: 3
Ingredients:
Soufflé Base
250g Blood peach puree
25g Peach Schnapps or Creme Dr Peche
28g Caster Sugar
18g Corn Flour
Peach Compote
250g Peach
50g Blood Peach Puree
25g Sugar
Ratio
180g Base
150g Egg Whites
30g Sugar
Peach Compote Method:
1. Cut the peaches in half and remove the stone.
2. Spread the sugar evenly into the bottom of the gastro tray and place the peaches cut side down.
3. Cover the tray with aluminium foil.
4. Bake at 170°C for 10-20 minutes, and allow the peaches to cool and remove the skin.
5. Chop the skinless peaches, place in a pot with sugar and blood peach puree and cook until compote consistency (similar to jam but with some chunks of peaches still being visible).
Soufflé Method:
1. Reduce the puree by 10% and add in the peach schnapps.
2. Mix the caster sugar with the cornflour.
3. Bring the puree with schnapps to the boil, add the sugar and cornflour mix and bring to the boil again.
4. Cook the slurry whisking continuously until the cornflour is cooked and the puree thickens. This is your soufflé base.
5. Place 180g of your soufflé base into mixing bowl.
6. In a separate kitchen aid bowl place 150g of egg whites and slowly start whisking, and add 30g of sugar and whisk to a soft peak.
7. Next, transfer one big spoon of whipped egg whites into the soufflé base and mix well, making sure they're no lumps and it's all evenly distributed. Add it to the remaining egg whites and fold it gently using spatula. Be sure not to whisk it or over mix as the soufflé will not rise or it will crack when baked. This is your soufflé mix.
8. Brush your soufflé moulds with the softened butter and sprinkle with caster sugar, as this will protect the soufflé from sticking to the mould and help it rise.
9. Place two spoons of your soufflé mix inside the mould, add two tea spoons of peach compote and fill up the rest of the mould with the mix. Even up the surface using pastry knife or spatula.
10. Bake at 180°C for 12 minutes.
11. Sprinkle with icing sugar when baked and serve with a good quality vanilla icecream.
If you want to give this delicious recipe a try, make sure you snap a photo of your finished dish and tag us on socials @theladymagazine for the chance to be featured!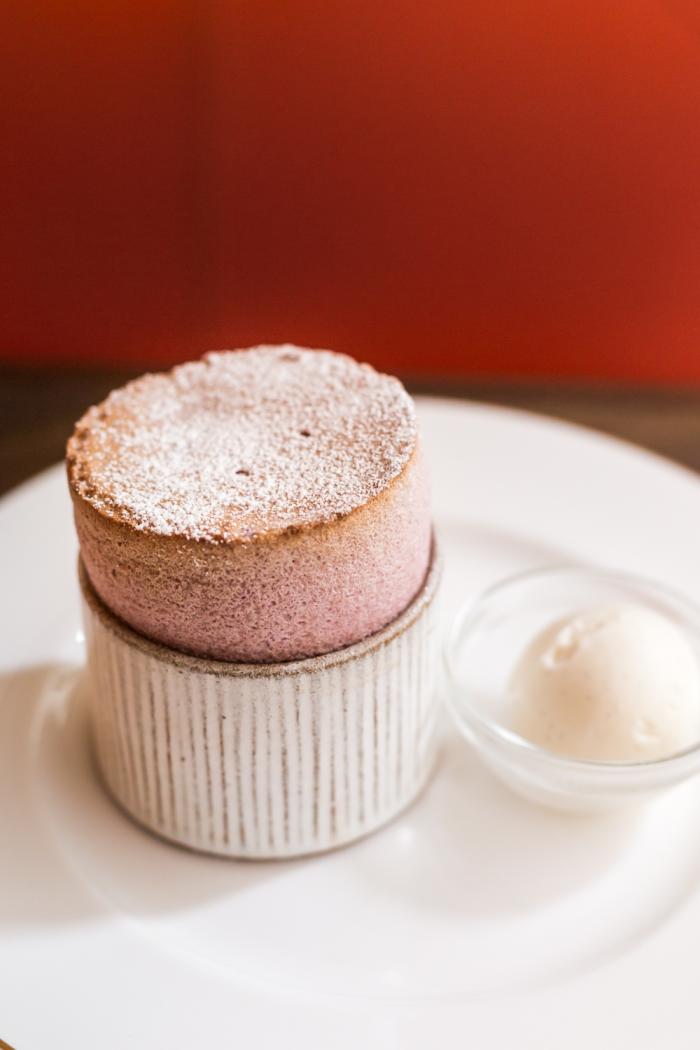 Rather leave the cooking to the experts? We can find you the perfect candidate; from Housekeepers to Gardeners, Nannies to Carers, we source only the most exceptional candidates for your home. Contact our friendly team today: theladyrecruits@lady.co.uk