From Arkopharma the leading experts in women's health and the makers of the award winning Cys-Control Plus. Embrace 'the change' with confidence with Phyto Soya® High Strength Night & Day.
Formulated for women during and after menopause, the 60 capsule food supplement provides a balanced 24-hour release and is designed to regulate hormones during this time of life.
Phyto Soya effectively and safely treats the symptoms of Menopause, utilising a 100% natural isoflavone rich soya extract. Targeting menopausal symptoms such as; hot flushes, sleep disturbance and anxiety.
This specific soya extract is prepared only from the Hypocotyl (the embryo) of the soya bean. Hypocotyl is specifically rich in natural Genistein and Daidzein; two phytoestrogens (plant oestrogens). The Daidzein rich extract in Phyto Soya has been scientifically tested and shown to be safe and especially suitable for women, particularly during the menopause.
The Night Capsule - contains soya extract with lemon balm, magnesium and vitamin B6. Lemon balm contributes to relaxation and helps to maintain healthy sleep.
The Day Capsule - contains the aerial parts of the stinging nettle leaf and corn style powder to promote elimination of water, with the antioxidant properties of grape extract.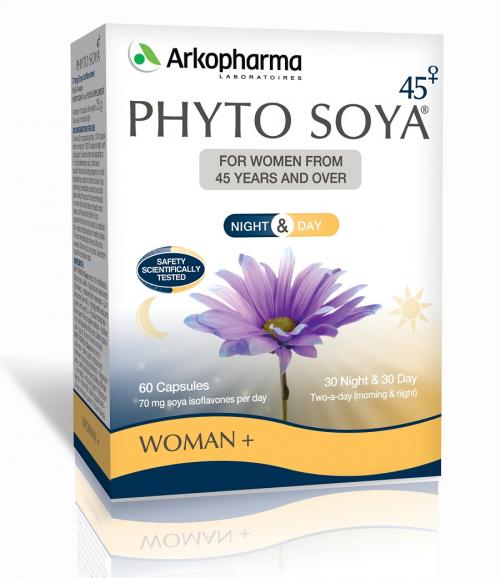 Take two capsules per day; one 'day capsule' in the morning and one 'night capsule' in the evening with a large glass of water during meals. Phyto Soya® contains no added yeast and is suitable for diabetics.
For further information contact: info@pharmed.ie
Available at boots.com