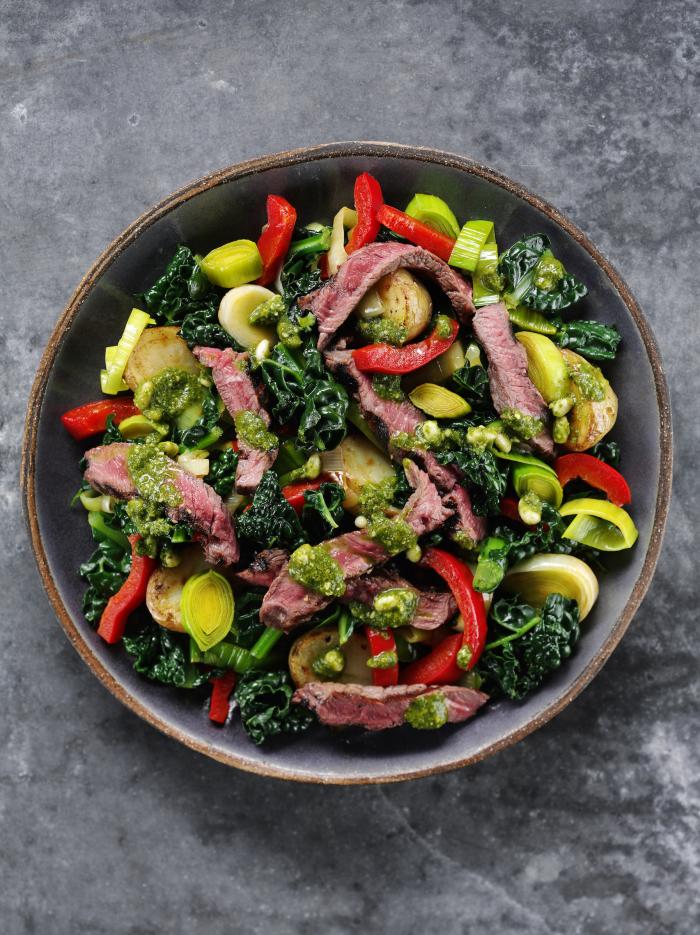 As the global environmental crises grows so the trend for mindful eating is rising, children are taking to the streets in protest of the government's lack of action and as consumers we really do need to buck up our act when it comes to sustainable consumption. Cutting back on plastic encased and processed foods with countless e-numbers can help clean up your body as well as the planet. Plant-based recipes are a great way to start improving your lifestyle and are a natural pathway towards getting a healthier body and mind. You might think vegetables rather unexciting, but clever chefs and experts have created all sorts of delicious recipes that mean you won't be losing out on taste.
The Discover Great Veg campaign has some truly scrumptious recipes that we can't wait to try at home. We'd like to share them with you!
GRIDDLED BEEF, POTATO & LEEK SALAD (above)
Prep: 10 minutes
Cook: 20 minutes
Serves 4
300g baby new potatoes, halved diagonally
100g sliced cavolo nero
2 tbsp olive oil
1 red pepper, sliced
2 leeks, sliced
400g rump steak, fat removed
3 tbsp pesto
1 tbsp white wine vinegar
Cook the potatoes in a large saucepan of boiling water for 12-14 minutes or until just tender, remove with a slotted spoon and drain well. Then add the cavolo nero to the pan and cook for 3 minutes, drain well and set aside.
Heat the oil in a large frying pan and fry the potatoes, cut side down for 3 minutes until golden, add the pepper and leeks and fry for 5 minutes. Stir in the cavolo nero and season.
Meanwhile, brush the steak with a little oil and season. Heat a griddle pan and griddle for 3 minutes, turning half way through for medium rare, remove and set aside to rest before slicing.
Mix the pesto with the vinegar. Spread the leek mixture on a serving platter, top with the steak and drizzle over the pesto dressing to serve.
Cooks tip
Try swapping the steak for lamb leg steaks or chicken breasts.
BREAKFAST SPINACH SHAKSHUKA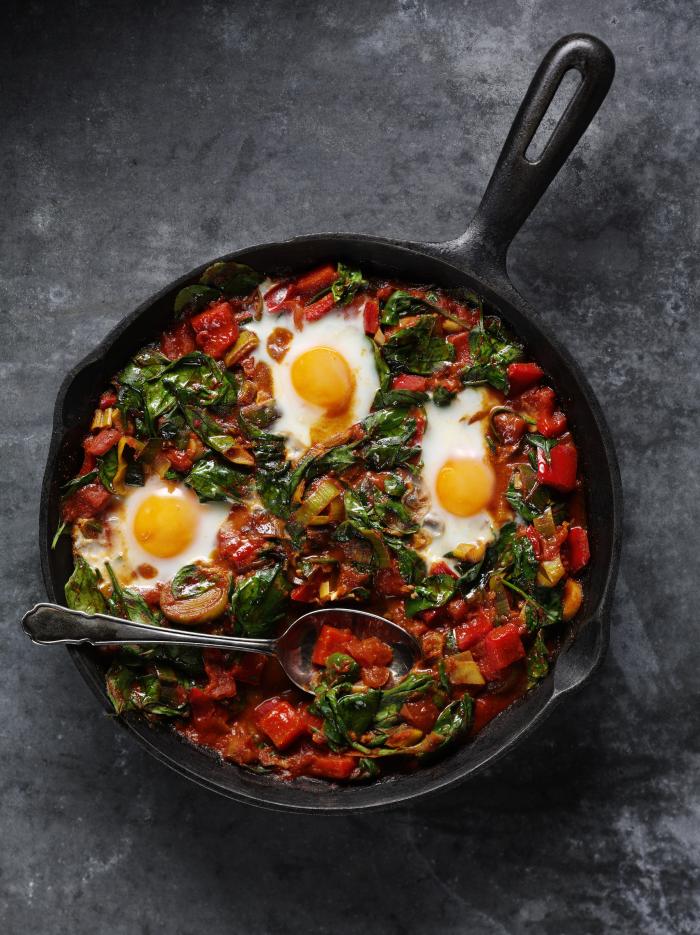 Prep: 10 minutes
Cook: 10 minutes
Serves 2
1 tbsp oil
1 leek, sliced
1 red pepper, diced
1 tsp smoked paprika
1 tsp ground cumin
400g can chopped tomatoes
200g spinach
4 medium eggs
Heat the oil in a large sauté or frying pan and fry the leek and pepper for 3-4 minutes, add the spices and cook for 1 minute, season.
Stir in the tomatoes and 100ml water, cover and simmer for 2 minutes. Add the spinach and cook for a few moments until just wilted. Make 4 indents in the mixture with the back of a spoon and crack an egg into each. Cover and cook gently for 3 minutes until the whites have set but the yolks are still runny. Serve immediately.
Cooks tip
For a spicier version, try using hot smoked paprika. Great served with warm flatbreads to scoop up the tomato sauce.
JAPANESE RAMEN SOUP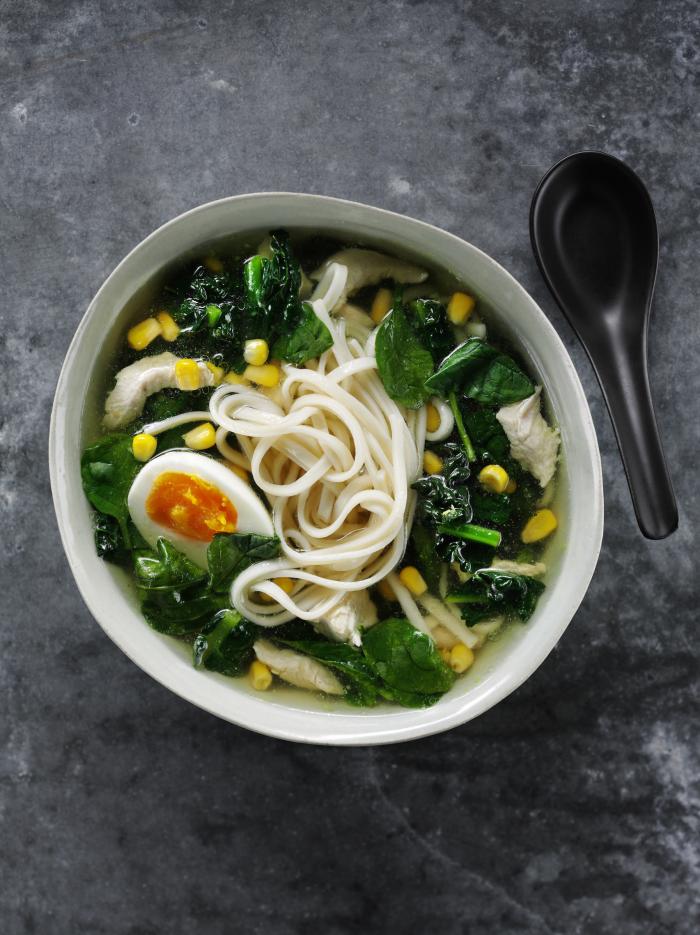 Prep: 10 minutes
Cook: 15 minutes
Serves 4
4 medium eggs
1 litre chicken stock
2 chicken breast fillets, thinly sliced
5cm piece ginger, peeled and grated
2 tsp reduced salt soy sauce
125g brown rice udon noodles
100g frozen sweetcorn
200g pack sliced cavolo nero
100g spinach
Place the eggs in a small saucepan of cold water, bring to the boil and cook for 2½ minutes, drain and run under cold water. Peel and cut in half.
Meanwhile, heat the stock in a large saucepan with the chicken, ginger and soy, cover and simmer for 5 minutes. Add the noodles and sweetcorn and cook for 4 minutes, covered. Stir in the cavolo nero and cook for a further 4 minutes.
Stir in the spinach for a few moments until just wilted and serve in 4 bowls topping each with 2 halves of egg.
Cooks tip
Egg noodles or thick rice noodles work well in this soup too. Great for using up leftover roast chicken. Try replacing the chicken with pak choi, omit the eggs and use vegetable stock for a vegan option.
Discover Great Veg has more delicious recipes...