Post-covid travel: 5 reasons why Kenya should be on your radar
Kenya is among the first countries to open its borders again. Read up on travelling to Kenya, such as applying for a visa
After months of strict rules and regulations to prevent the spread of the coronavirus, Kenya has decided that now is the time to open its borders again. Travelling to Kenya is permitted once more, though certain anti-covid rules still apply. Kenya is sometimes overlooked as a prime tourist destination, and in this article we'll go over why this is a great shame. From safaris to visas, here are five reasons why you should consider Kenya for your next holiday!
1. It's nice and warm
One of the main reasons why us British travellers go abroad for our holidays is to enjoy a nice bit of sun. And Kenya is just the place for this. Kenya is one of those countries that is comfortably warm without being unbearably hot like you might encounter in some southeast Asian countries. Temperatures in Kenya generally hover between 20 degrees Celsius and 28 degrees. The sun can sometimes cause a little discomfort around noon, when it's at its highest point, but a nice hat or cap will do wonders against that.
2. Safaris
If there is one thing Kenya is known for around the world, it's safaris. In fact, the idea of the safari originated in Kenya, which was a favoured hunting ground for hunters. This was in large partly due to the immense variety of animals found here. Nowadays, hunting is outlawed and safaris are meant to simply observe these animals in their natural habitats. If you're a first-time tourist to Kenya, you definitely want to try and catch the Big Five, the five most difficult animals to hunt in the early 20th century. These are the leopard, the lion, the rhino, the buffalo and the elephant. The leopard in particular can be difficult to spot.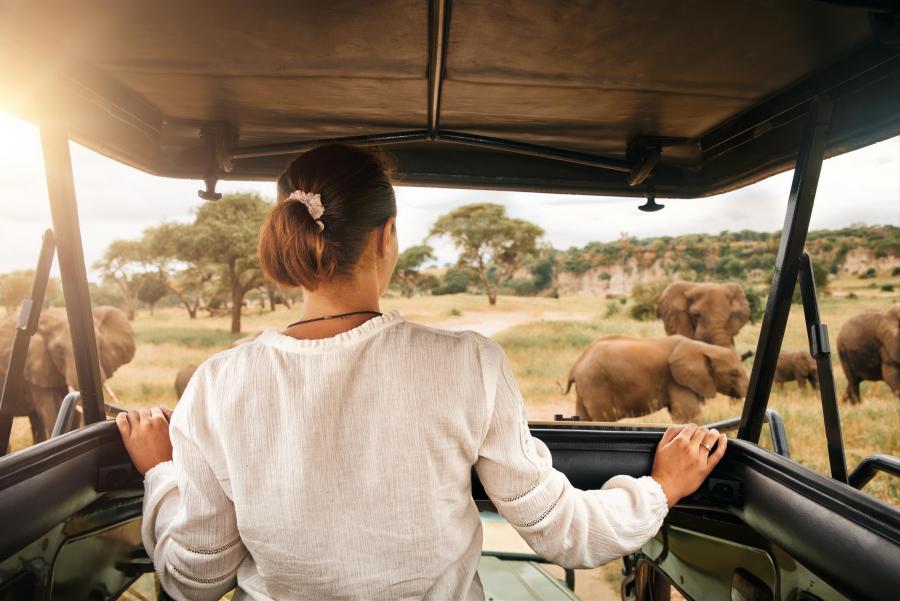 3. It's safe
Some African countries can have a (sometimes undeserved) reputation as being unsafe. Kenya does not suffer from this problem. There is a reason that each year, millions travel to the country for leisure. Kenya has a relatively stable political climate. Because tourism is such a massive source of income for the treasury, the Kenyan government has gone to great lengths to ensure the safety and comfort of foreign travellers. Like most countries, there are some areas where you should stay clear of, mainly along the closed border with Somalia, but tourists generally don't have a reason to go there to begin with.
4.The visa is very easy to get!
Kenya recently announced that it will thoroughly overhaul its visa system. Before, you could get all kinds of visas at the embassy or at the airport. Since January 2021, however, the only way to get a Kenya visa is to apply online. Kenya is one of the first countries in the world to fully digitize its visa system. According to the government, this will lead to better security and less queues at the airport. You can get a visa by filling out the Kenya visa form online form, which takes about five minutes, and then make the payment. The visa is sent to you by e-mail. Print it and keep it with your passport.
5. More nature than you can handle
Kenya is well-known for its national parks. The country has 24 of them, and each one has its own unique environment. In Amboseli National Park, you can find herds of elephants peacefully roaming the lands. In the Lew Wildlife Conservancy, you can spot the endangered black rhino. Lake Nakuru National Park has beautiful alkaline lakes which are home to large groups of brightly-coloured flamingos. Travelling through Kenya's national parks is like jumping inside an animal encyclopaedia.