The Private Chef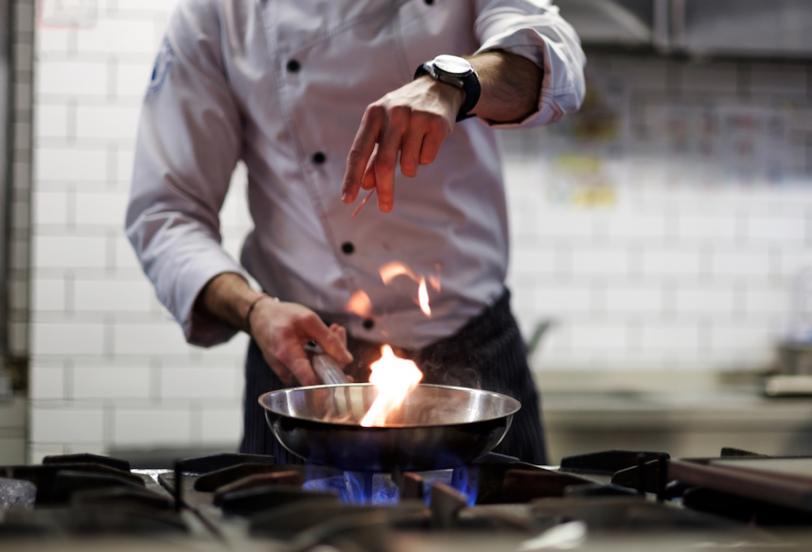 Private Chef
As a Private Chef you will need to have trained already for at least two to five years and have had some experience working in a busy, demanding kitchen. Although it isn't a required qualification as many experienced chefs learn and develop on the job itself, it is advisable to complete one of the courses listed at the bottom of this page in order that you are in the best position possible to access the top jobs and get a solid foundation for professional work.
Being a Private Chef is a very different role to working as a chef in a busy restaurant kitchen. Neither is it the same as a Personal Chef, which is a role far more concerned with making meals accessible and convenient, than giving clients the 'private' restaurant experience within their homes. The Private Chef is a far more intimate role, you may be quite involved in the family life, indeed many PCs are asked to sign non-disclosure agreements in order that any stories of dinner party antics are firmly kept under one roof. For those chefs who remain passionate about food but are tired both physically and mentally of the low wage and painfully long hours of the restaurant trade, it might be the perfect career change. You'll need to have the confidence and organisation to run your own kitchen and be able to plan and create first class modern or classic cuisine. You will have to keep calm and carry on or put on a smile and get on with it when things are stressful as your employer or guests could well be in hearing distance and often in their own homes.
What can I earn?
You can expect to earn upwards of £27,000 per year as a Private Chef and sometimes up to and beyond £85,000 for roles with high net worth homes. Usually the higher paid roles demand some experience of working in Michelin or five-star establishments and are also expected to have worked on yachts and in private homes.
What hours will I do?
A Private Chef will work five or six days a week, although the hours will vary depending on the days you work but generally your hours will be more flexible in terms of fitting around the household meals and lifestyle of the employer. You can work up to 12 hours a day in some roles, in others you may be only required to work four or five.
What duties should I expect?
This is something you will discuss with your employer and you should have an idea from the advert itself, however generally you would be expected to make at least two or three main meals a day and the occasional dinner party food, which might be for up to 50 guests or more. You might also be asked to run errands which can break up your daily routine. You will be expected to come up with daily menus so you must be creative and innovative.
What are the perks?
Working in a fast-paced restaurant for twelve hours a day straight and without much idea of the pleasure you are giving to the customers via the plate can feel dispiriting. As a Private Chef you can not only be creative and in control but see the immediate satisfaction on the client's face when you cook something they and their guests adore. You might find yourself with a very generous employer who travels a lot and takes you along, or gives you lavish gifts for Christmas. You may find yourself comfortably placed in a private country house with a kind and welcoming family who only want one evening meal. Your position may include accommodation and bills, it is wise to see this as part of your salary.
What are the disadvantages?
You might be trying to get on with a five-course dinner while the client's children and dogs appear in the kitchen, or perhaps half the dinner party guests decide merrily to ask you every detail of your menu, whilst simultaneously leaning on the AGA you're trying to access. You have to wash-up a lot and may find yourself under pressure and working in difficult conditions. You can't be a wall-flower type as the Private Chef is centre-stage and the focus of attention, fun and often scrutinised. You have to be emotionally strong, flexible and be able to balance the professional with sociable. If you are a live-in chef, you will learn all about your employer's habits and quirks. Again, you will have to be flexible, discreet and understanding. You will become part of their life, so being comfortable with your employers is paramount. It is important not to become complacent
Professional Chef Diploma course of combined Levels 1 – 3 NVQ in Food Preparation (3 years)
BTEC National Certificate in Hospitality Supervision (2 years)
Advanced Chef Diploma – Day Release (30 days)
Foundation Degree in Culinary Arts (3 years)
Craft Bakery City & Guilds Level 2
REGISTER WITH US / TALK TO OUR RECRUITMENT TEAM NOW
Do you have a story you would like to share?
Contact our digital editorial department via lily.law@lady.co.uk to share your advice or experiences.