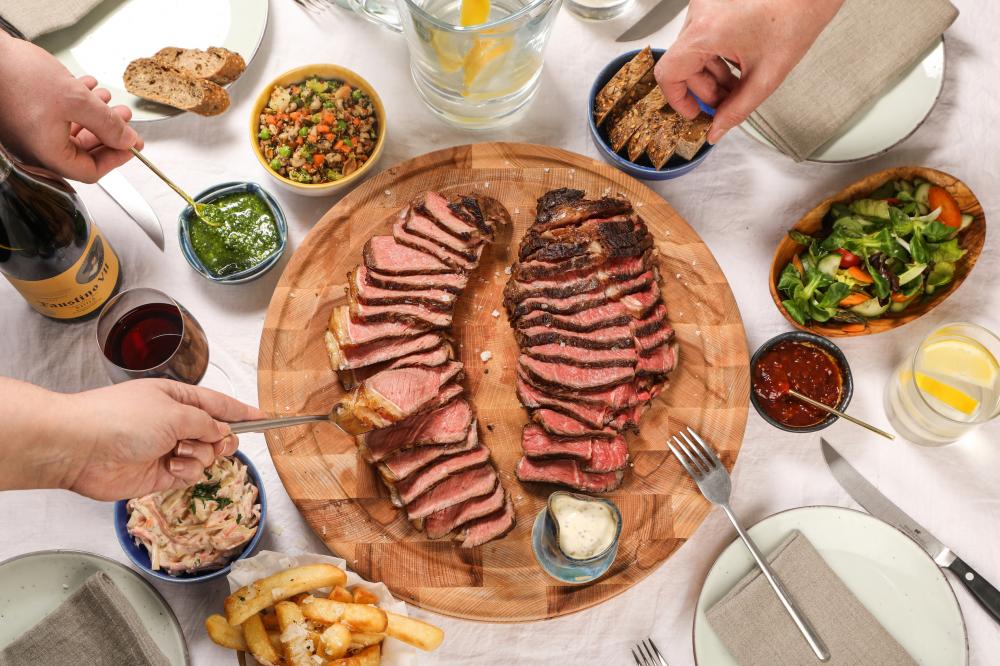 Steak, broccoli and quinoa salad with coconut dressing
Ingredients
200g white quinoa,
500ml water
1 x 3cm piece (15g) fresh ginger, sliced
½ tsp dried chilli flakes
60ml olive oil
1 clove garlic, crushed
1 sharing steak - we recommend the Dry Aged Fillet Sharing Steak
Sea salt and cracked black pepper
40g unsalted cashews, lightly dry toasted
2 x 175g pack tenderstem broccoli, trimmed
Coconut dressing:
125ml coconut milk
60ml lime juice
1 tablespoon grated fresh ginger
Method:
Preheat oven to 80°C without fan.
Heat a griddle pan over high heat.
Place the chilli flakes, oil and garlic in a small bowl and mix to combine. Brush the steak and tender-stem broccoli with the chilli mixture and sprinkle with salt and pepper.
Sear the steak in the griddle pan and then place into a baking tray and oven cook for 60-80 minutes at a low temperature.
Whilst this steak is cooking, move onto the other components.
To make the coconut dressing, place the coconut milk, lime juice and grated ginger in a bowl and whisk to combine. Set aside.
Place the quinoa, water and ginger slices in a medium saucepan over high heat and bring to the boil. Cover with a tight-fitting lid and reduce the heat to low. Cook for 10 minutes. Remove from the heat, discard the ginger and allow the quinoa to stand, covered, for 5 minutes. Remove the lid and set aside to cool completely.
Cook the tender stem broccoli in the char-grill pan for 2–4 minutes each side or until lightly charred and tender.
Place the quinoa, tender-stem broccoli and cashews in a bowl and toss to combine.
Thinly slice the beef and serve with the quinoa salad and coconut dressing.