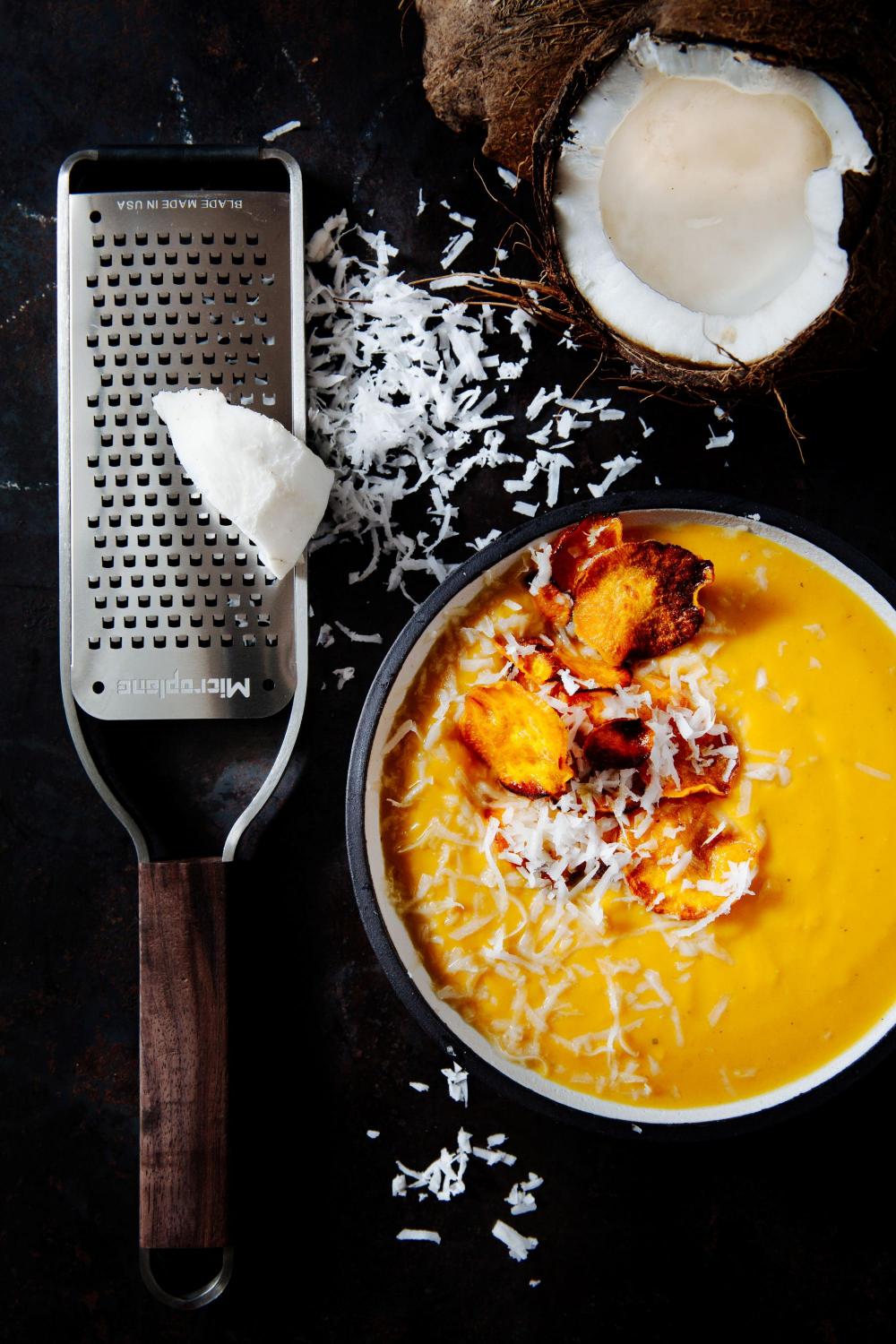 Get inspired for World Vegan Month (1-30 November) with this deliciously warming, moreish spiced soup, beautifully garnished with crisp sweet potato chips and freshly grated coconut.
This recipe couldn't be easier to make thanks to the new Microplane® Professional Peeler. Unlike traditional peelers, the Professional Peeler is slightly heavier and the blades can be moved back and forth, with little pressure, in one smooth, uninterrupted movement which makes light work of peeling the sweet potatoes. To prepare the ginger and the coconut garnish, reach for the signature photo-etched, ultra-sharp blades, or teeth, of the Fine and Coarse graters from the Microplane® Master Series which effortlessly and precisely grate both without ripping or tearing.
Serves: 4 people
Ingredients:
1 onion
2cm ginger
Vegetable oil
500g sweet potatoes
500ml vegetable stock
1 can of coconut milk (400ml) Salt
Pepper
Cumin
1⁄4 - 1tsp curry spice, to taste
Garnish:
Choose the smallest sweet potato to use for the chips
1 piece of coconut, approx. 5cm
Peel the onion and ginger and then finely chop the onion and grate the ginger using the Microplane® Master Series Fine Grater.
Fry both together in 1 tsp oil.
Peel the sweet potatoes (put the smallest aside to be used later for the chips) with the Microplane® Professional Peeler and then roughly chop.
Add the sweet potatoes to the onions and ginger and fry briefly.
Add the vegetable stock and cook softly for about 15-20 minutes.
Meanwhile, use the Peeler to create slices from the remaining small sweet potato.
In a separate pan, heat 1 tbsp of oil and brown the sweet potato slices, put on a piece of kitchen paper and lightly salt.
Puree the soft sweet potato soup in the food processor until smooth and then pour it back into the pot. Stir in the coconut milk and bring to the boil. Season with salt, pepper and cumin.
Add the curry spice to taste,
Serve the soup in a bowl, covered with the chips and grate fresh coconut on top using the Microplane® Master Series Coarse Grater.