Roasted aubergine & green tahini salad
By Lucy Robinson
For this week's tastebud tickler, we're bringing you a simple, stunning and equally as delicious salad, courtesy of Bitter Lemon Recipes, from @bitterlemonfood. You may have spotted this particular recipe in our recent feature, 'Insta Feeds: Top Foodie Accounts', so if it's an Instagrammable lunch, supper (or lupper) you're looking for, you've come to the right place!
The aubergines in this heavenly salad are roasted in a sweet pomegranate oil dressing until soft and crispy, while the green tahini is made up from fresh coriander and parsley, and coats the vegetables in a thick, fresh sauce. We love to sprinkle some pine nuts over the top for an additional crunch, and finish it with a crumble of fresh feta.
This recipe serves 4 as a side, so perfect for a small al fresco, late spring lunch party!
Ingredients
3 aubergines
100g feta (optional)
Handful of pine nuts
Handful of parsley, chopped
Pepper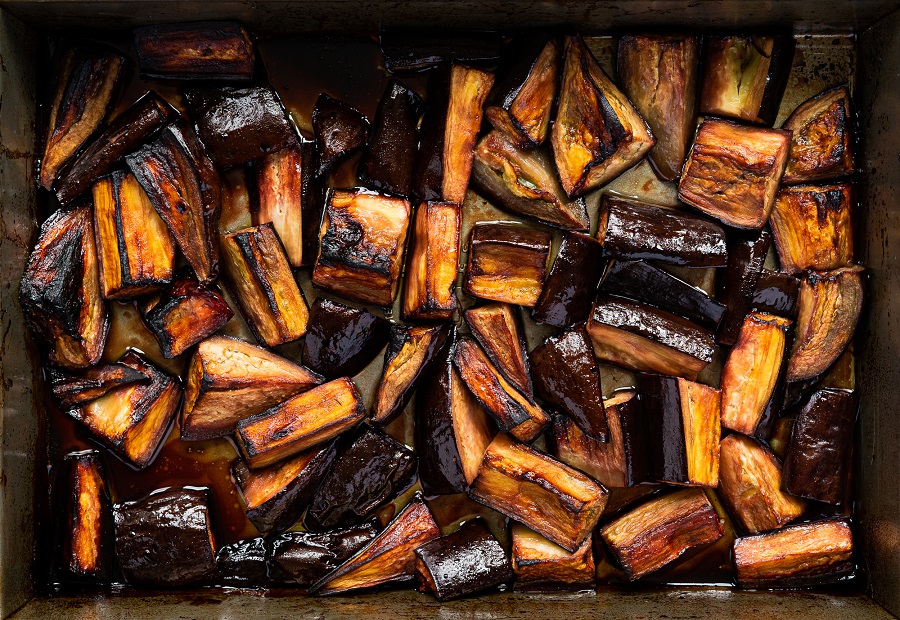 For the dressing
4 tablespoons of olive oil
1 tablespoon of red wine vinegar
3 tablespoons of pomegranate molasses
1 teaspoon of sugar (or honey/maple syrup)
Pinch of salt
For the green tahini sauce
100g smooth and creamy tahini
Large handful of coriander (about 10g)
Large handful of parsley (about 10g)
4 tablespoons of almond milk
1 garlic clove
Juice of 2 limes
Pinch of salt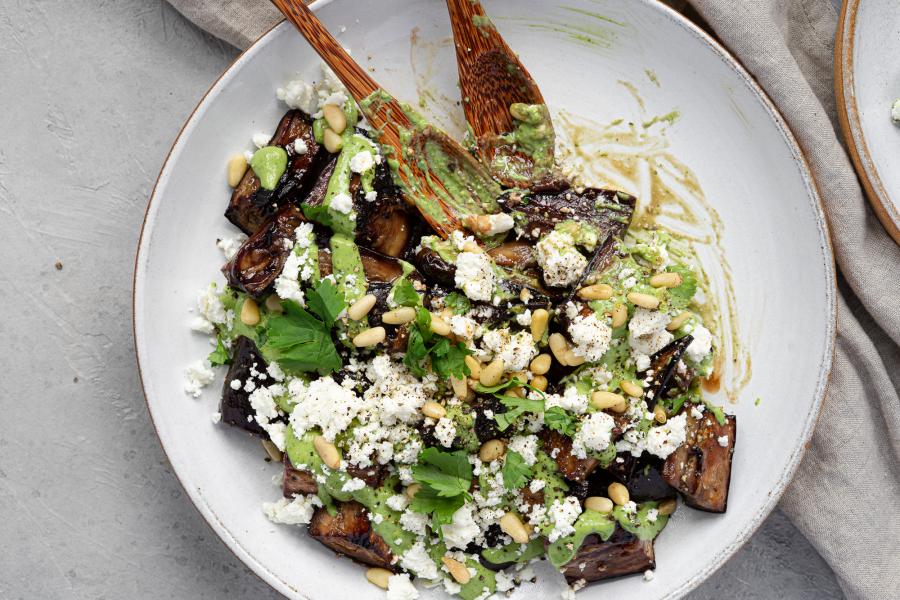 Method
1. Preheat the oven to 200C, fan setting.
2. Slice the aubergines in three, lengthways and then cut them into long bite-sized pieces.
3. In a small bowl, mix together the dressing ingredients.
4. Place the aubergine slices onto a large baking tray and spoon over the dressing. Mix well until all of the aubergines are coated in the dressing, then cook for 30 minutes until the aubergines feel soft.
5. While the aubergines are cooking, place all of the green tahini sauce ingredients into a powerful blender and blend until a smooth sauce forms - adding a dash more almond milk if it feels too thick.
6. Once the aubergines have cooked, remove them from the oven and spoon onto a large serving plate.
7. Drizzle the aubergines with the green tahini sauce (spooning any leftover sauce into a small bowl to serve on the side). Use your hands to crumble over the feta and sprinkle with the chopped parsley, pine nuts and a crack of black pepper before serving.
Rather leave the cooking to the experts? We can find you the perfect candidate; from Housekeepers to Gardeners, Nannies to Carers, we source only the most exceptional candidates for your home. Contact our friendly team today: theladyrecruits@lady.co.uk