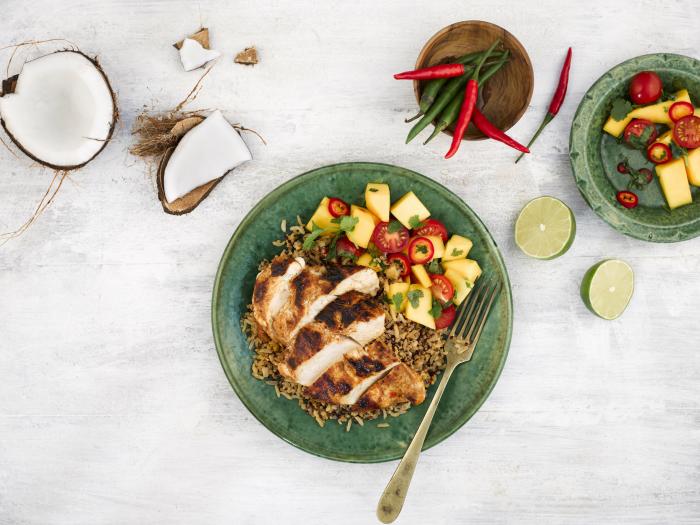 Serves 2
Cooking time: 20 minutes
Ingredients
For the chicken
1 tsp smoked paprika
2 tsp ground cumin
1 tsp ground coriander
½ tsp crushed dried chillies (to taste)
Pinch of sea salt
2 chicken breasts (skinless and boneless)
1 garlic clove, crushed
½ lime, juiced
3 tsp light olive oil
For the salsa
1 small ripe mango, flesh diced into small chunks
4 cherry tomatoes, quartered
1 small handful of fresh coriander, chopped
½ lime, juiced
½ fresh red chilli, finely chopped (to taste)
Pinch of sea salt
220g packet of Tilda Super Grains Sweet Potato, chilli and coconut
Method
Place the spices, crushed chillies and sea salt in a small bowl and combine.
Put the chicken breasts in a large freezer bag along with the spice mix, garlic, lime juice and 1 tsp of olive oil. Seal the bag then shake and rub to combine the meat and spices (you can do this anytime you like before and keep in the fridge).
To make the salsa, place the mango, tomatoes, coriander, lime juice, chilli and sea salt in a medium-sized bowl and combine then place in the fridge to keep cool.
Place the freezer bag on a firm surface and bash the chicken breasts with a rolling pin or back of a serving spoon and flatten until roughly 1cm thick.
Set a griddle or large non-stick frying pan over a medium heat and heat the remaining 2 tsp of oil. Once hot, place the chicken breasts in the pan and cook for about 5 minutes either side until cooked through. Once cooked, remove the chicken from the pan and set aside on a plate.
Open the Tilda Rice packet and place in the microwave and cook for 3 minutes.
To serve, divide the Super Grains between two large shallow bowls or plates. Slice the chicken and place on top of the rice alongside a serving of the salsa.