Recipes: Berry sweet treats
BerryWorld Raspberry Fro-yo
A healthier alternative to ice cream, this raspberry Fro-Yo is great for all occasions. Serve immediately or freeze in an air tight container. For the best results sprinkle with frozen raspberries to add another tasty texture.
Serves: 6
Preparation time: 10 minutes plus freezing
time
Cooking time: 0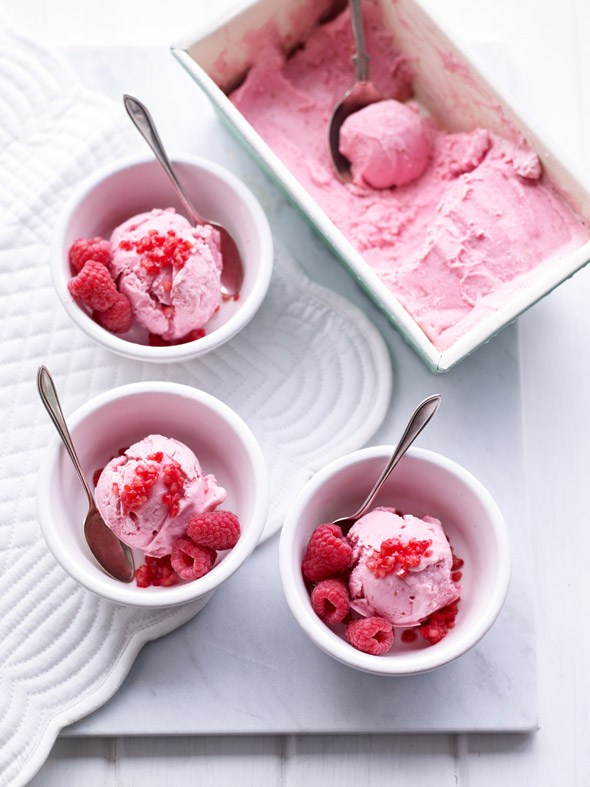 You'll need:
• 350g raspberries, washed and dried
• 500g Greek yogurt
• 200g condensed milk
What to do:
1. Put the washed raspberries in a lidded container and freeze until solid. Once solid put them in the food processor and blitz until finely chopped. Take out 3-4 tbsp and keep in the freezer until you serve.
2. Add the Greek yogurt and condensed milk to the processor and whiz until everything is combined. The raspberries will have frozen the other ingredients so to serve 'soft scoop' straight away or tip into a freezer container to firm up.
3. Serve scoops with the raspberry bits sprinkled over the top.
Note: If you've returned the Fro-yo to the freezer remember to remove it 5 minutes before you serve so it's soft enough to scoop.
---
BerryWorld Strawberry Merinuge Kisses
This recipe is a great way of using strawberries while they are in season, so you can enjoy them later in the year. Most people are surprised to discover that meringues freeze well, but as long as they are nice and crisp when you pop them in the freezer, upon thawing they'll become chewy yet delicately light.
Makes: 24
Preparation time: 30 minutes
Cooking time: 2 hours, plus drying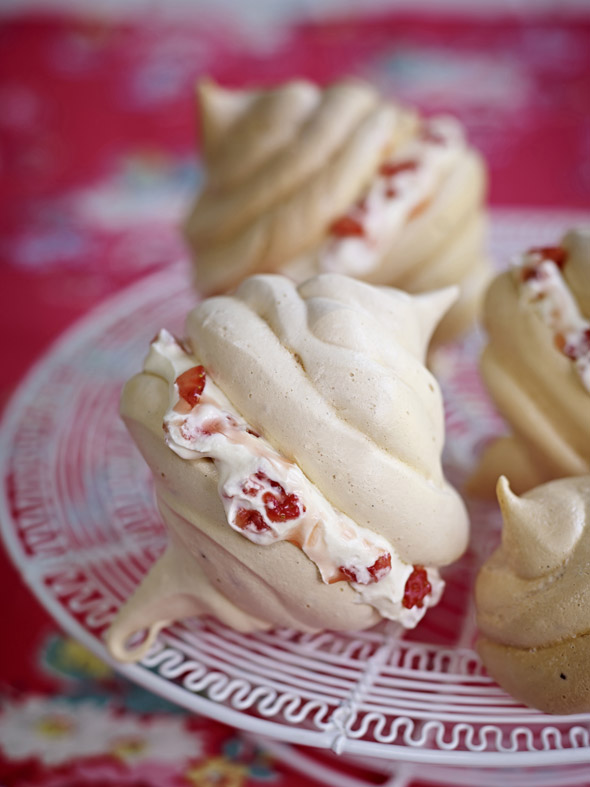 You'll need:For the meringues
• 5 large egg whites
• 250g caster sugar
• ½ tsp vanilla extract
For the strawberry cream
• 250g strawberries, hulled and roughly chopped
• 25g caster sugar
• 2 tsp cornflour
• 175ml double cream
What to do:
1. Preheat the oven to 120C/fan 100C/gas ½. Line two large baking trays with baking parchment or a silicone sheet.
2. For the meringues, whisk the egg whites in a large bowl with an electric whisk until stiff but not dry. Slowly add the sugar, dessertspoon at a time, whisking well between each addition. The meringue should be very thick and glossy. Whisk in the vanilla extract.
3. Fit a large piping bag with a 2cm plain nozzle and pipe 48 small meringues. Bake in the centre of the oven for 2 hours or until firm and very dry. Turn off the oven but leave the meringues inside with the over door closed to dry out for at least 2 hours.
4. Put your freezer setting onto Fast Freeze, or clear some space in the coldest part of your freezer, at least an hour before adding the meringues.
5. To make the filling, put the chopped strawberries, sugar and cornflour in a saucepan. Cook over a low heat for 4-5 minutes, stirring constantly to make a thick strawberry sauce. Leave to cool.
6. Whip the cream until stiff peaks form then lightly fold in the cold strawberry sauce. Spoon the strawberry cream onto 24 of the meringue halves and sandwich together with the rest.
7. Place into freezer-proof plastic containers, interleaving with baking parchment. Cover with tight-fitting lids, label and freeze for up to 2 months.
8. To serve, remove the frozen meringues from the freezer and place on a serving plate or cake stand. Leave to thaw at room temperature for 30 minutes before serving. Pop into the fridge if leaving any longer. Eat the same day.
---
BerryWorld Strawberry Daiquiri
This refreshing and easy cocktail is bound to be a show stopper. Perfect for parties, summer barbecues or any occasion this fruity number will definitely impress.
Makes two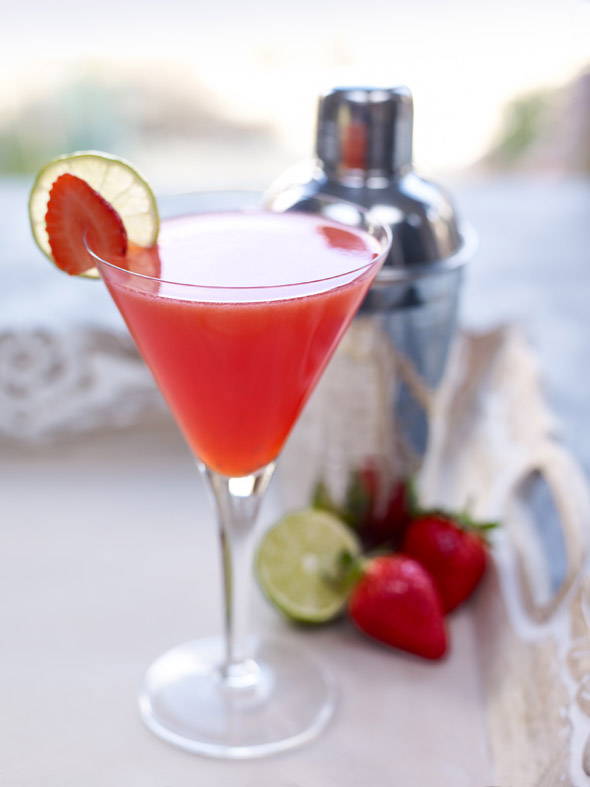 You'll need:
• 8 fresh strawberries, plus 1 strawberry
to garnish
• 4 tsp caster sugar
• 70ml light rum
• The juice of two limes and slices to garnish
What to do:
1. Chill your glasses, by filling with ice.
2. Put the strawberries, caster sugar, rum and lime juice into a cocktail shaker and mash with the end of a rolling pin.
3. Add ice, place the lid on the cocktail shaker and shake well.
4. Strain the mixture into a glass and garnish with half a strawberry and a slice of lime by placing them on the side of the glass.
---
BerryWorld Blackberry Mint Mojito
A fantastic flavour combination - the mint and the blackberries go perfectly together for a fruity twist on this classic cocktail!
Makes two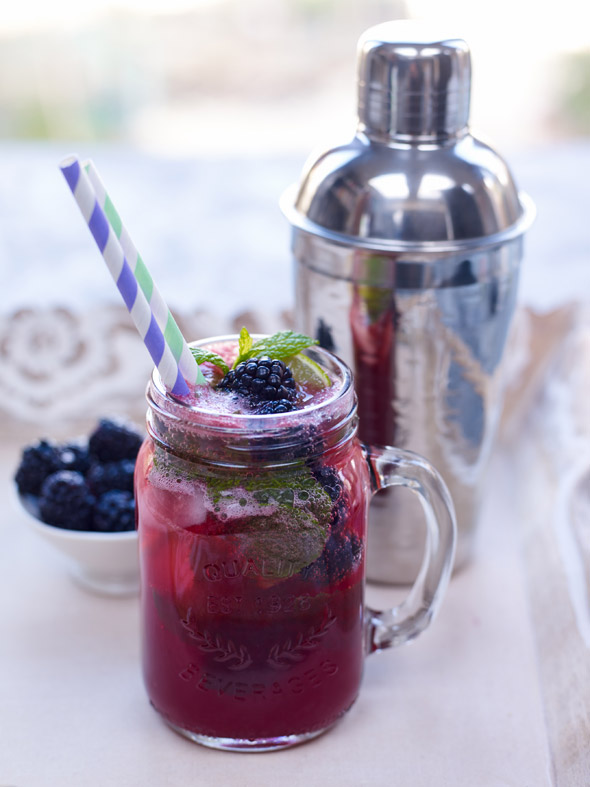 You'll need:
• 20 blackberries
• 160ml water
• 4tsp sugar
• 12 whole mint leaves plus extra to serve
• The juice of one lime
• 100ml white rum
• Ice, for shaking
• A splash of soda water
What to do:
1. Put the blackberries, water, sugar, mint and lime in a cocktail shaker and mash with the end of a rolling pin.
2. Add the rum and some ice and shake well.
3. Put the extra mint leaves and some ice into a glass and sieve in the cocktail adding a splash of soda water. Garnish with lime wedges, mint and blackberries by scattering on the cocktail.