Recipes: Lovely lasagnes
No-bake summer lasagne
• Vegetarian
• Preparation time:5 minutes
• Cooking time:10 minutes
• Total time:15 minutes
• Serves: 2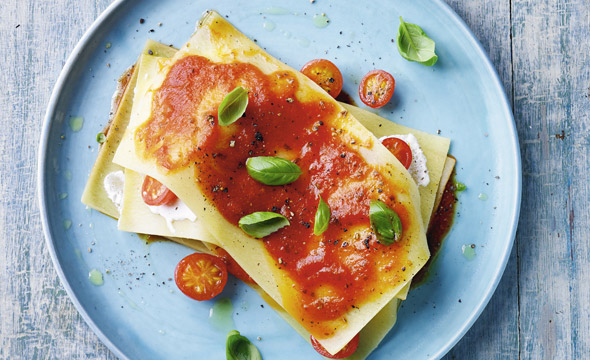 Ingredients
6 sheets fresh lasagne
½ tbsp olive oil
150g cherry tomatoes, halved
350g tomato and basil pasta sauce
125g ricotta cheese
2 sprigs of basil, shredded
Method
1. Cook the lasagne in boiling water for 4-5 minutes until tender, then drain.
2. Meanwhile, heat the oil and fry the tomatoes for 2-3 minutes until softened. Heat the sauce in a small pan. Microwave the ricotta for a minute to warm through.
3. Spread a little sauce over the base of 2 large plates and top each with 1 sheet of lasagne, so it's slightly ruffled. Dot with half the ricotta and half the tomatoes. Spoon over some sauce and add another layer of lasagne at a slight angle.
Repeat the layers, finishing with a little sauce.
4. Garnish with the basil and freshly ground black pepper.
Recipe from Waitrose.com
---
Courgette, spinach & ricotta lasagne
• Preparation time:30 minutes
• Cooking time:60 minutes
• Total time:1 hour 30 minutes
Serves: 6 - 8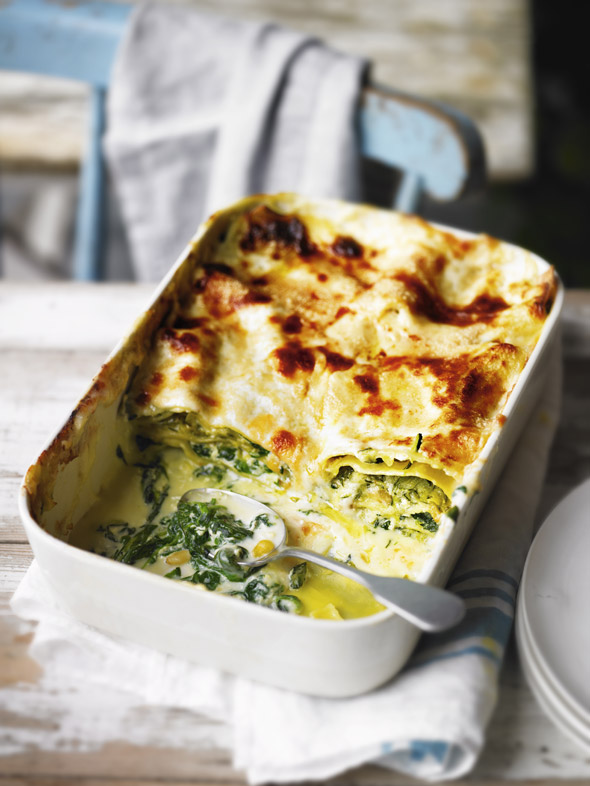 Ingredients
55g butter
40g plain flour
750ml semi-skimmed milk
510g spinach, washed
1 tbsp chopped fresh oregano
½ tsp grated nutmeg
250g ricotta cheese
1 tbsp olive oil
4 medium courgettes, coarsely grated
2 cloves garlic, finely chopped
25g pack fresh basil, chopped
50g pecorino cheese, freshly grated
300g pack fresh lasagne sheets
50g toasted pine nuts
Method
1. Preheat the oven to 200ºC, gas mark 6. Melt 40g butter in a medium pan, add the flour and cook for a minute, then whisk in the milk. Bring to the boil stirring, and simmer for 5 minutes, stirring, to give a thin white sauce. Season well.
Heat the remaining butter in a pan, add the spinach and toss it in the melted butter. Cover the pan and cook until wilted. Boil the spinach quickly to reduce any liquid. Season and add the oregano and nutmeg. Cool and stir in the ricotta.
2. Heat the olive oil in a non-stick frying pan, add the grated courgettes and cook for 5 minutes until golden. Add the garlic and cook for a minute then season well. Stir in the basil and half the pecorino. Season to taste.
3. Layer up the ingredients in a buttered ovenproof dish starting with a layer of white sauce then lasagne then spinach and courgette then pine nuts. Continue until all the ingredients are used up finishing with white sauce. Sprinkle with the remaining pecorino and bake for about 40 to 45 minutes until golden and bubbling. Serve on warmed plates with a tomato and onion salad.
Recipe from Waitrose
---
Beef & portabella mushroom lasagne
• Preparation time:10 minutes
• Cooking time:45 minutes
• Serves: 4
Ingredients
Butter for greasing
2 tbsp olive oil
275g portabella mushrooms, sliced
1 onion, finely chopped
1 carrot, finely chopped
2 cloves garlic, crushed
400g pack Beef Mince (low fat)
500g passata
1 x 28g Knorr Beef Stock Pot
300g fresh lasagne sheets
350g tub fresh Waitrose Four Cheese Sauce
1 tbsp grated Parmigiano Reggiano
Method
1. Preheat the oven to 190ºC, gas mark 5 and butter a medium-sized baking dish. Heat 1 tbsp of the oil in a large frying pan over a medium heat. Add the mushrooms and fry for 3–4 minutes, then remove from the pan and set aside. Add the remaining oil to the pan and fry the onion and carrot for 3–4 minutes, then add the crushed garlic and fry for another minute.
2. Add the beef mince, stirring over a medium-high heat for 3–4 minutes until browned, then add the passata and stir through the Knorr Stock Pot.
3. Cover the bottom of the baking dish with a single layer of lasagne sheets. Spoon on a layer of meat sauce, then a layer of four cheese sauce and scatter over some mushrooms. Arrange a layer of lasagne sheets on top of the mixture and repeat the layers to the top of the dish, finishing with a layer of lasagne sheets topped with the remaining cheese sauce and a sprinkling of Parmigiano Reggiano.
4. Bake for 30–35 minutes. Cover with foil towards the end, once the top is golden brown. Allow to stand for a few minutes before serving.
5. Make individual portions of the lasagne in small pie dishes. They look really appealing and you can freeze them too. Simply defrost completely before heating through in the oven.
Recipes from Waitrose