REVIEW: Rooftop Infinity Pool at Ragdale Hall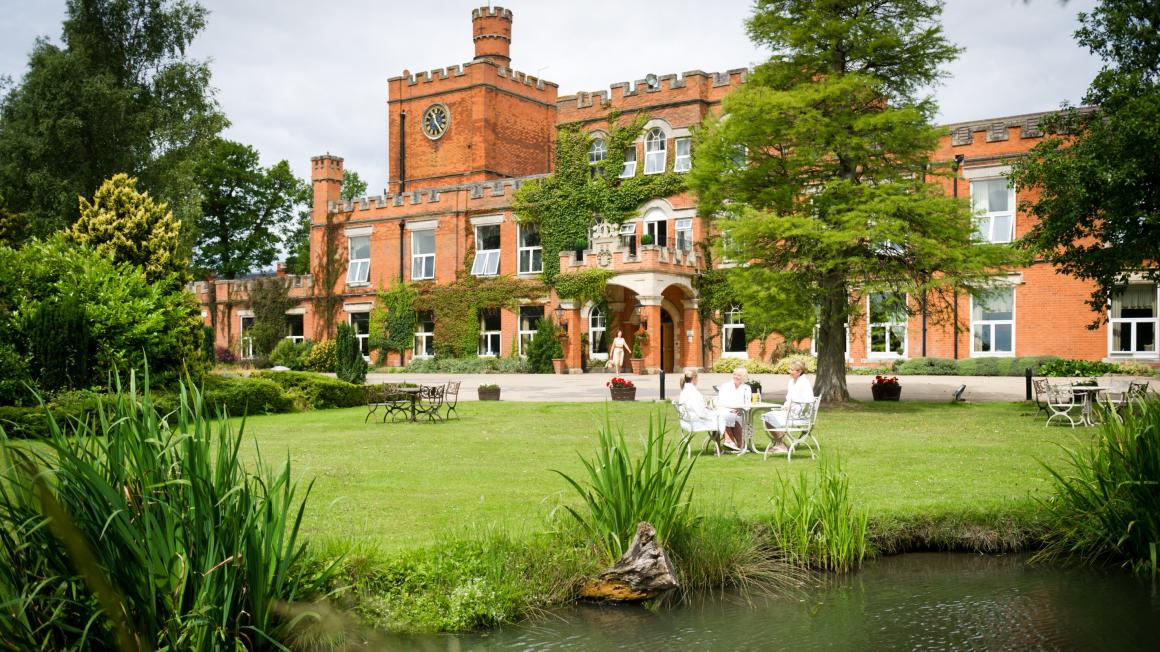 Where?
In the tranquil settings of the Leicestershire countryside lies Ragdale Hall, a name you may have already heard in the spa circuit not only for its award-winning facilities but for its rightfully self-proclaimed 'dedication like no other'.
Ragdale Hall, one of the UK's biggest spa salons offering spa day packages and overnight residential packages, encourages visitors to relax with pools, jacuzzis, steam rooms, saunas, a fully equipped gym, a restaurant and beautiful spa grounds. With more than 130 therapists and hundreds of treatments with top beauty brands to select from, you're ensured a weekend of total luxurious bliss.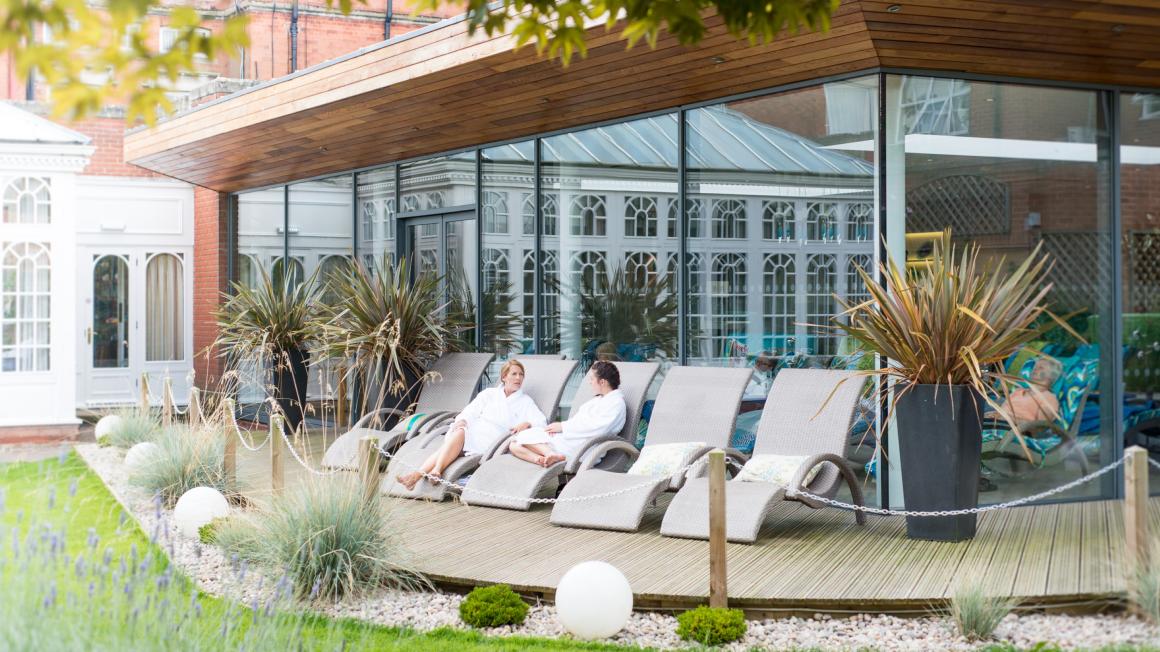 What?
Five kinds of pools are available on the grounds, and I was invited to try and test their newly opened sixth: the Rooftop Infinity Pool.
The stainless steel 12 metre high pool, manufactured in Austria, is set atop Ragdale's main manor house. You're first met by an indoor glass lounge with swinging egg chairs, a wall of towels and a staircase that leads out to the large, inviting, heated pool. The protruding pool may seem like a stark contrast to Ragdale's more traditional exteriors, but it's perfectly conducive to its many modern amenities, and is a stand-out feature for grounds.
At 35 degree water temperature, using the Rooftop Infinity Pool is more or less like being in big, outdoor jacuzzi (glorious!). There's plenty of space to sit back, relax (or lean on the infinity edge) and enjoy the endless rolling hills- a contemporary way to embrace the British countryside. A curved hanging roof protects bathers from unpredictable weather, whilst also trapping heat and providing the warmest possible environment.
The pool's dreamy evening lights highlight the rising steam that will have you feeling like you're in a natural Japanese onsen. On your way out of the area down the spacious stairwell, you're met by an unmissable bespoke lighting installation by Luum in London called 'Leaf'. Gold aluminium discs appear to cascade from above, reminiscent of sun reflecting the canopy of a tree.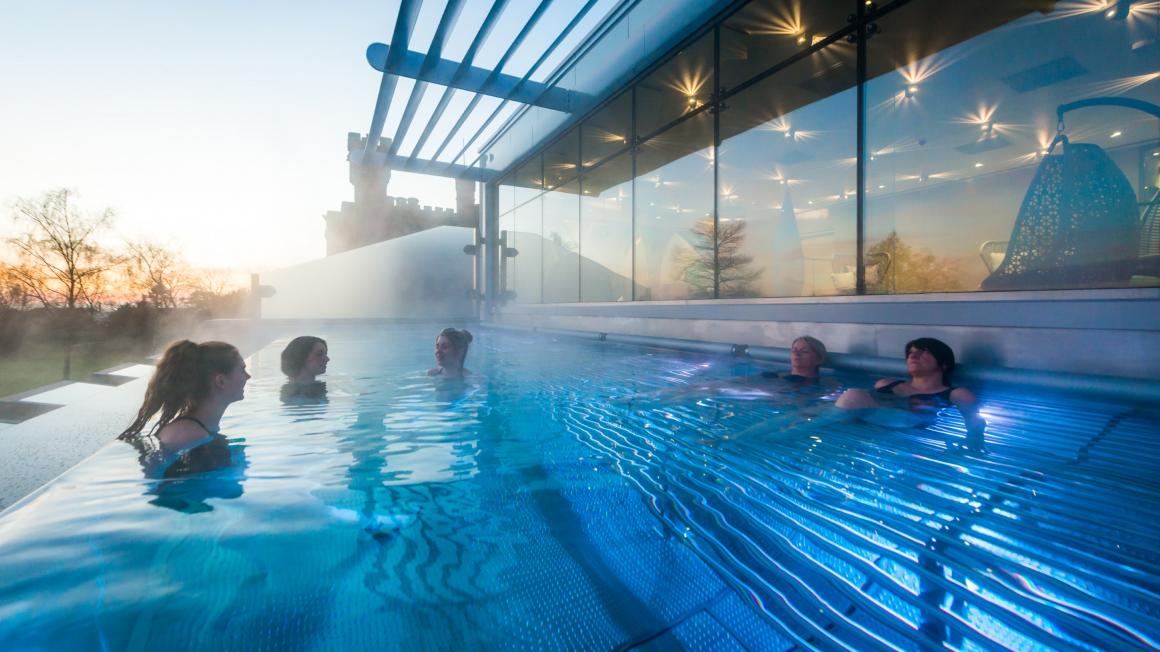 Why?
Between the Olympic sized main pool (complete with aqua aerobic classes), the utterly relaxing thermal spa, outdoor waterfall pool, indoor jacuzzi, steam, and saunas- even a 'quiet' room- your trip to Ragdale will keep your schedule full.
I indulged in an hour-long Clarin's facial and back massage the morning of my second day at Ragdale, the therapist analysing my skin and exclusively targeting my problem areas. The products she used were readily available in the shop grounds adjacent to the therapy rooms, as most things were. You could be playing board games, outdoor croquet, or working out in the gym at the drop of a hat. If you're one for a getaway compromising of total nothingness- like me- you can easily sit outside on the swinging chairs or in the gazebo and enjoy the silence.
Customer service is unmatched and staff aim to take care of you as soon as you arrive. You're asked to fill out a variety of forms to tailor your spa experience as personal as possible, down to how you'd like breakfast. I stayed in the spacious Superior Room (part of the Overnight Reviver Break package), where I didn't take my fluffy white robe and slippers off the entirety of my stay- even to dinner, which was the norm.
The restaurant's dinner menu compromises of dishes that intend to reflect the wellness theme of the spa, but that doesn't mean you're limited to kale juice. I enjoyed a three-course meal of Mediterranean vegetable soup, oven roast chicken breast and passionfruit and anise sorbet before retiring to the Verandah Bar for a glass of wine.
Don't expect to be using your phone much, however, as service is limited and WiFi unavailable. It's a total shut off from stress, and frankly, your trip to Ragdale will leave you more relaxed than you have been in years.