The rise of home baking
By Lucy Robinson
Last year, living in lockdown resulted in an inevitable rise of home baking. All over the country, brits were getting creative in the kitchen; suddenly social media feeds were FULL of homemade masterpieces, from infamous banana bread bakes, to creative coriander olive loaves, sourdough sensations and even the odd crumpet here or there. Pre-lockdown, it's certain that many would have never contemplated baking their own sourdough loaf, for the reason alone that in order to first succeed you must grow and tend to your own starter yeast... in the fridge... what's that about? However now, our nation embraces the complex science behind the art of sourdough making, releasing our inner Mary Berry, waving goodbye to shop-bought breads.
But if you are one of the few who haven't had tried to rustle up a loaf of your own, Florence from Hoxton Bakehouse has kindly shared her simple 5-step recipe for making award winning sourdough at home. As a nod to Real Bread week on the 20th-28th February, the only thing left to say is... on your marks, get set, bake!
5 Tips for the Best Sourdough
Get your self a dutch oven. This will create a steam chamber allow your loaf to get good oven spring and caramelisation.
Use good quality bread flour around 13% protein, this will give your dough strength and allow you to push the hydration.
Rest and fold your dough gently, don't knead it. Paul Hollywood is a lovely geezer, but you really don't need to spend 20 minutes sweating like a crazy person, just allow the gluten to do all the work. The more you knead dough the tighter it becomes. All you need to do is gently mix it, leave it for 10 mins, give a few folds and bobs your uncle, mixing done. It the same principle with protein in meat where you have to rest it after cooking.
Work clean and tidy
Don't leave your starter in the fridge and forget about it, your starter needs lots of love and lots of care. Try to maintain it at room tempreture with regular feeds and if your not baking for a few weeks, you can create a dry leaven by mixing it with flour and then re hydrating it with water when you plan your baking schedule.

Ingredients
550g Strong white bread flour
50g Wholewheat
375g Water
100g Sourdough starter
11g Sea salt
Method
Mix flours and water
Rest for 10 mins
Add starter and squeeze in to the rested flour and water, once fully mixed then add the sea salt with a dash of water to help dissolve the salt.
Rest for 5 mins
Fold the corners of the dough in to the centre creating tension to strengthen the dough
Rest for 5 mins and repeat step 5
Bulk ferment (AKA first rise) your dough at room temp for 2 hours
Turn the dough out on to your work bench and shape in to a ball - do not be tempted to add any flour
Rest dough on bench for 10 mins, this allows the dough to relax before the final shape
Gently pick up your rested dough and place topside down in to your floured basket
Cold prove your loaf in the fridge overnight
Pre heat your oven at 250c for 30 mins with your bakers stone or Dutch oven inside
Turn your proved loaf out in to your Dutch oven or pizza stone, slash using a sharp knife or razor blade, then place in to the centre of the oven and bake for 30 mins with lid on. If you are using the pizza stone you will
You'll need a spray bottle with water to add steam at the beginning of the back. After 30 mins turn down the oven temperature to 220c and bake for a further 15 mins or until you are happy with the colour and crust.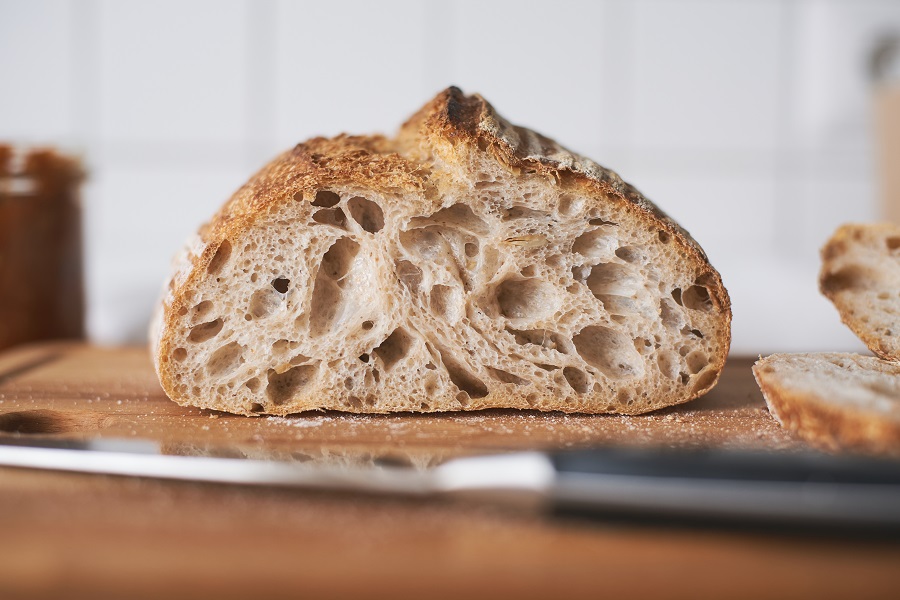 Rather leave the cooking to the experts? We can find you the perfect candidate; from Housekeepers to Gardeners, Nannies to Carers, we source only the most exceptional candidates for your home. Contact our friendly team today: theladyrecruits@lady.co.uk