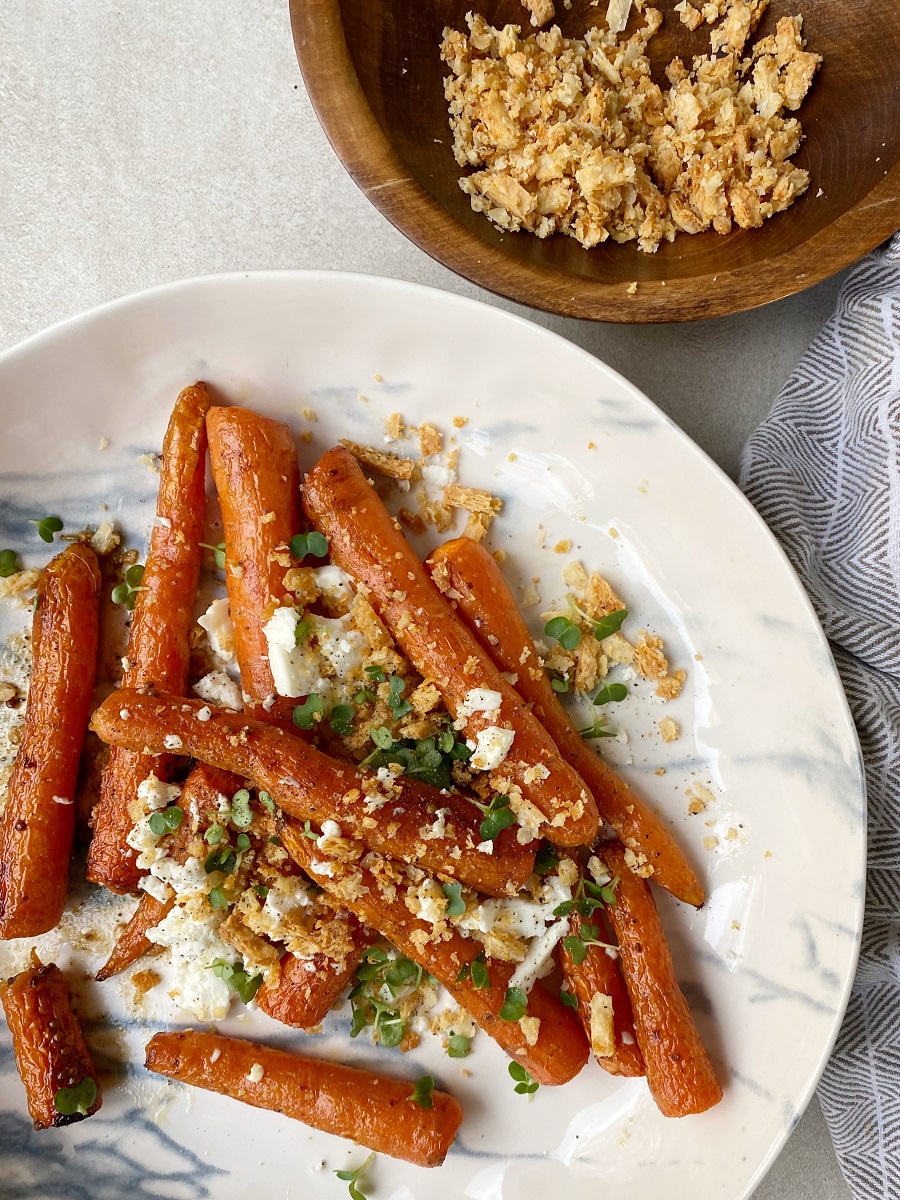 Roast Carrots with Feta Cheese Crumb and Orange Honey and Mustard Dressing
A timeless recipe that'll see you through the year, this one by Gem Wade and Cartwright & Butler combines sweet roast carrots, salty feta cheese, and topped with a little crunch thanks to the cheese biscuits, and then there's a sharp mustard dressing to cut through. Make it as a side dish, or add watercress and turn it into a salad.
PREP TIME: 20 minutes COOK TIME: 35 minutes SERVES: 4
Ingredients:
750g carrots
1 tbsp Rapeseed oil
Half a tsp Fine grain sea salt
75g Feta cheese
1 Punnet of cress
30g Cartwright & Butler Cheese Biscuits
1 tsp Cartwright & Butler Wholegrain Mustard
Half a tsp Cartwright & Butler Orange Zest Honey
1-2 tsp White wine vinegar
Method
1. Preheat the oven to 220°C (200°C fan).
2. Wash the carrots but don't peel them. Chop the stalk end off by laying them next to each other, then cutting a few at a time. If the carrots are small, leave them whole - you want them to be around the size of a finger. If they are big, cut them in half lengthways and then in half across.
3. Place the carrots on a metal roasting tray so they are spread out. If they are crowded, they will steam rather than roast. Scatter with the salt and oil and toss before putting in the oven for 25-35 minutes until they are starting to turn dark golden at the ends and squish when you press them. Different sized carrots will take different times so pop them back in the oven and carry on cooking, checking every 5 minutes if they're not ready. Be brave, colour = flavour.
4. While the carrots cook, make a quick dressing by putting the honey, mustard and half the vinegar in a jam jar with a pinch of salt and shaking it.
5. Crumble the cheese biscuits into a bowl using your fingers and set aside.
6. When the carrots are ready, take them out of the oven and while they are still hot, drizzle them with three quarters of the dressing. Dressing them while they are hot means they will absorb the flavours better.
7. To serve, lay the hot carrots on a platter, drizzle over the remaining dressing and crumble over the feta. Then scatter the cheese biscuit crumbs over. Snip the cress over and finish with freshly ground black pepper. Taste one of the carrots with a bit of the feta and dressing and then add more salt, pepper or vinegar as needed. Serve immediately as it is or alongside roast chicken or turkey.
If you want to give this delicious recipe a try, make sure you snap a photo of your finished dish and tag us on socials @theladymagazine for the chance to be featured!