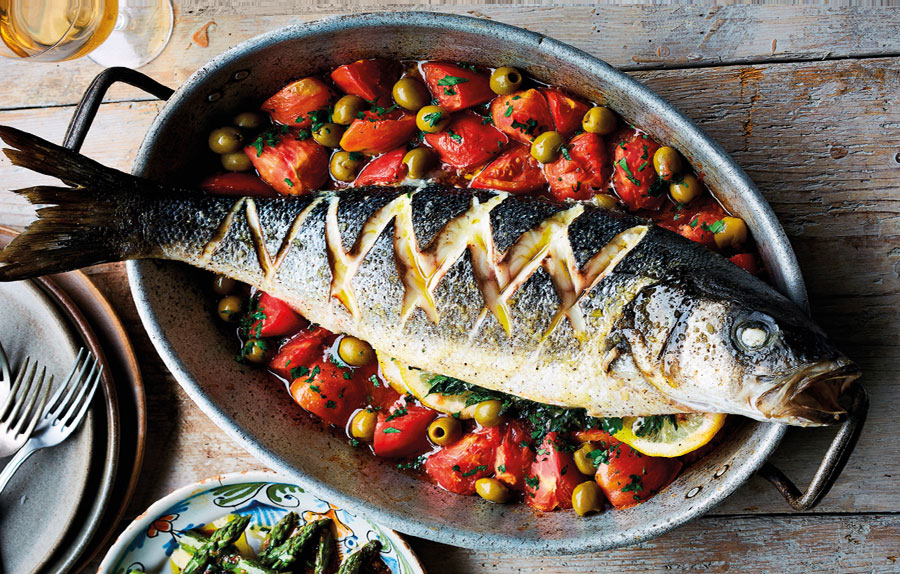 TV chef and presenter James Martin's latest book celebrates the wonderful regional cuisine of Spain
An impressive dish of whole sea bass, roasted on a bed of tomatoes and olives and drizzled in oil and sherry for extra Spanish flavour. I've complemented it with some grilled asparagus spears coated in a tomato and parsley dressing to serve alongside.
SERVES TWO
1 x 700g whole sea bass, gutted and fins removed
1 lemon, sliced
A few flat-leaf parsley stalks
1 bunch of asparagus
25ml olive oil
Pinch of salt
For the sauce
150g passata
2 large tomatoes, cut into chunks
50ml olive oil
1 tbsp sherry
100g olives of your choice, stoned
For the dressing
1 tbsp sherry vinegar
3 tbsp passata
1 tbsp chopped flat-leaf parsley
1 tbsp sherry
1 garlic clove, crushed
50ml olive oil
1.
If you want to use a barbecue, heat it until the grill is hot and the coals are white. Preheat the oven to 200C/180C fan/400F/gas 6.
2.
Start with the fish. Cut three or four deep slashes on each side, fill the cavity with the lemon slices and parsley stalks. Spoon the passata for the sauce into the bottom of a roasting pan, add the chunks of chopped tomato and sit the fish on top. Drizzle over the oil and sherry, then roast for 12-15 minutes, adding the olives for the last minute.
3.
Whisk together all the ingredients for the dressing.
4.
Spread the asparagus spears on a tray, roll in olive oil and season with salt. Place onto the barbecue grill and char for two or three minutes, turning during cooking. Alternatively, you can cook them on a griddle or frying pan on the hob.
5.
Pop the asparagus onto a plate, spoon over the dressing and serve alongside the fish.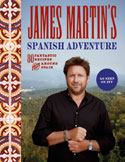 James Martin's Spanish Adventure 80 Fantastic Recipes from Around Spain, with photographs by Dan Jones, is published by Quadrille, price £27
---
Rather leave the cooking to the experts? We can find you the perfect candidate; from Housekeepers to Gardeners, Nannies to Carers, we source only the most exceptional candidates for your home.
The Lady, home of domestic recruitment now has three options to suit every need and budget. For more information and to get the ball rolling, SIMPLY CALL 020 7379 4717 OR EMAIL
recruitment@lady.co.uk