Save the Fishing Fleet
According to their advertising campaign, Dulux can 'scan practically any object to match and mix any colour'. The experts at their paint-matching stations will scan a rubber duck – to match the yellow. Or a faded scrap of wrapping paper saved from your wedding day. They'll even scan a trouser leg. But what they won't scan is one little brown shrimp. Even an obviously dead (and washed one) who poses no threat to anyone. I know this because I've tried. And the reason I've tried is to recreate their muted pink colouring – the perfect hue for a seaside dining room wall.
'Brown Shrimp'. Why isn't it a colour option already? These mini crustaceans have been caught off the southeast coast for centuries, they are a classic tea-time delicacy. Who can resist hot toast smeared with potted shrimp? Quite a lot of us, it seems. Our cold waters are full of them, naturally sustainable and wild, yet the British taste now veers towards the intensively farmed warmwater prawns flown in from the other side of the world.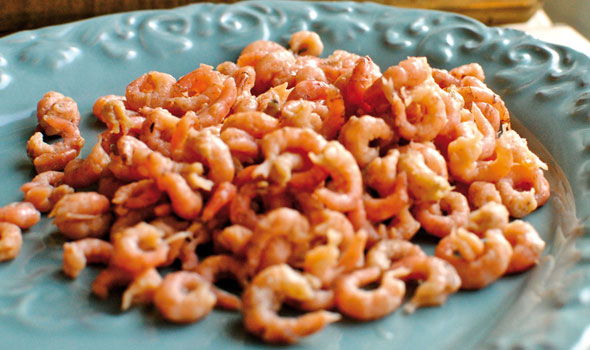 Lurid Pink Prawn. Not the colour I'm looking for.
The Dutch and Germans now buy up most of our brown-shrimp stock, they adore them, like our Northern French friends over the Atlantic who serve little bowls of crevettes grises washed down with a glass of crisp white.

But why don't we do that? The brown shrimp are super tasty and in fact rather remarkable. They start the first three years of their lives as males – and then change for the last year into females. Their dexterity is almost a metaphor for the small fishing boats at risk of being lost from their millennium-old spot here on the Stade. These 14ft 'punts' allow the fishermen to flip through a range of sustainable, seasonal methods including: mackerel and herring drifting, longlining and shrimp catching. For some of the fishermen, this winter may be make or break – last year's storms kept many of them out of the water.
A few months ago, MP Amber Rudd persuaded the Fishing Minister, George Eustice, to pay a visit and rethink the paltry quotas these small fry are currently granted. Hopefully something will change. Brown shrimp needs to come back into fashion; as I tried to explain to the man who lead me away from the colour-matching machine.
Next week: Winter fuel