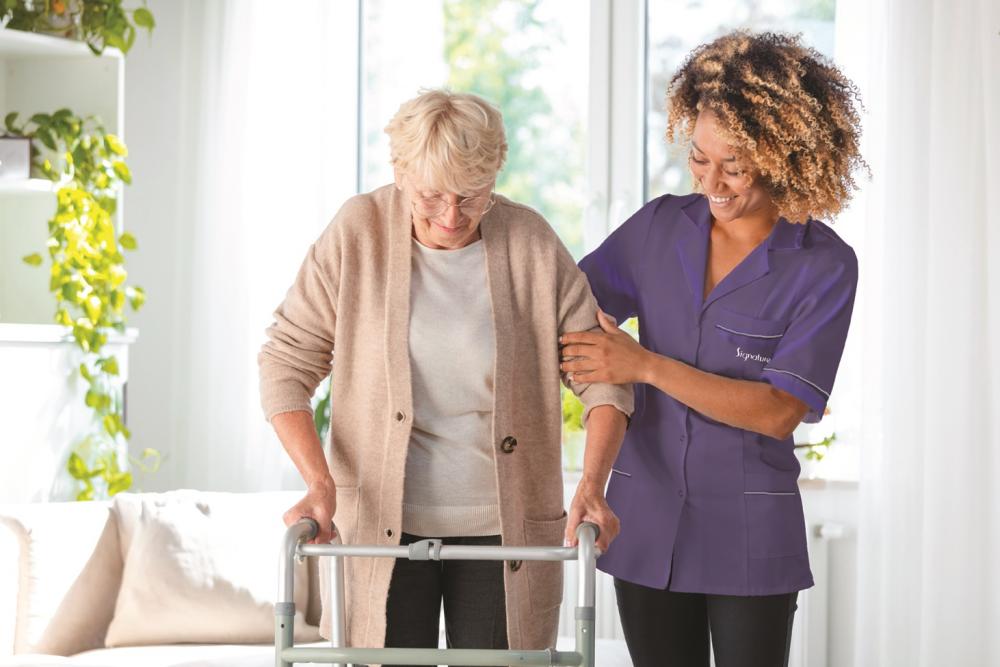 The Signature way – delivering exceptional care for the 21st century
Beautiful interior design, five-star amenities, landscaped gardens, fine dining and the highest level of bespoke care and service. These are traits not historically associated with care homes in the UK, however times are changing and the sector is evolving. Leading this shift is Signature Senior Lifestyle, driven by an unwavering vision to change perceptions of the sector forever, with a number of award-winning care homes all rated good or outstanding by CQC across London and the Home Counties.
Each home offers truly holistic luxury living whilst delivering a full spectrum of care services, from assisted living to 24-hour nursing and specialist dementia care, as well as a busy schedule of social initiatives and a full suite of on-site amenities. Every aspect has been meticulously designed with complete resident safety and comfort in mind, creating friendly environments that everyone can be proud to call home.
Signature homes are expansive and accommodate the spaciousness in which to adhere to social distancing, with apartments around twice the size of the industry average. All homes complete regular bespoke risk assessments and have implemented rigorous new health and safety protocols including regular testing. Visitors, including friends and families of loved ones or those considering care, are encouraged, however Signature has had to put a limit on visitation frequency to ensure the safety of residents.
Chief Operating Officer, Kay Cox, comments "While this has been a challenging period of uncertainty, the health and safety of residents, families and team members remains the number one priority above all else. We thank everyone for their co-operation and will continually monitor the situation, striving for excellence in our safety protocols as if our own loved ones are in our homes."
Innovation is high on the agenda for the group. From the latest intelligent design to clean air filtration and ventilation systems, or sophisticated ambient monitoring technology that can be used to track the safety and wellbeing of residents, Signature is investing heavily to ensure it can provide the safest and most comfortable care environment possible. This includes working with leading industry partners where appropriate – the group is currently trialling a pioneering new physiotherapy and pre/rehabilitation offering for those going in or coming out of hospital.
The fine food and beverage offering also sets Signature apart, working with MasterChef 2016 winner Jane Devonshire on menu development which constantly evolves. Earlier this year, Signature also undertook a pioneering Facebook Live initiative that saw residents and carers from homes compete to make the best Knickerbocker Glory desert, with over 6,500 video views on Facebook and 45,000 timelines reached.
Meanwhile, Coombe Hill Manor in Kingston was awarded "Outstanding" by the Care Quality Commission as well achieving the Gold Standards Framework Beacon Status, putting it within the top 4% of homes in the UK.
The group's newest and most luxurious home is Signature at Wandsworth Common, offering assisted living, 24 hour nursing and specialist dementia care. Here, residents can enjoy a range of exceptional lifestyle facilities akin to the globes finest hotels and cruise ships including a sky lounge with beautiful panoramic vistas across London, a cinema, café, hair salon, restaurant, private dining room, terrace gardens and even a chauffeur service.
Beyond the stunning homes and amenities, it's the award-winning 24 hour care and nursing expertise that remains at the heart of what Signature Senior Lifestyle does. Kay Cox adds: "We have an unwavering dedication to treating every resident with the respect, dignity and individuality they deserve. Tailor-made care plans are designed around individual needs, and skilled staff focus on supporting independence as much as possible to enable active and fulfilling lifestyles for all residents. This is all supported through electronic care planning which provides additional peace of mind for family and friends."
Signature Senior Lifestyle currently has 13 homes across London and the Home Counties with a further six in the pipeline. To find out more about how a Signature home can provide total peace of mind for you and your loved ones, please contact your nearest home today.
ASCOT 01344 797805; BRENTWOOD 01277 508415; BUSHEY 01923 709348; CAMBERLEY 01276 862804; CHERTSEY 01932 283413; EPSOM 01372 541626; HERTFORD 01992 721104; HINDHEAD 01428 853289; KINGSTON 0203 7338146; MARLOW 01628 702311; REIGATE 01737 742928; WANDSWORTH 0208 1089650; WIMBLEDON 0203 6139571