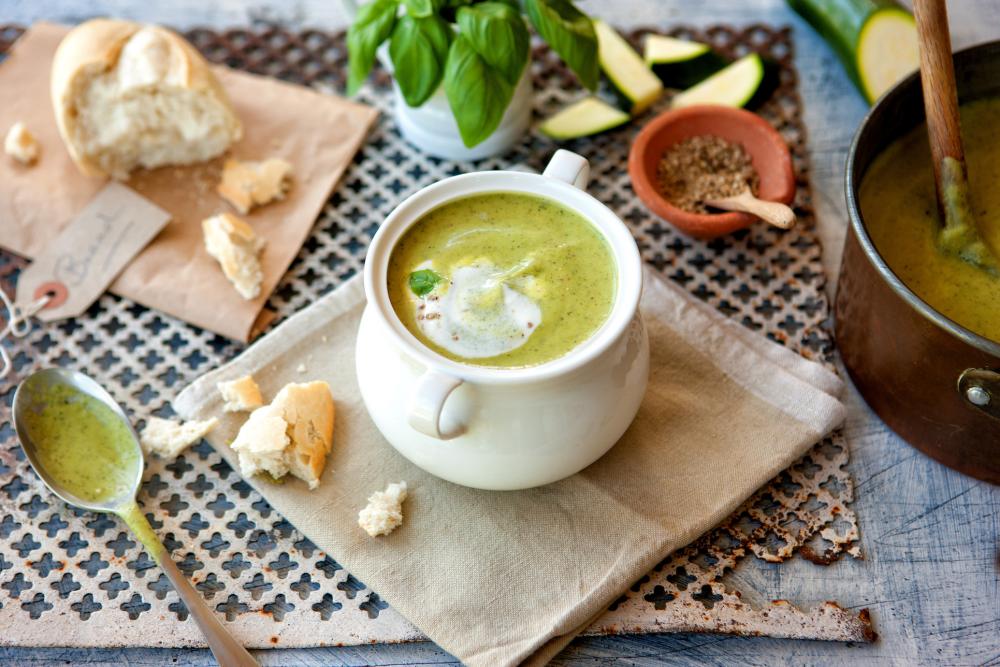 Courgettes a-plenty! That's often the situation many keen (and new) gardeners find themselves with at this time of year. Whilst we all appreciate the general abundance of vegetables growing well in our gardens, the humble courgette can often be one that grows rapidly and sometimes it gets to a point where you can't give them away. The celebrity chef Rachel Green, who will be demonstrating her live cooking at Woburn Abbey Garden Show this year, has come up wih a few delicious recipes to turn your ordinary garden greens into something really special, so think twice before bundling up your next batch!
Courgette and White Pepper Soup
Ingredients
60ml olive oil
1 large onion, peeled and chopped
2 cloves garlic, chopped
two handfuls of basil leaves, chopped
1 kg courgettes, cut lengthways into quarters and then 1cm slices
sea salt flakes
1 tsp ground white pepper
a squeeze of lemon juice
1 litre chicken stock
75ml double cream
Greek yoghurt/sour cream, to serve
basil leaves, to decorate
Method
In a large pan, heat the oil and sauté the onion, garlic, basil and courgettes. Season with salt and white pepper.
Add the lemon juice and the stock and simmer for 20 minutes or until the courgettes and onion are coked.
Blitz in a food processor and add the cream. Adjust the seasoning if necessary and add more white pepper depending on your taste.
Serve with sour cream or Greek yoghurt and a sprinkling of basil leaves.
TIP: This soup freezes very well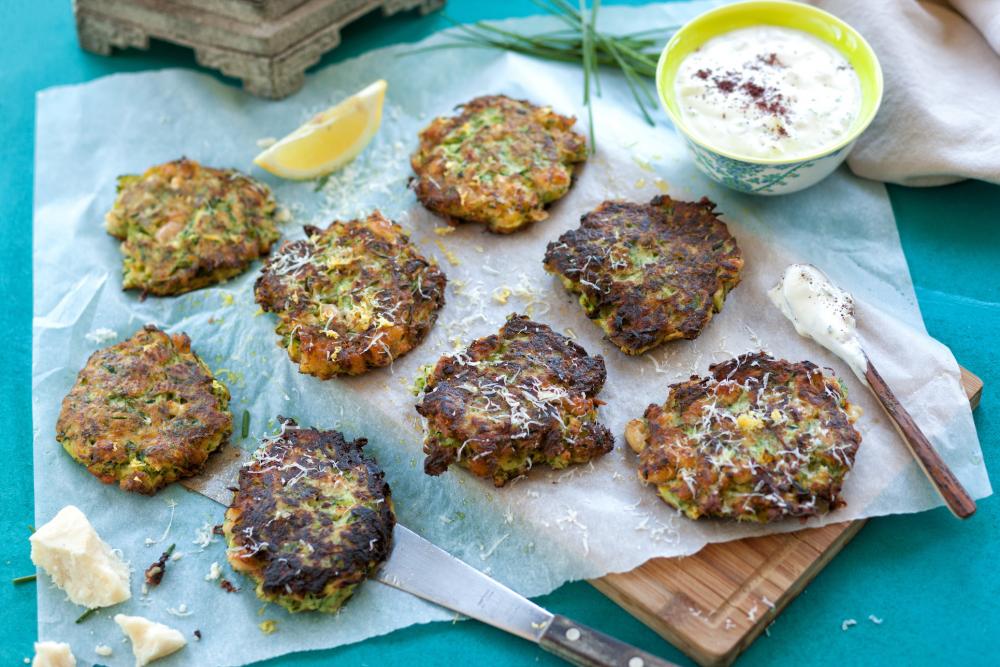 Courgette, White Bean and Feta Fritter with Preserved Lemon and Mint Yoghurt
Ingredients
2 courgettes, grated
sea salt flakes
4 spring onions, finely chopped
1 x 400g tin cannellini beans, drained and lightly crushed with a potato masher
150g Feta, crumbled
small handful dill, chopped
small handful mint, chopped
a grating of nutmeg
1 egg, beaten
100g plain flour
½ tsp baking powder
freshly ground black pepper
olive oil for frying
For the yoghurt:
4 tbsp Greek yoghurt
1 garlic clove, crushed
1 preserved lemon, flesh discarded, skin finely chopped
zest of 1 lemon
juice of ½ lemon
1 tsp sumac
small handful of mint, chopped
Method
Start by mixing all ingredients for the yoghurt together.
Coarsely grate the courgettes into a colander and toss with a little salt and leave to drain for 30 minutes to an hour. Squeeze thoroughly and put into a large mixing bowl. Add the spring onions, beans, Feta, dill, mint, nutmeg, beaten egg, flour and baking powder. Season and mix well together.
Put a generous amount of oil in a frying pan and put over a medium heat. When the pan is hot, add spoonfuls of the batter to the pan and flatten slightly. Cook for a couple of minutes until golden brown, flip over and repeat. Drain the fritters onto kitchen towel and serve immediately, while hot, with the yoghurt.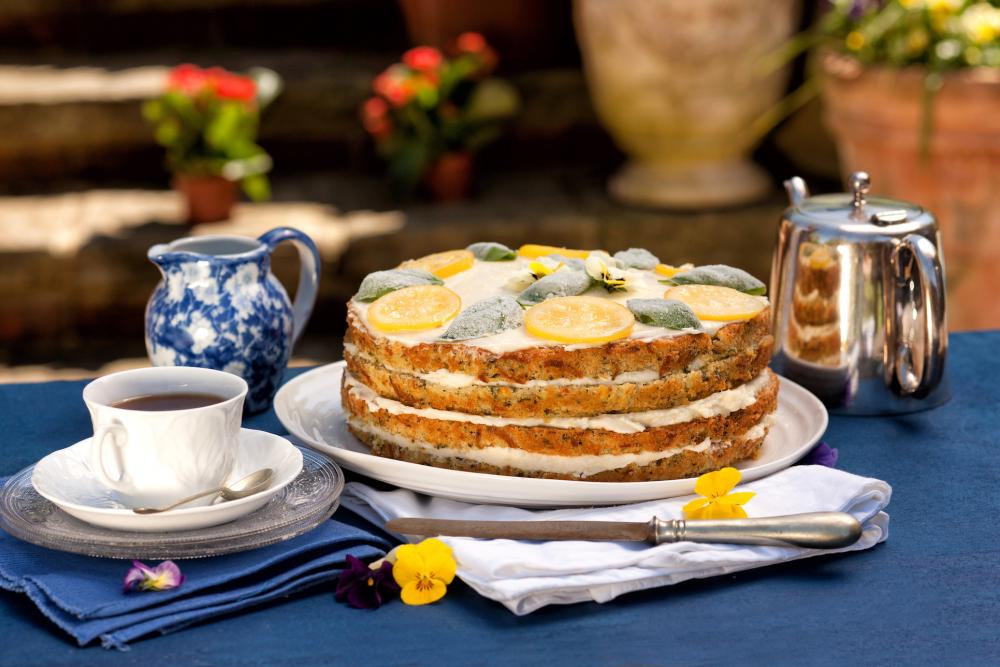 Courgette, Lemon, Basil and Vanilla Layer Cake
Ingredients
350g unsalted butter, softened, plus extra for greasing
350g caster sugar
zest of 2 lemons
6 large eggs
400g self-raising flour
2 tsp baking powder
4 courgettes (about 600g), coarsely grated
4 tbsp chopped basil leaves
candied lemon slices, to decorate
crystallised basil leaves, to decorate
For the icing:
250g tub mascarpone
250g unsalted butter, softened
zest 2 lemons
900g icing sugar
2 tsp vanilla bean paste
Method
For the lemon slices, put the sugar into a saucepan with 200ml water and heat gently until the sugar is dissolved. Once the liquid starts to boil, add the lemon slices and cook for about 15 minutes until soft. Put the lemon slices onto a piece of greaseproof and set aside. Leave the saucepan of syrup to one side. For the basil leaves, put the sugar into a small bowl. Brush the basil leaves with a little egg white and then toss the leaves in the sugar. Put the leaves on the greaseproof alongside the lemon slices.
Grease and line the bases of two 20cm springform cake tins. In a food mixer, beat the butter, sugar and lemon zest until pale and creamy. Lightly whisk the eggs together before gradually adding to the butter and sugar mixture, beating well after each addition. In a separate bowl, mix together the flour and baking powder and gently fold into the mixture. Gently stir in the courgettes and chopped basil leaves.
Divide the mixture between the two tins, levelling the tops out gently with the back of a spoon. Bake in the preheated oven for 35 to 40 minutes or until a skewer comes out clean. Remove the cakes from the oven and prick all over with a skewer. Brush the tops with some of the leftover syrup from the lemon slices. And allow to cool.
Meanwhile make the icing. Put all the ingredients into a mixer bowl and beat until combined and slightly fluffy.
Remove the cakes from the tins and put onto a wire rack and carefully slice the two cakes in half horizontally, using a long knife.
Sandwich together the four layers with the icing, finishing with a layer of icing on top and decorate with the lemon slices and the crystallised basil leaves.
Preheat the oven to 180°C/350°F/Gas mark 4
To find out more about Woburn Abbey Garden Show, follow this link. Photography credit: Michael Powell