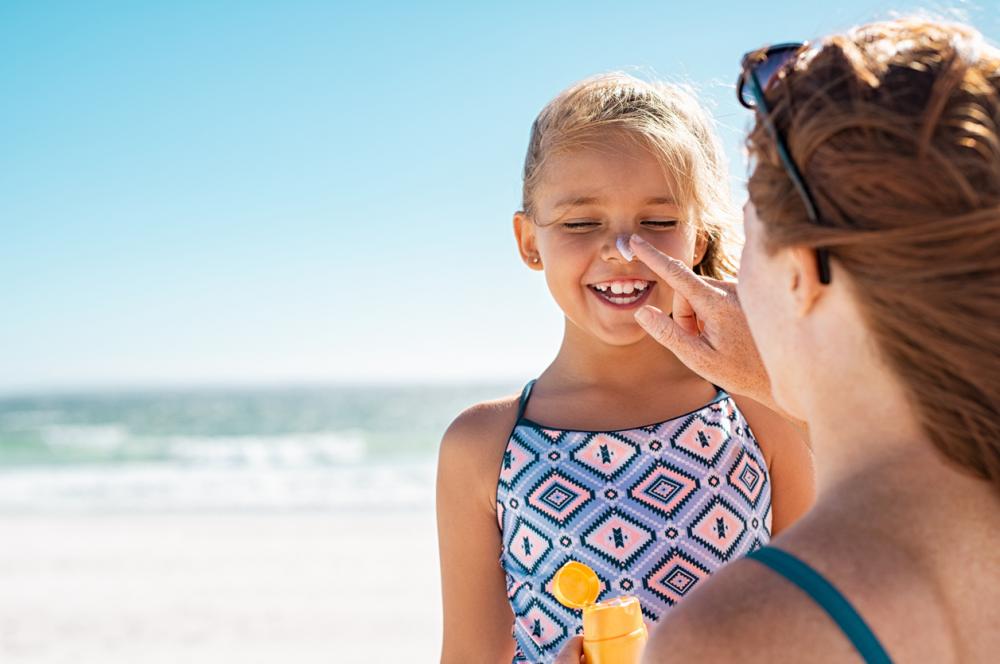 Almost 30 million Brits aren't applying sun-cream properly according to The Hospital Group with 67% use LESS than the recommended amount.
Experts conducted a study of 1,500 UK adults, on their sun protection practices whilst in the UK and abroad.
They found that millions of Brits are seriously underestimating the amount of sun-cream needed and therefore failing to adequately protect their skin from harmful UV rays.
According to the data, 67% of Brits use less than the recommended amount of sun cream, with 44% using less than half of the recommended amount. Those that fail to meet the standard admit to using 3 teaspoons or less, in comparison to the 6+ teaspoons that the British Association of Dermatologists recommends we should apply.[3]
In light of this significant shortfall, it's clear that we struggle to visualise the appropriate amount of sun cream needed – which is why The Hospital Group has put it into context:
Experts have released a series of images showing the recommended amounts of sun-cream you SHOULD be using on each body part in comparison to how much is actually being used by Brits on average.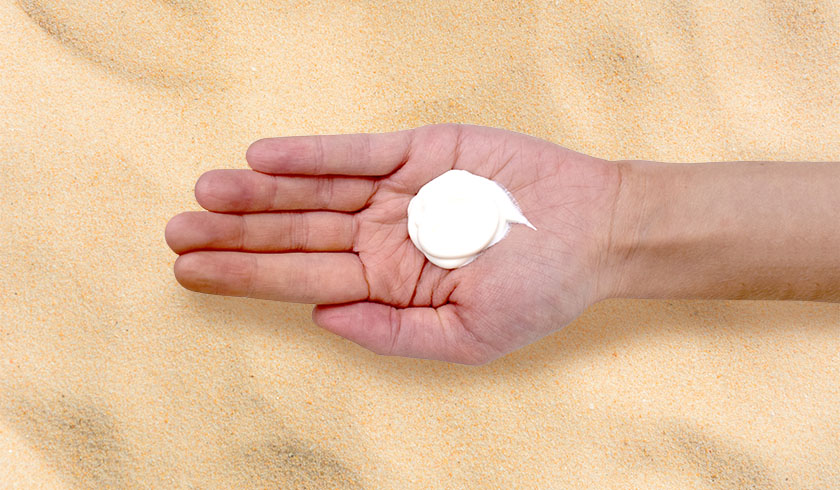 Face and neck:
31% of Brits don't apply enough sun cream to their face and neck. The recommended amount is ½ teaspoon however, 1 in 7 use less than ¼ teaspoon.
Arms (both):
46% of Brits don't apply enough sun cream to their arms. The recommended amount is 1 teaspoon but 1 in 5 use a ¼ teaspoon or less.
Legs (both):
49% of Brits don't apply enough sun cream to their legs. More than 1 in 4 use a ½ a teaspoon or less for both of their legs, whereas the recommended amount is actually 1 teaspoon per leg.
Front and back of body:
41% of Brits don't apply enough sun cream to the front and back of their bodies. The recommended amount is 1 teaspoon, but more than 1 in 4 use a ¼ of a teaspoon or less.
Brit's sunburn hotspots:
With so many of us failing to apply the right protection, it's no surprise that there's a stereotype for beetroot-coloured Brits on the beach. So, where exactly are people getting caught out?
Over half Brits admit they regularly miss areas of the body when applying sun protection. As part of its research[1], The Hospital Group discovered which areas that people are most likely to miss when applying sun cream:
A massive 57% of Brits were sun burnt on their last holiday – the areas of the body this is most likely to happen include:
But that doesn't mean they're not thinking about it – 66% of Brits say they worry about sun damage to their skin and 53% admit to being concerned about signs of ageing caused by the sun. So, why are so many people still failing to take the time to properly apply sun cream?
What the experts say:
Lauren Mackenzie, Head of Medical Aesthetics for Transform and The Hospital Group commented on the study, saying:
"Skin cancer is one of the biggest killers in the UK,[4] so it's quite shocking to see the risks Brits are taking when it comes to failing to protect their skin from sun damage. It seems from our research that most people are seriously underestimating the protection needed and aren't giving sun cream application the appropriate time and attention.
"Spending an extra five minutes applying sun cream and waiting for it to start working before jumping in the water on holiday are really simple changes to make, but will certainly save your skin in the long term. Practices like this can protect you from premature ageing and more serious damage that the sun can have on your body."

Lauren's 6 tips for staying safe in the sun:
1. Always apply sun cream when you'll be in the sun: 23% of Brits never or rarely apply sun cream in the UK. This figure reaches 31% for males in the UK who appear to be less conscious when it comes to protecting their skin. That's compared to 17% females who rarely or never apply sun cream in the UK.
2. Don't forget to wait 30 mins before venturing out: Wait half an hour after sun cream application before going in the sun or getting in the water. 1 in 3 Brits do not wait, which means their level of protection is much lower than they might realise.
3. You can burn on a cloudy day too: It doesn't have to be bright sunshine for the sun's rays to cause skin damage – yet the majority (41%) will only apply sun cream if it's a sunny day in the UK.
4. Reapply, reapply, reapply: 16% of Brits only apply sun cream a maximum of once per day when on a "sun holiday" and 1 in 5 Brits apply sun cream just twice per day when on this type of holiday (21%). Only 1 in 4 Brits apply sun cream the recommended amount (at least every 2 hours) – 1 in 4 females do this versus 1 in 6 males.
5. You can burn in the UK too: It might feel like summer never fully arrives here in the UK, however UV rays across the country can often be as high as other warmer countries such as Spain and the US.[5]
6. Factor in the SPF: Almost half of Brits (44%) use sun cream that has SPF 25 or lower. 23% use the recommended SPF 30, which will protect your better when applied correctly. Always read the instructions for the specific brand of sun cream you choose, as application may vary slightly between brand, type, and SPF.
For further information this sun awareness week, please visit The Hospital Group.