Phew! Apparently staying in is the new going out, especially when it comes to Valentine's Day. Well that's a relief.
When the weather is frightful, as it usually is in mid-February, the idea of going out for an evening is even less appealing. Indeed, if asked to choose between consuming delicious things whilst relaxing in the arms of one's beloved (and perhaps while wearing some elegant PJs and expensive perfume) or spending far too much money on 'romantic' food in an overcrowded restaurant, while attempting to flag down a deeply unenthused waiter, we know we'd choose the former.
We all like to be a little spoilt, and if we're completely honest not many of us want all effort or acknowledgement of romance to be completely ignored on February 14th. However, with commercialism bursting with love hearts a plenty and the usual inundation of all things cutesy and rather cheaply valentine in shops across the UK, it can all feel more rehashed than romantic.
What is much more romantic than all this, is the idea of snuggling up with our loved one, with scrumptious food and drinks, in front of a good movie and enjoying the peace and warmth of our own homes.
To give your evening that special feeling why not make a couple of cocktails before you eat? We've even chosen a menu for you – just in case you're stumped as to what to do.
You're welcome!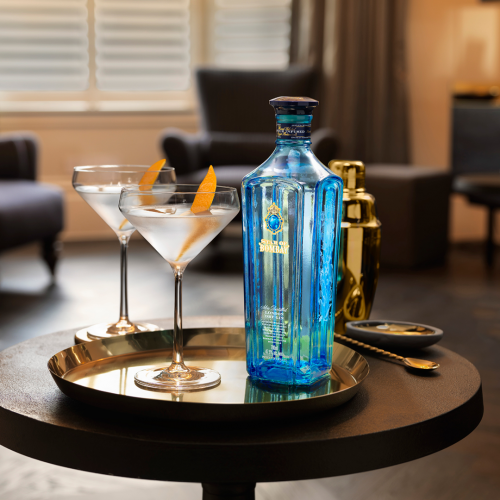 A cocktail to begin...
If you fancy a quick pick-me-up look no further than the Bombay Sapphire Star Martini for a bold awakening.
50 ml Star of Bombay
25ml MARTINI dry vermouth
Dash of orange bitters
For garnish: Orange zest
Or, for something a little less punchy and a little more fruity, try... Bacardi Rum Forbidden Fruit.
20ml BACARDÍ Carta Blanca rum
40ml Riserva Speciale Martini Ribino
5ml Chambord
10ml lemon juice
70ml ginger ale
For garnish: Top with mint and a slice of lemon
To start:
Celeriac & blue cheese souffles
Preparation time: 15 minutes
Cooking time: 30 minutes
Total time: 45 minutes
Serves: 4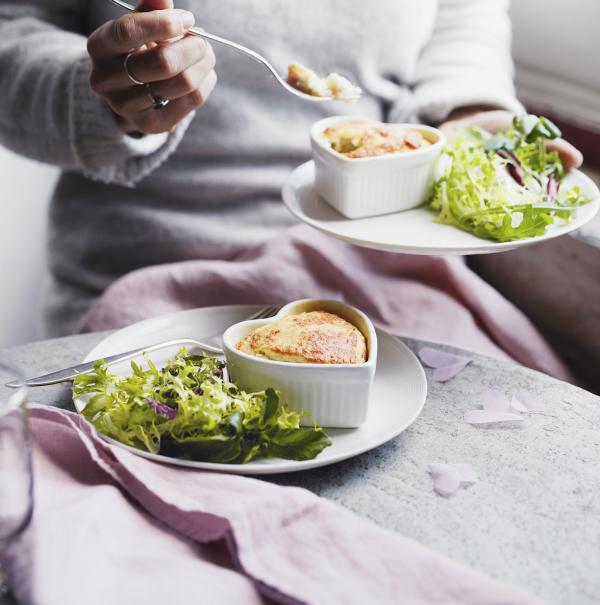 Ingredients
Small knob of butter, for greasing
500g celeriac, peeled and cubed
3 tbsp half-fat crème fraîche
150g blue cheese such as Stilton, Roquefort or Gorgonzola
4 large Eggs, separated
Green salad, to serve
Method
1. Preheat the oven to 200°C, gas mark 6. Lightly grease 4 x 250ml individual ramekin dishes.
2. Place the celeriac in a steamer set over a pan of gently simmering water. Cover and steam for about 8 minutes until very tender when pierced with a knife.
3. Place the cooked celeriac in a food processor with the crème fraîche and blue cheese and blitz until smooth. Transfer to a bowl and stir in the egg yolks one at a time, beating well after each addition.
4. In a separate bowl, beat the egg whites using an electric hand whisk until soft peaks form. Using a large metal spoon, lightly fold the egg whites into the celeriac mixture until well combined.
5. Spoon into the prepared dishes and cook for 20 minutes until risen and golden. Serve swiftly with salad on the side.
Serve with some lovely pink bubbles, from the UK's own award-winning vinyard Bolney.
For main course: Lobster linguine with tomato, garlic & chilli
Preparation time: 15 minutes
Cooking time: 14 minutes
Total time: 29 minutes
Serves: 2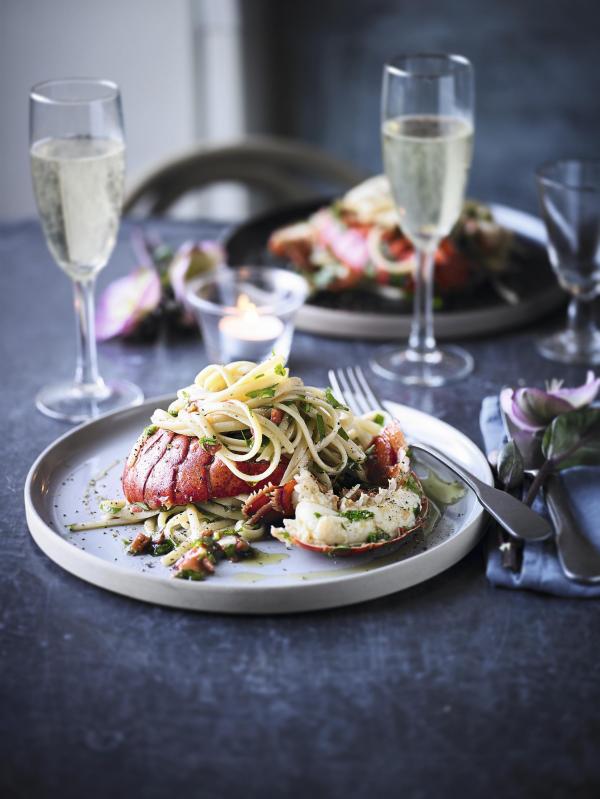 Ingredients
3 lobster tails, from the fish counter
200g linguine or spaghetti
3 tbsp olive oil
2 cloves garlic, sliced
1 tsp dried chilli flakes
6 fresh tomatoes, deseeded and chopped
½ x 25g pack fresh flat leaf parsley, chopped
Method
1. To cook the lobster, bring a sauté pan of water to the boil, add the tails and cook for 5 minutes. Remove and plunge into a bowl of iced water until cold. Check the lobster tails are cooked: the shell should go from a blue/pink colour to bright red and the meat from translucent to white and opaque.
2. Cut each tail in half straight down the middle so you have 6 pieces of lobster in their shells.
3. Meanwhile, bring a large pan of water to boil and cook the linguine according to pack instructions.
4. Heat a large sauté pan, add the olive oil and gently warm with the garlic and chilli until the garlic starts to turn golden but doesn't burn. Add the tomatoes, followed by the lobster tails in their shells and toss until hot.
5. Remove the linguine straight from the pan into the lobster mixture along with 100ml of the pasta water, shaking the pan and tossing the pasta so the liquid emulsifies. Serve with the fresh parsley sprinkled on top and an extra drizzle of olive oil.
For pudding: Chocolate Fondant
Preparation time: 20 minutes, plus cooling
Cooking time: 10 minutes
Total time: 30 minutes, plus cooling
Serves: 2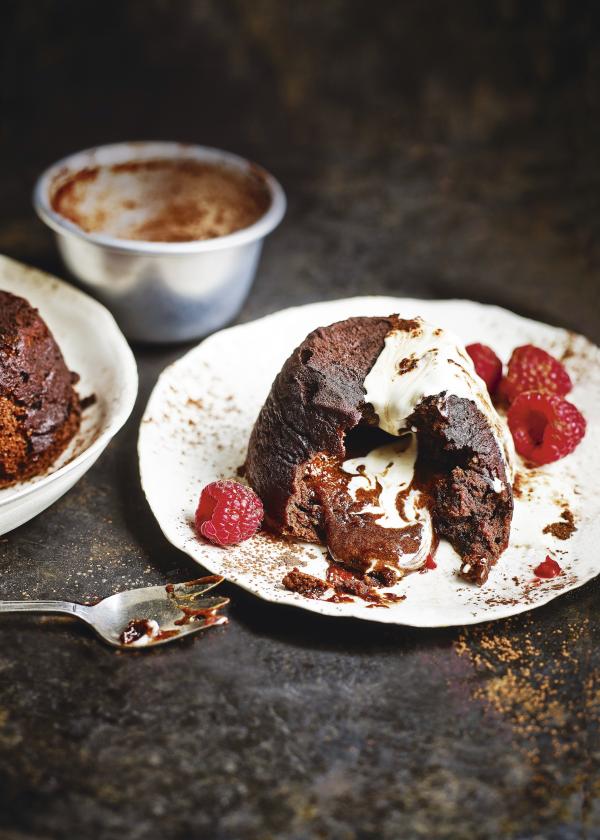 Ingredients
50g unsalted butter, plus extra, softened, for greasing
1 tbsp cocoa powder, sieved, for dusting
50g dark chocolate (70% cocoa solids), chopped into small chunks
1 egg, plus 1 yolk
25g caster sugar
1 heaped tbsp plain flour
Method
1. Preheat the oven to 200˚C, gas mark 6. Grease 2 x 150ml dariole moulds, add the cocoa powder to one and then transfer to the other, turning it as you go until the mould is evenly coated. Repeat with the other mould, discarding the excess cocoa.
2. Melt the chocolate and butter together in a bowl set over a pan of barely simmering water (or in a microwave, in short bursts) with a pinch of salt. Stir to combine and set aside to cool briefly.
3. Using electric beaters, whisk together the egg, egg yolk and sugar until tripled in volume; it should hold a trail for 2-3 seconds. Sift over the flour and gently fold in. Loosen the melted chocolate with a little of the egg mixture, then, in two batches, carefully fold in the remainder. Divide the mixture between the moulds, cleaning the edges with kitchen paper, if needed.
4. Bake for 10 minutes, until risen and a crust has formed on top; they should still have a slight wobble. Turn out onto plates and serve at once, dusted with cocoa powder.