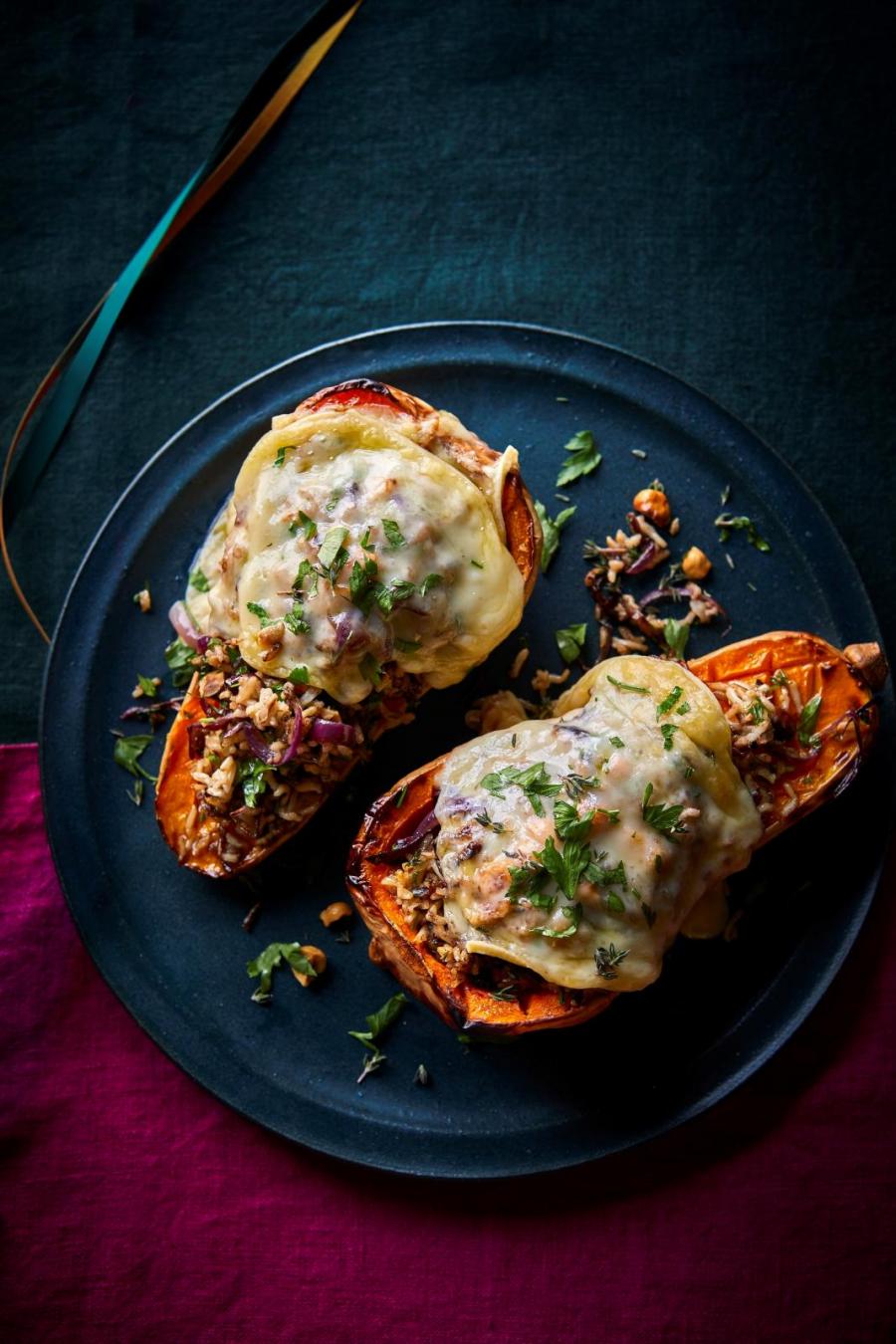 It's the time for raclette, and if you can't get to the Château de Villa or Le Caveau in the Swiss Alps to partake in their infamous dishes, the good people at Waitrose have a recipe that you can make at home. Expect squash packed with rice, warming cinnamon and allspice, and topped with oozy, gooey cheese.
PREP TIME: 20 minutes
COOK TIME: 50 minutes
SERVES: 2
Ingredients:
1 small-medium butternut squash
1½ tbsp olive oil
30g blanched hazelnuts
1 large red onion, halved and finely sliced
1 clove garlic, crushed
½ tsp ground allspice
¼ tsp ground cinnamon
250g pack ready-cooked basmati and wild rice
¼ x 25g pack flat leaf parsley, roughly chopped
¼ x 20g pack thyme, leaves picked
Squeeze lemon juice
100g Emmi Raclette, sliced
Method:
1. Preheat the oven to 200ºC, gas mark 6. Halve the butternut squash lengthways and scoop out and discard the seeds. Score the flesh in a criss-cross fashion and brush all over with ½ tbsp oil. Place cut-side up in a baking dish and season, then roast for 45 minutes or until the flesh is tender but still holding its shape. Put the hazelnuts in a small roasting tin and roast for the first 10 minutes of cooking, then remove and set aside to cool. Roughly chop when cool enough.
2. Meanwhile, heat the remaining 1 tbsp oil in a saucepan over a medium-high heat. Fry the onion for 5 minutes until starting to soften, then add the garlic and cook for another 3 minutes until turning golden. Stir in the spices, cooking for a minute more, then add the rice, cooking for a final 2 minutes. Stir in most of the parsley, along with the thyme and chopped hazelnuts. Season, add the lemon juice, then set aside off the heat.
3. When the squash is ready, turn the grill to high. Pile the rice mixture into the squash cavity, scattering any excess into the baking dish. Top with the raclette cheese. Place under the grill for 2-3 minutes until golden and bubbling. Scatter with the remaining parsley and serve alongside a green salad, if liked.
See more Waitrose recipes on www.waitrose.com/recipes.
Rather leave the cooking to the experts? We can find you the perfect candidate; from Housekeepers to Gardeners, Nannies to Carers, we source only the most exceptional candidates for your home.
The Lady, home of domestic recruitment now has three options to suit every need and budget from as little as £350+ VAT. For more information and to get the ball rolling, SIMPLY CALL 020 7379 4717 OR EMAIL recruitment@lady.co.uk