By Lucy Boulton
When sourcing vitamins and supplements it's incredibly hard to know which ones are the best, how they are made, what they contain but ultimately if you even NEED them.
Being on top of all things health since my days in the USA, I feel I have become clued up on the supplements and brands that really know their stuff when it comes to general wellbeing through supplements.
Fillers and junk have had their time and what people need now is real, honest, transparent supplements to help boost their wellbeing daily and not just as a quick fix.
My daily routine is very important to me and alongside celery juice on an empty stomach and fibre fuelled coffee, I've started to bring in a few key supplements that are really working for me and are actually made right here in the UK!
I've been a fan Together Health for some time now, and really like the fact they keep so transparent about their ingredients and mission to provide high quality, plant based products. My current favourite is Bone Aid, a new, natural and expertly formulated approach to bone health by combining three key, highly effective and bioavailable ocean and plant-based nutrients – Calcium, K2 and D3.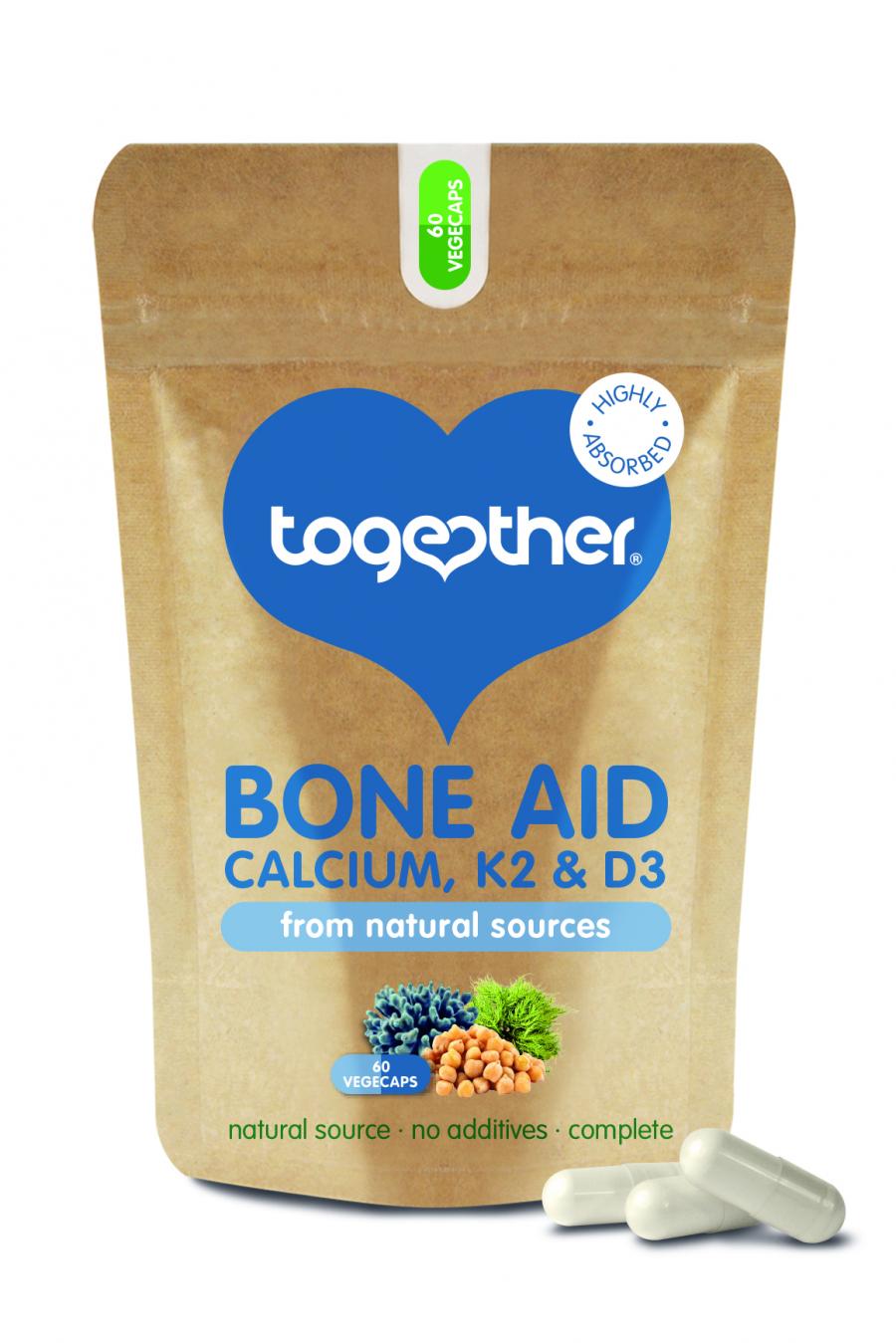 Whatever your age, it's vital to have calcium in your diet. Bones are a living, growing tissue and support your body and calcium is an essential mineral that the human body needs to make healthy bones and teeth. As we age however, so do our bones, and as a result they become larger, heavier and denser. If you don't have enough calcium in your diet, your body can take it from your bones to ensure normal cell function, which can lead to weakened bones. Eating the right foods and exercising regularly can help keep bones healthy, however, a supplement is perfect for people who may be low in calcium and need a little extra dietary support.
Let's get specific about what's inside each capsule:
Organic seaweed-based calcium – derived sustainably from Atlantic algae, which naturally absorbs trace minerals from the surrounding seawater, it contains 72 trace minerals that benefit the body.
Plant based Vitamin D3 - produced from lichen, it's a small and unique organic species that contains the only plant-based source of the body's preferred active form of vitamin D3. Vitamin D contributes to normal absorption and utilisation of calcium and phosphorus, and thus the maintenance of healthy bones
Vitamin K2 from chickpeas – utilising one of the best sources of vitamin K2 from fermented chickpeas, it's hugely important for improving bone and heart health.
Key features:
Natural bioactive bone health complex
Vegan certified
Free from artificial additives, wheat, yeast, gluten, soya, milk and processing additives
Non-GMO
Base of coconut oil for improved absorption and gentle on the stomach
Natural plant-based calcium from seaweed with essential naturally occurring trace minerals and 28 bone building elements
Highly biologically active MK7 form of vitamin K2 from chickpeas
Bioactive vegan plant-sourced vitamin D3
Independently tested for purity and potency
100% manufacture process transparency
Together Health have also introduced Organic Seaweed Iodine for happy hormones which I feel is much needed in a world where or hormones are constantly under stress from daily life. Sometimes it's hard to read our hormones and we forget that if we feel irritable, tired or just 'off' it could in fact be down to an imbalance in our hormones.
I've worked with the benefits of seaweed for some time now, adding atlantic dulse to smoothies and soups, yet through this new supplement, it's now simple to keep my hormones in check, happy and balanced.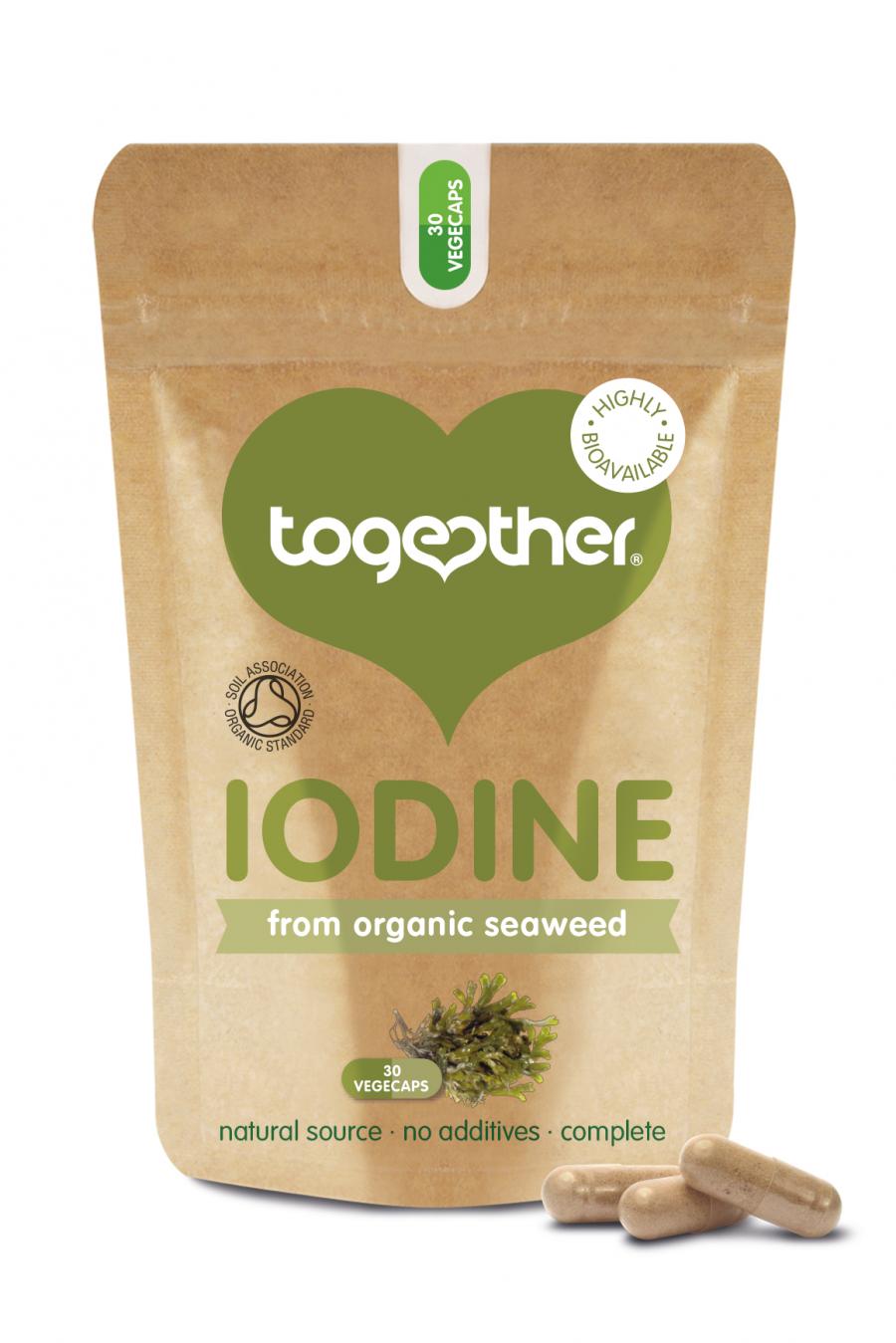 Organic Seaweed Iodine, Is a vital supplement for supporting thyroid health along with the nervous system and cognitive function. Your thyroid gland, which is located at the base of the front of your neck, helps regulate hormone production. These hormones control metabolism, heart health and more. To make thyroid hormones, your thyroid takes up iodine in small amounts but without it, thyroid hormone production can decrease, known as a low or underactive thyroid.
Getting enough iodine is important for everyone but is especially crucial for those who have an iodine deficiency and also for vegans and vegetarians. As it's usually found in eggs, dairy products like milk, yogurt and cheese and seafood like shrimp, tuna and cod, it can be difficult for these groups to get enough iodine from their diet alone. It's reported than one-fourth of vegetarians and 80% of vegans suffer from iodine deficiency (1)
Key features:
Natural Iodine standardised to 293mcg for a controlled dose as too much can be detrimental to thyroid function
Sustainably harvested
Batch tested for heavy metals
Soil Association Organic Certified
A complete source of iodine in food form with naturally occurring cofactors
Ingredients independently tested for purity and potency
100% natural Ingredients
100% raw
100% vegan
100% free from artificial additives
100% free from artificial processing aids
100% manufacture process transparency
Also, one last thing that is just great about Together Health, is they also support Vitamin Angels who are an incredible charity dedicated to providing lifesaving vitamins to mothers and children worldwide at rise from malnutrition. 5% of profits from the sale of supplement pouches are donated to this amazing cause.
For the whole range and to see what you can start incorporating daily into your lifestyle, check out www.togetherhealth.co.uk
Former Career Nanny and now a Recruitment Consultant at The Lady, Lucy Boulton has over 12 years' experience with children of all ages. With a passion for exceptional childcare and giving advice, Lucy is delighted to be offering regular blogs alongside helping families find new domestic staff through the services provided by The Lady.
If you or someone you know is searching for experienced domestic staff, contact Lucy today on lucy.boulton@lady.co.uk or call 020 3857 9942