Barny Maurice and his partner Katus live off-grid with their two young children, Madog and Malinki, in Cumbria. The family business, Wanderlusts Gyspy Caravans, offers horse-drawn holidays and a genuine break from the everyday demands of modern life. Guests can learn to cook over an open fire, forage for firewood, collect water for washing and even learn how to drive and care for the horses. This is a holiday for those who want to get away from it all and to be reminded of our original relationship with the land, animals and each other. In today's exhausting socio-political atmosphere, what could be more tempting?
Lady.co.uk recently talked to the couple about life in the slow lane.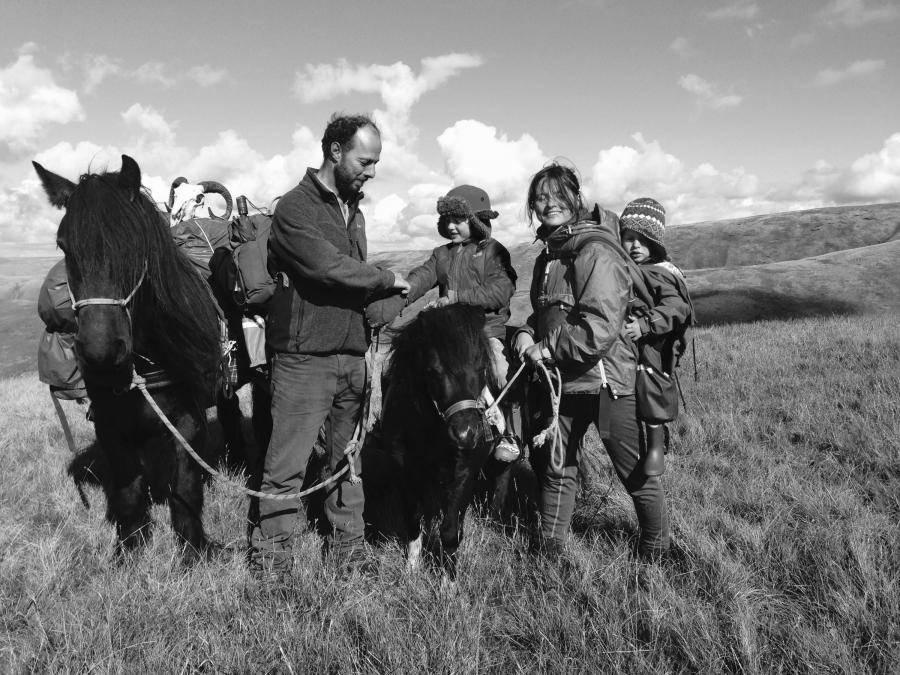 How do your holidays influence / affect people?
'What we offer attracts people wanting to slow down and escape the rush and consumerism of the modern world. We offer guests a way to return to and immerse themselves in nature and tranquillity. We've had several letters from previous guests saying that the experience has profoundly changed them in some way, and they intend to make some big changes to their lifestyle because of it, whether it's taking more time to be outside in nature with their family, or even a big lifestyle change like downsizing or going off grid themselves. This is a hands-on experience where guests learn about collecting and therefore conserving water, gathering wood for and cooking over the fire.
It's also a chance to learn about both local and traveller history and traditions and culture.'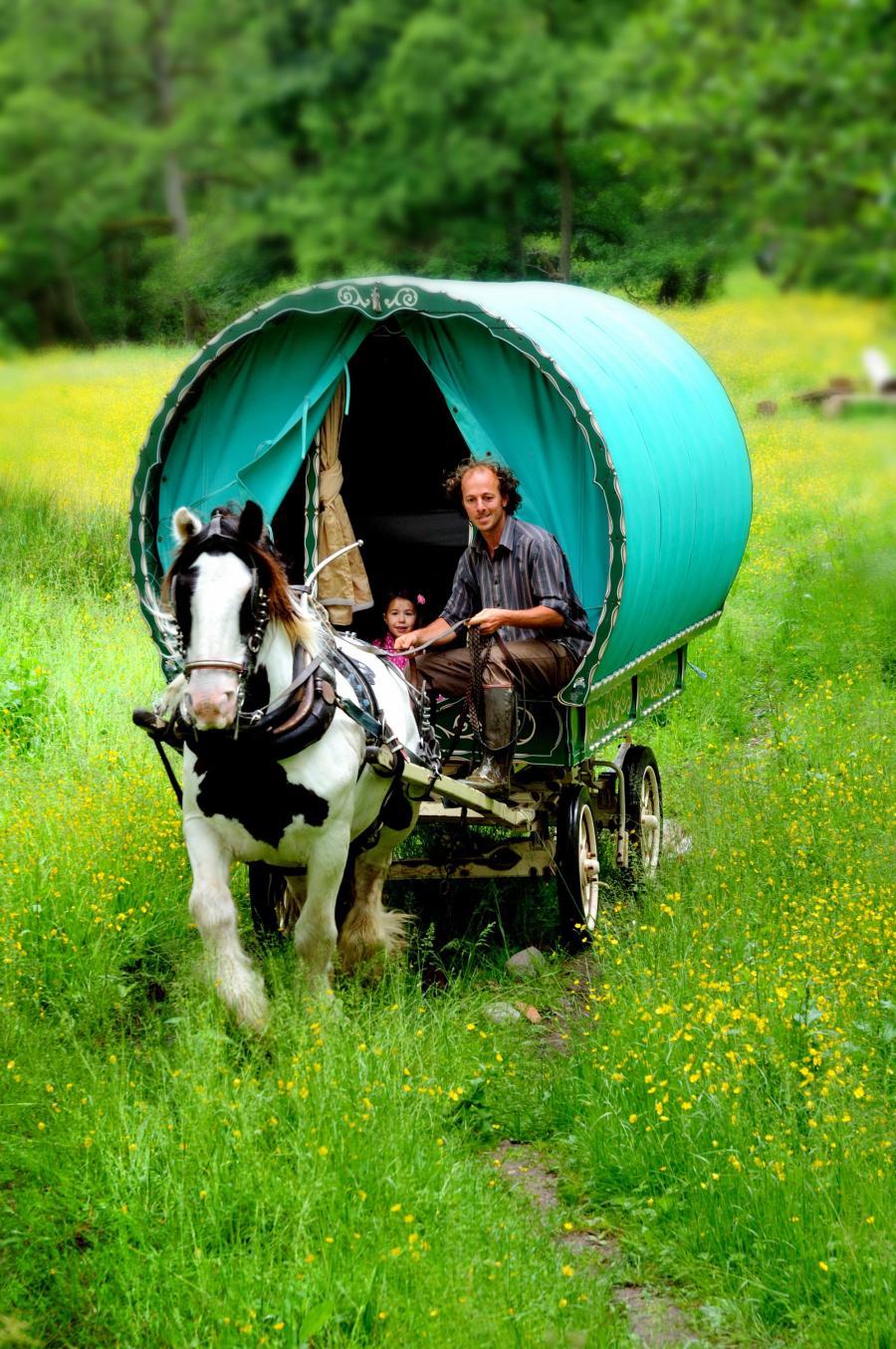 How do children who are used to sitting in front of screens react to the off grid lifestyle?
'Our holidays attract people from all walks of life. It's popular as a way for grandparents and grandchildren to bridge the gap of generations.
A common question before people come is 'what activities are there for the kids?' – the activities are all around us!
Given the freedom of nature, children will almost always immediately entertain themselves. They learn how to interact and reconnect with nature, which is something we're finding people are more and more desperate for. Just a little simplicity. It's often the adults who learn the most from this experience.'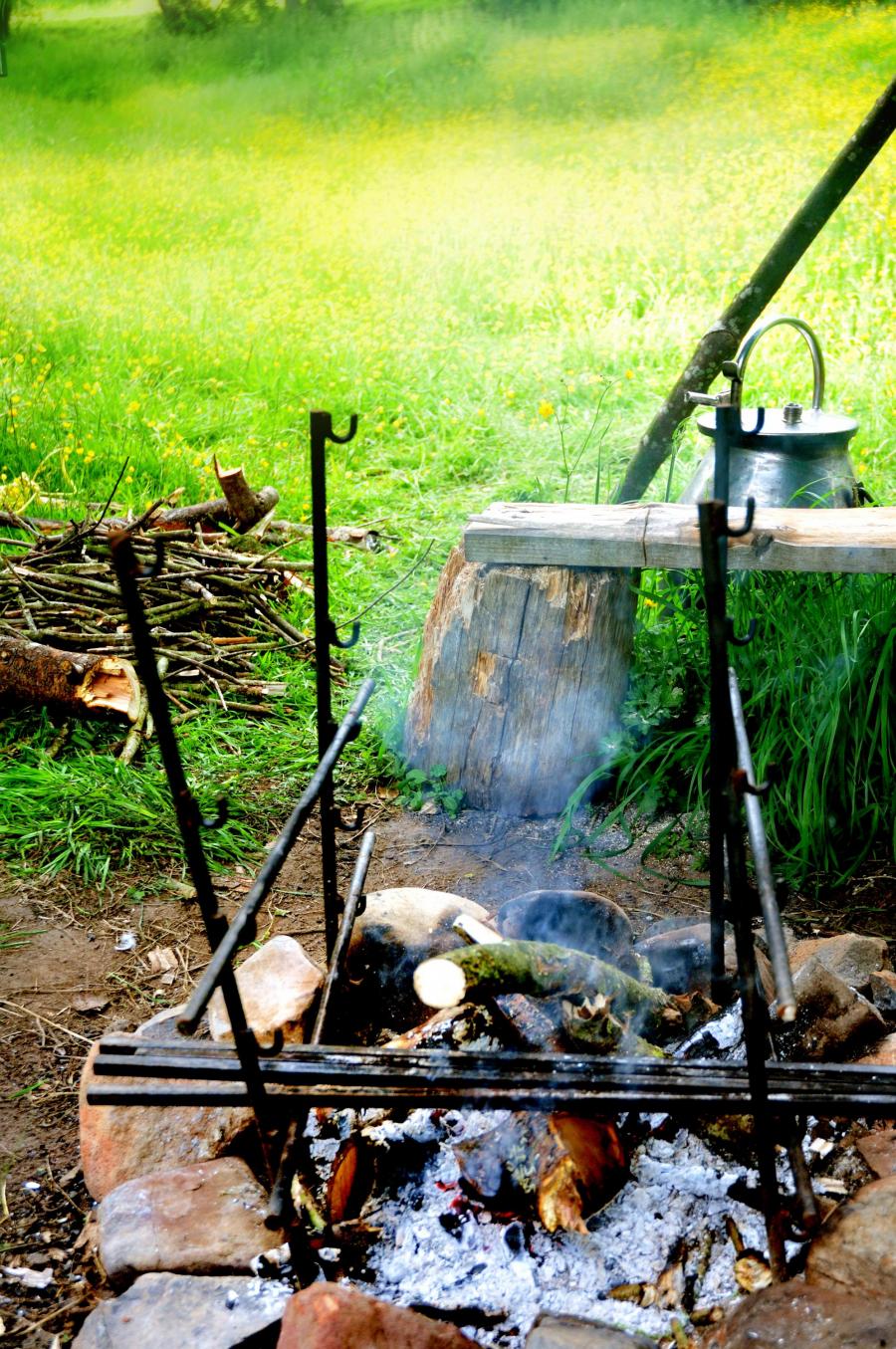 Do you imagine more people will gradually choose this way of holidaying / lifestyle, as our impact on the environment becomes more recognised as the crisis it is?
'Yes, I've been living "off grid" most of my adult life, long before I ever heard the term, but I have noticed a growing interest towards a more sustainable lifestyle. (says Barny)
People want to tread more gently on the earth now, we are often asked for advice and reassurance when they are thinking of taking the leap into off grid living.
We hope that this may mean change in the general consciousness for the better.'
When / how did you learn to build the wagons?
'I initially renovated one that I'd bought from an old traveller man. I've no formal training in carpentry, or anything else for that matter, I'm basically self-taught!
I've had loads of help and advice over the years from friends and family from both traveller and carpentry backgrounds.
Living and traveling in the wagon means you get to understand the structure and how they work.'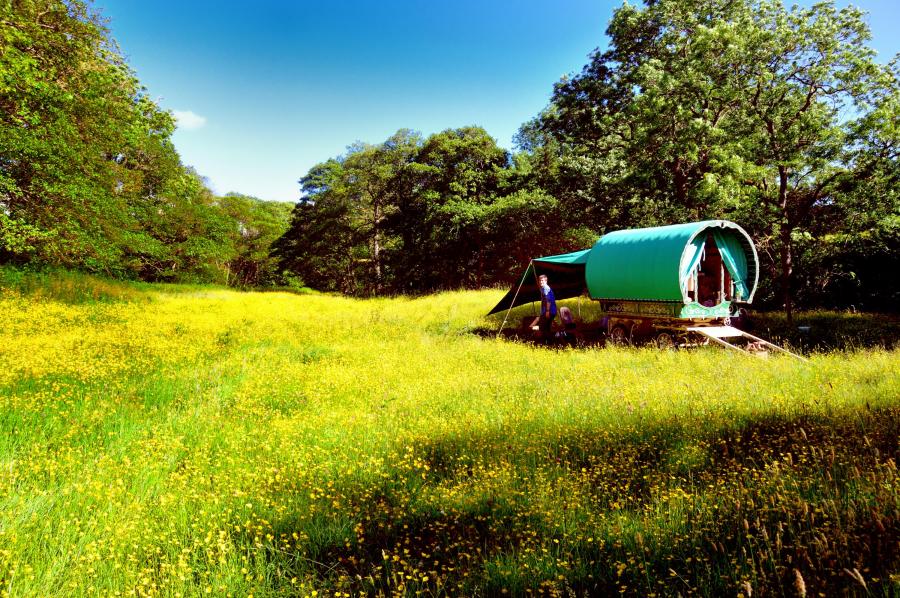 Do you live indoors in winter-time?
'Over the years I've lived in tents and vans, trailers and wagons. Wanderlusts is an outdoor based company, and run completely off grid.
While we are at our base in Cumbria, we sleep in a wagon, but I've built a little wooden cabin as a day room living space, with a wood burner for warmth, solar panels for lights, we've even got an old piano! Not exactly mod cons, but some home comforts!'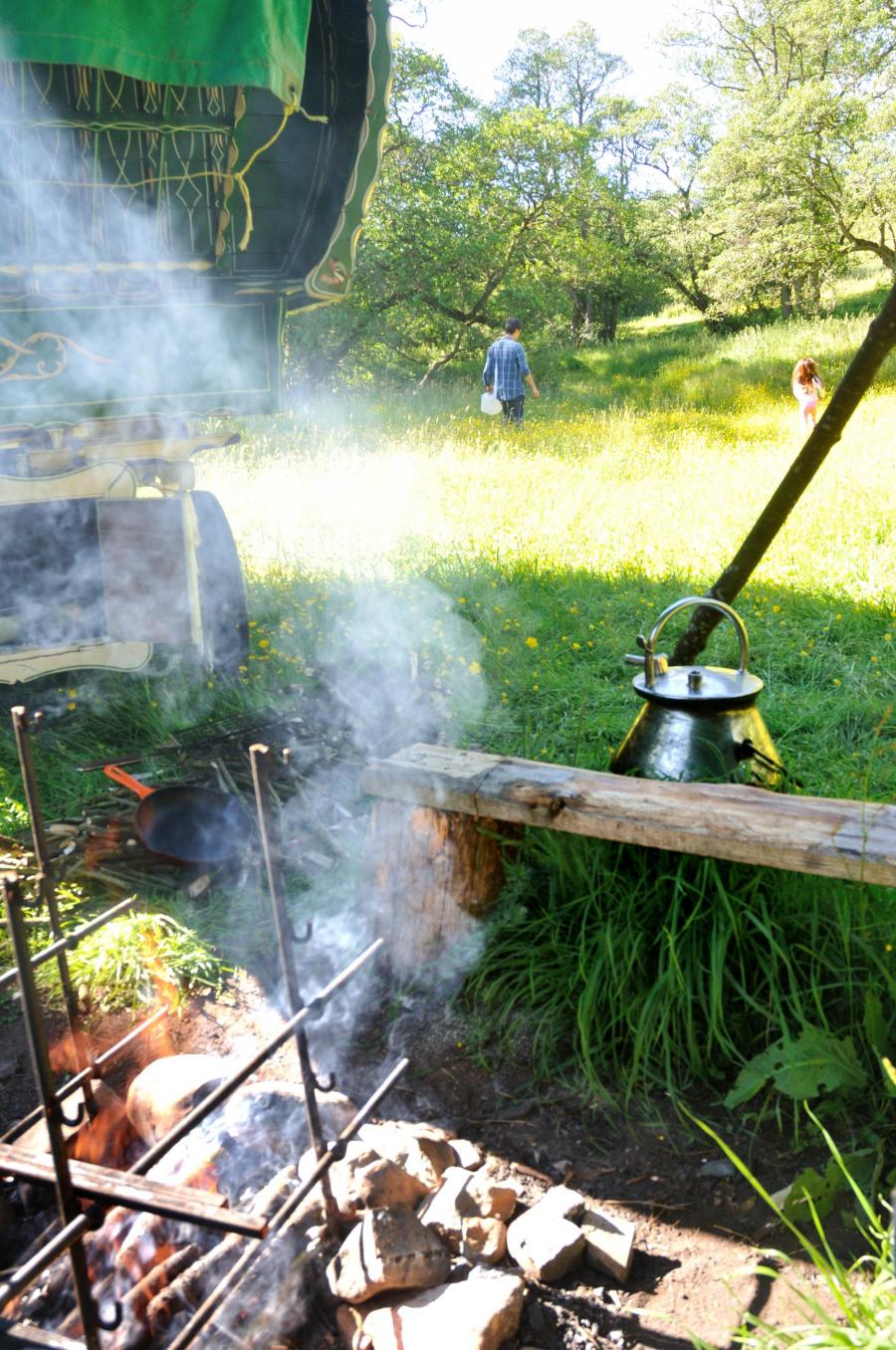 Do your children go to school?
'When we're not off traveling, our eldest son Madog goes to the local primary school. He either walks or drives his pony and cart the half mile to the end of the lane, where he gets the school bus. His school is very supportive of our lifestyle and see the benefits of education through experience and travel. We spent a couple of years traveling through the UK and France down to the Mediterranean by horse and wagon and during this time when we stopped for a while, a couple of times he attended the local school for a few weeks where he quickly made new friends who he is still in touch with.'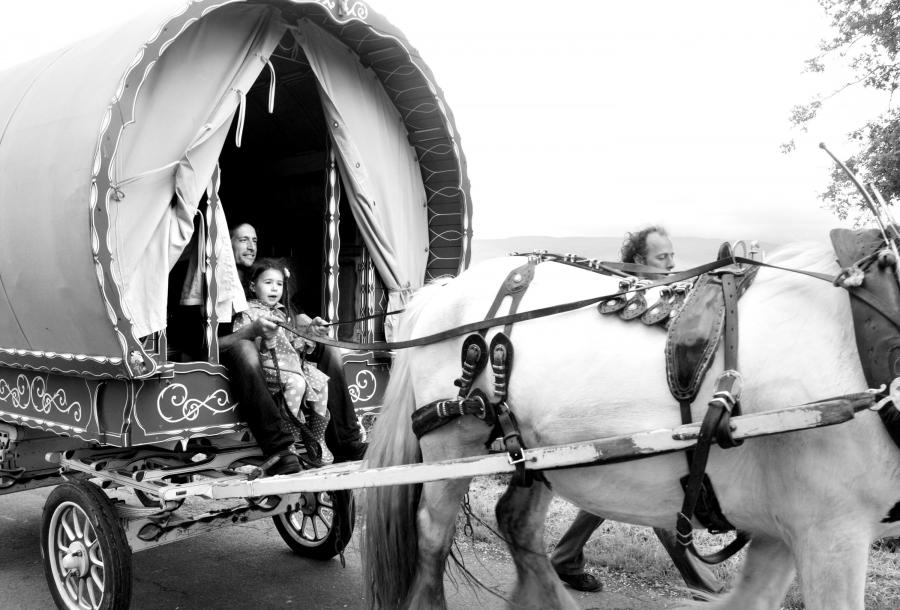 Katus, you talk about your music being very much part of the lifestyle you lead with Wanderlusts; how has this changed or developed as the business has grown?
'My music has always been focused around travel, nature, heart ache and stories I've heard and songs I've learned from far flung places. In autumn 2015 after my UK tour with Jali Yankuba Conteh where we raised over £5000 to build a traditional music school in The Gambia, Barny, Madog and I pregnant with Malinki, set off from Cumbria across England to France.
With our wagon and two horses, walking on average 10 miles a day, destination unclear, the only rule we had was to head south and take the smallest roads and tracks possible! While Barny walked with the horses , Madog and I cycled - impressive for a four year old who made do with one small box of toys including a miniature train track that fitted in his own little table!'
Follow this link to book a holiday with Wanderlusts Gyspsy Caravans and keep an eye on our competitions pages to be in with a chance of £250 towards your Wanderlusts holiday!