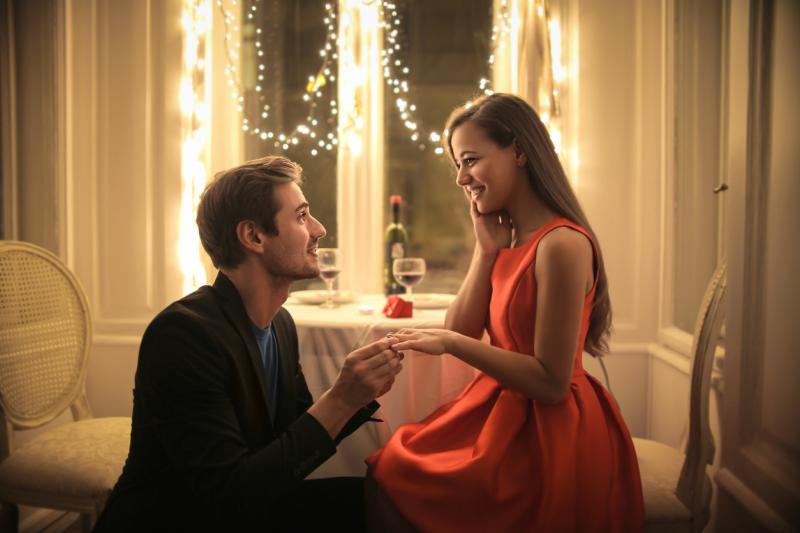 Jewellery Designer James Veale gives his top tips on preparing for that all important question...
Thinking about popping that life-altering question to the one you love? Or maybe you're the one hoping to have that all important question asked? Either way, engagement ring expert, fine jewellery designer and founder of Veale Fine Jewellery, James Veale, has you covered on how to ensure it ends with a 'Yes!" - and not in a mess.
Wondering which shape of ring works best for their finger or how to get hold of their ring measurements without being found out? James provides an expert insight on how to prepare for one of the most significant moments in your life…
Suitable styles for her
A lot is riding on this moment and the one thing that your loved one is most eager to see is of course, the ring! Simple, point blank, hurry up and open that box, will be what's running through their mind, and once they've seen it, they'll see just how well you know them. So, in order to get it right (not near enough or along the lines of) in order to get it royally right – after all, it is going to be on their finger for the rest of their life – what do you need to consider first and foremost to make this decision?
"It's important to think about what shape will work best for them" says James, "in my experience, long skinnier fingers are suited to an oval stone, which will elongate down the finger. Whereas shorter fingers are best suited to a trilogy of stones, which will sit across the finger, not down and emphasising the shorter length. If you're still unsure, have a look in their jewellery box to get a feel of what styles and stones they like. If you're not confident that you know their style well enough, ask their sister, mother or close friend for another opinion – but be sure to choose someone whose discretion you trust. You don't want them catching on because someone can't keep a secret!"
Choosing the right shape is all well and good but what do you do once the next challenge is to find out whatsize her finger is? James has the top tip for this that ensures, if done right, you'll never be found out…
Fit my finger
"My advice for finding out her ring size in secret? Have a sneaky look in their jewellery box or dressing table for another ring which looks like it would be worn on that finger. Press the ring into a bar of soap to make an imprint of it, wipe away any evidence, replace it and voila! I can take measurements from this impression and create a ring of that size without them ever knowing…" Who knew? Bespoke, from a bar of soap!
Now, I hear you say 'Bespoke?' 'How much do you need to spend to go bespoke?' Fear not. According to James, the saying you should spend '3 months-worth of salary', is not the case. "This saying is simply a marketing rumour! You should only spend what you're comfortable with, there's no point getting into debt over it or paying it off for months, or even years. Ultimately you only plan on proposing once, so you want to do it well once with an amount you can afford, rather than spending less and upgrading later down the line, which is just further expense". The minimum spend for a bespoke ring with James is an affordable £1,500. Less than you had in mind? Thought so.
James will work with a client's available budget to maximise what they can create in return. 90% of rings sold by Veale Fine Jewellery are bespoke, proving that the personal touch really is the preferred approach by the giver, and more than likely, the receiver of such a special gift. James works closely with the client from the design, to cut and clarity to ensure they get the most back for their money, after all, it is the most precious piece of jewellery you will likely ever give.
"Firstly, we will discuss at length, or not, depending on how clear the client is with their vision. In the situation where they're not, this where I come in," James explains. "I can be as involved in the input process for design as the client requires, as ultimately, they know their other half the best. To collate inspiration on the run up our meeting, I usually advise the client to collect images of inspiration on Pinterest, of any specific designs they've seen from other rings or unique styles they would like to recreate. This way, we have a literal 'drawing board' to pull from – giving the saying 'back to the drawing board' a true meaning!"
Diamonds are a girl's best friend
At this stage James would also discuss diamond options and things to look for in a diamond when choosing your stone, because let's face it, who actually knows about that stuff until you come to do it?
"Personally, I would always encourage coloured stones and here's why; coloured stones are eye-catching and can be seen across a room. They stand out, and when this much effort, time and money has gone into creating the perfect piece, you want it to stand out for the right reasons. Clear diamonds are eye-catching too, but clarity isn't caught across a room in the same way colour is. If opting for the classic, clear diamond is your preference, as many people do, it's important that the cut is clear and reflective. If you imagine an unpolished mirror and a polished mirror, the polished one will always return the light a lot more than the unpolished, so it's really key to getting a sparkly diamond".
Thanks to recent royal weddings coloured stones are making a big comeback. Princess Eugene's Padparadscha sapphire is surrounded by ten brilliant cut diamonds and two pear cut diamonds to give an edge to the standard classic cluster. "Padparadscha - as James explains - is the name given to the corundum gem that bears a mixture of red and yellow, a sort of cross between a ruby and yellow sapphire. This beautiful gem is considered amongst the rarest and most valuable of all the corundum varieties".
Another popular style which James has seen make a return is the Trilogy, which thanks to Harry and Meghan, is also big this year. "I have seen a massive gain coming up to Christmas with trilogies and development on the trilogy, with diamond set shoulders as opposed to a plain band, which seems to be a desired design" James explains.
For those of us who want to stay classic and not go too contemporary, there is one ring James says will never date. "Halo base is brilliant because you can go into all sorts of different, unusual shaped diamonds which are always great fun to make and look great with any outfit. They are the most versatile and get a bit more show, as you're adding more of a diamond base on the top without going for a huge center stone, meaning you can still achieve that extra sparkle".
So, what's the process for designing your own bespoke ring? Well, in our modern-day society, James can draw up computer designs of the ring using the latest CAD technology, computer-aided-design, which is as close to photo realistic as you can get. It enables you to produce either two-dimensional or three-dimensional diagrams, that can then be rotated to give you a view from any angle - no sketches here!
"Typically, it takes up to a week to get the design approved by the client, including any amendments which need to be made," says James. "After these adjustments have been made, we can then start the creation process, which takes between 4– 6 weeks for the finished product".
Words of wisdom for anyone planning to propose this Christmas, or in the new year?
"Do your research on stones to make sure you're getting them from a good source because there is a huge grade difference between every diamond, so it's important to trust who you're purchasing your stones from. You need to understand where your money is going, so coming to someone like myself will help you make the right choice and get the most for your money!"
Palms sweating? Knees feeling weak? Manic butterflies in the pit of your stomach? Chances are you've never asked anyone to marry you before, but with the above wise words from engagement ring expert, James Veale, take heed and get the answer you've been hoping for…