A tour of Blickling Hall Gardens with Head Gardener Paul Underwood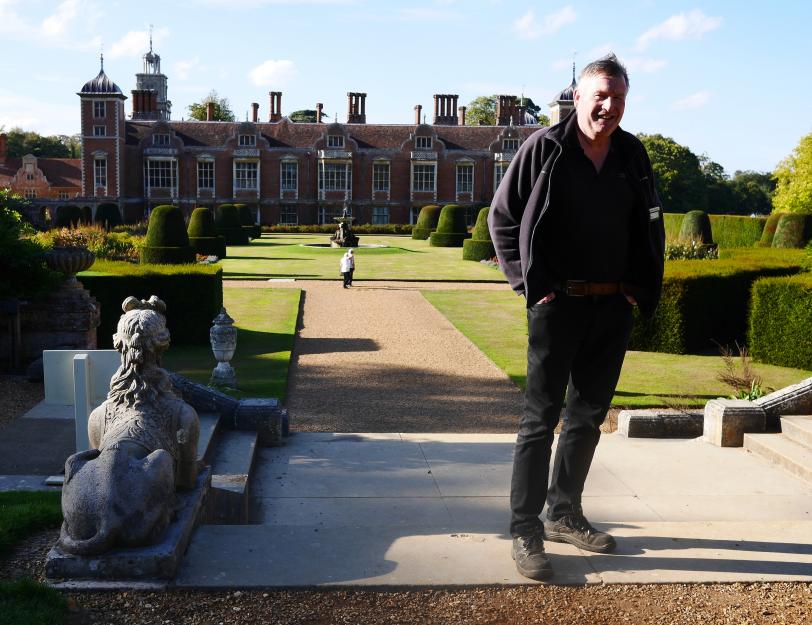 In the heart of bucolic North Norfolk sits Blickling Hall, a breathtakingly grand Jacobean mansion. Opposite the hall is a beautiful stretch of meadow scattered with sleepy coffee-coloured cows. Records of ownership go as far back as the Doomsday Book and the original Tudor site on which Blickling was built was the birthplace of Anne Boleyn.
The current red brick mansion was built by Sir Henry Hobart, who bought the estate in 1616. Inheritance passed the hall down through the Hobart family and in 1930 Blickling was inherited by Philip Henry Kerr, the 11thMarquis of Lothian (1882 – 1940), who played a crucial role in US and British political relations throughout the Second World War, during which the hall was requisitioned for RAF crew. Despite his political influence, Lord Lothian is most celebrated for his promotion of the National Trust Act in 1937 and the Country Houses Scheme, a policy that allowed those inheriting large estates to avoid death taxes.
During the 1930s Lord Lothian commissioned the influential socialite and garden designer Norah Lindsay. Norah remade the parterre area and introduced the cool and warm beds, which we see today. Her designs are typical of the English Garden movement influenced by the colour theory of horticulturist Gurtrude Jekyll. The beds and grounds all link together in cycles and colour in the traditional English garden style and the estate includes an impressive 2000 hyacinths, one million daffodils, 10,000 colour grouped tulips as well as wisteria, huge beds of colour blended azaleas, rhododendrons and more.
In 1940, Lord Lothian bequeathed Blickling to the Trust and today the grounds and hall welcome upwards of 180,000 people per year. Paul Underwood, Head Gardener at Blickling explained, as we tour the grounds. 'We have a blend of over 400 years of garden history at Blickling, there are 55 acres all cared for by a team of fantastic staff and 70 volunteers, and we have our Apprenticeship Scheme.'
After starting with a horticulture Diploma course at Easton College, Paul went on to do his practical training as a gardener at the National Trust's Oxburgh Hall and Peckover House until he was delighted to be offered a job working for Lord Cholmondeley at Houghton, positions which eventually lead him to be Head Gardener for Blickling.
Paul is constantly engaged and challenged by his role and has an obvious passion for his work. 'You never stop learning. Gardens are so dynamic. There are so many variables that you need to respond to and when you're managing a garden it's essential to learn about the Spirit of Place.'
The garden design at Blickling is all carefully linked into the Trust's conservation plan in terms of which areas need developing, maintaining or reworking. The conservation plan identified an opportunity to redesign the walled garden of the 1930s and four years ago Mike Owers took up post as Project Manager, when the space was a car park and field. After a great deal of hard work and some fantastic fundraising from the second-hand bookshop, the walled gardens now produce all the fruit and vegetables for the Stables café / restaurant and provide fresh flowers for the hall.
Volunteers and community groups can come in and enjoy the garden and there is a children's plant your own area. Throughout the walled gardens there are abundant borders of azaleas, huge healthy rows of vegetables and tall purple blooming artichokes, surrounded by delicate catmint and numerous varieties of apples arching over the pathways.
Working with a constantly changing environment means Paul's role demands a great deal of planning and preparation. Indeed it's more than a job. The job requires a full range of skills in terms of the different facets of horticulture, aspects of lawn, trees, shrubs and herbaceous and design elements if redoing borders.' In terms of advice for those burgeoning gardeners, Paul says 'it's a vocation rather than a job, a lovely way of life...it depends on what aspect you want to work with, but with over 200 gardens at the National Trust, you have plenty of opportunities to work with us!'
Blickling is stunning any time of the year as each season brings its own beauty and magnificence, thanks to Paul and his team's expertise.
Blickling Estate is open to visitors 363 days of the year.
Are you looking for a similar career? Click here for The Lady's jobs section.
Recruiting staff? Click here and we'll help you get started.
Photographs courtesy of National Trust Images / Andrew Butler