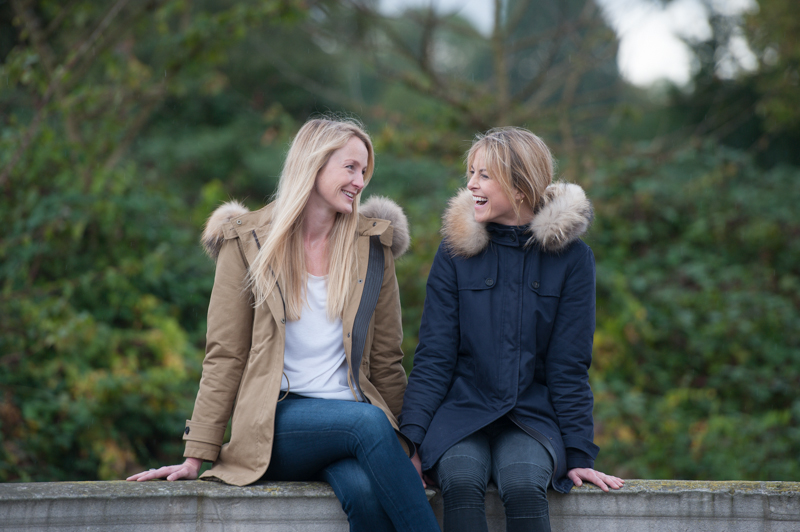 Rosie (left) with her sister Lucia
Lady.co.uk was lucky enough to be invited to meet the very charming Rosie van Cutsem, who, along with her younger sister Lucia founded TROY London, the British design brand, favoured and endorsed by The Duchess of Cambridge, models Jacquetta Wheeler and Poppy Delevingne and ITV Racing Presenter Francesca Cumani. We had a private sneak peek of the collection, which includes the TROY signature parka and the limited-edition Elements parka, which was designed and created with fashion designer Amanda Wakeley. At just under four years of trading, TROY is still in its infancy, but has already developed a huge following and a very robust brand identity. As well as offering world-wide distribution from HQ Norfolk, TROY is stocked across select UK boutiques.
'Combining quality fabrics and unique details, TROY delivers practical but luxurious pieces to wear season after season. Favouring natural fabrics and trims, the colour palette is chic and understated, but often with colour pops and contemporary design twists. Versatile to city and country style, these parkas, coats and jackets are loved by stylish women all over the world.'
What inspired the creation of TROY London – how did it all begin?
My younger sister Lucia and I were brought up in the countryside (TROY was the name of our childhood home) and we had both started working in busy careers in London. I was working as a Head-Hunter and we spent most of our weekends back in the countryside and our weeks in London.
We both found it quite difficult to find clothes that worked for both the city and country environments; we wanted things that we could wear that were a little more feminine and contemporary but were actually warm and waterproof as well, with a practical edge.
We both did some research, almost completely independently, and both found that there was room for another brand in this market. We discovered we'd had the same thought when we were out walking together one weekend, and so decided to start a business.
Myself and Lucia are founders, Lucia is non-executive and is the creative lead and inspiration on all design processes while I run the business day to day. Norfolk is also the distribution hub, where we hold stock and send parcels out internationally. The company is built with a lot of virtual support; in PR, social media and design. We are lucky to have some incredible people working with us on all elements of the business. We enjoy working with as many local providers as possible as well - rural talent is everywhere here, Norfolk is not the slow sleepy place one might assume!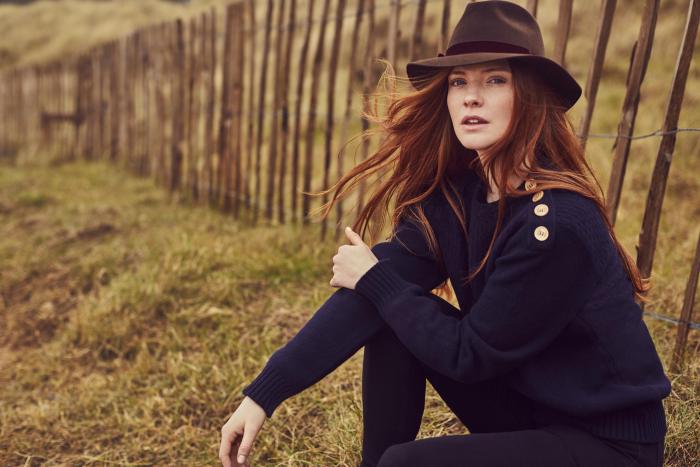 How did you take the step from idea to working business?
Both of us were working fulltime so we were exploring the idea in our free time, focussing on what we liked and what our friends and family wore and enjoyed wearing. We looked at designs and vintage collections, went to fabric fairs in Paris and started familiarising ourselves with the business.
We started collecting a few people around us who were much more expert in the actual business of design and creation fashion. We worked for a little bit with a friend of mine who is a couture designer in London, and who helped us put together one of our first designs, which was the Habit coat. We then brought on a Board Director who is ex-Aquascutum & Jaeger, and she was focussed on fabric sourcing and accessories sourcing and technical side of things and she is still on the Board today.
We developed a small team around us who brought some of that sector expertise, while we brought our inspiration and insight into designing for people who were living similar lives to us - women whose lives move between city and country and who want something more interesting and feminine to wear, than what might be readily available.
We started with a little preview collection and put together some of our core designs and very nervously went to our first Christmas charity event fair, put on by the jewellery designer Tessa Packard. We sold quite a lot and people seemed to really like the collection. We were so delighted by the reaction and we realised there's something here we need to build on, so the next summer I stopped my job and became focussed fulltime on TROY.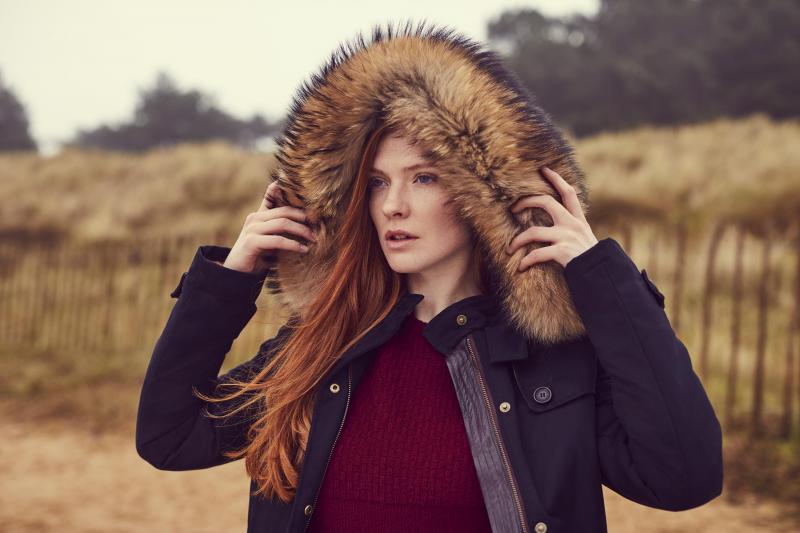 The TROY brand identity is captured really well on your website – you seem to know exactly who your client market is!
These clothes are part of women's lives – it has to be effortless, chic, we want it to be easy for women to just throw a TROY coat on and to feel a little bit more glamorous and chic, but in a really easy way – you don't need to change your jumper to put it on. We don't want people to have to change out if it because it's raining. It's got to be easy, effortless style for busy people. A lot of our clients tell us their lives are about being on a rugby pitch on a Saturday morning, doing the school run or walking the dogs, these are active busy women. We have a very strong British aesthetic design, a lot of nods to heritage, equestrian and country pursuits and skiing, and we know the interests and lifestyles of our clients.
Is this affordable luxury?
These are investment pieces, but they're not crazy prices for what we are offering, our trims are very generous and we offer good value for money for the quality you get. A TROY piece is something to cherish year after year. The suede gilet is inspired by something my grandmother gave to me and she wore as a teenager. I want the TROY gilet's to be of the same ilk, and to last for generations. Ours are £480 to buy but the quality of the Italian suede and the expertise of the London factory where it is made means it will last forever.
Do you have a favourite piece?
The TROY Parka is our signature piece, and I wear mine a ridiculous amount – in various colourways! This is a beautiful every day coat with a luxurious faux or real fur trim which feels lovely. You can dress it up or down. I also love our Field Coat, which is a really beautiful walking coat, a traditional country wear coat, made with Melton wool which moves with you (the more typical country coat might be quite heavy, or boxy) this has leather trims but is lovely feminine tailored shape and is 100% waterproof with a big soft hood you can draw in around you to keep warm.
You have some great names endorsing TROY and interviewed on 'The Icon'
We've been really lucky! It's such a boost for us when someone well known wears our coats. It's been amazing! When Jacquetta Wheeler modelled our collection two years ago we went up into to the Yorkshire moors and did a wonderful photo shoot. Jacquetta is a real country girl, as well as being an incredible Vogue cover girl, and she was really enthusiastic about supporting us as a brand. We love the very British looking but quirky women, who are doing interesting things with their lives.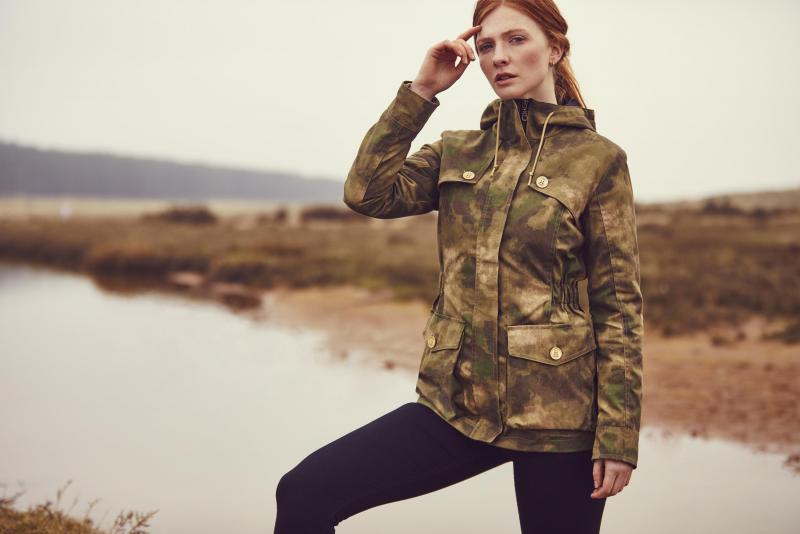 There have been some really impressive recent collaborations - namely Amanda Wakeley OBE, for the Elements Parka
After a mutual friend introduced Rosie and Amanda,the two decided to collaborate on designing a versatile coat for their shared clientele and came up with the iconic Elements Parka
Amanda is a massive figure in British fashion and she helped us produce our limited-edition Elements Parka coat which is highly popular and is now all over the country in different stores. Amanda has been an absolute joy to work with and very supportive of our brand. In bringing her luxury aesthetic to one of our best-selling wax parka designs we've seen that the results are really stunning.
We decided that there needed to be a jacket that specifically met the needs of a woman who likes to leave the office and head to the mountains for a weekend of fresh air and exercise. This was the first concept of the Elements Jacket but we like the idea that is versatile to so many environments as it is water and windproof and therefore practical, but also has a very special luxury feel.
There is also the absolutely gorgeous orange pop lined limited-edition Eagle Parka, designed with fashion mastermind Alex Eagle.
Watch this space…
The TROY aesthetic in beautifully made outerwear for men also. But more on that to come!